PSR News
News for the NNLM Pacific Southwest Region
Updated: 2 hours 46 min ago
Widgets are small applications that allow access to content from other websites directly on your own website. Many government organizations offer free health-related widgets, including the National Library of Medicine (NLM), the Centers for Disease Control and Prevention (CDC), and other divisions under the US Health And Human Services Department (HHS). Add these widgets to your organization's website to provide users with quick access to reliable health information and local health resources:
If you need educational videos to teach students about environmental health topics, or maybe an overview of how family caregivers can use MedlinePlus, you can find these videos and more through the Outreach and Services playlist on the NLM YouTube channel. Check out the following examples:
The holiday season can be a time of joy, but it can also be a time of major stress. Financial worries, family expectations, and other causes of stress may lead to both mental and physical symptoms; such as depression, irritability, and digestive problems. Find ways to help relieve stress during the holidays with National Library of Medicine resources, including resources for the public on MedlinePlus and resources in multiple languages on HealthReach:
Join the NLM and NNLM Training Office for two upcoming training events in January, introducing you to 2018 MeSH and how to adjust to MeSH changes in PubMed searches and alerts.
NLM Webinar: 2018 MeSH Highlights
Date and time: Friday, January 5, 2018, 10:00 am PST
Join NLM staff for a highlights tour of the 2018 Medical Subject Headings (MeSH). A 20-minute presentation will feature will be followed by questions and answers.
NNLM Class: MeSH Changes and PubMed Searching
Date and time: Friday, January 19, 2019, 10:00 am PST
Every year, the Medical Subject Headings are updated. Find out how this affects your PubMed searches.
Recordings of both sessions will be posted after the events.
December 3-9 is National Influenza Vaccination Week, and the National Library of Medicine offers resources to learn about the flu vaccine on MedlinePlus and through resources available in multiple languages on HealthReach. Materials about flu vaccines on HealthReach include illustrated handouts to educate people about the seasonal flu, a poster in multiple languages on how to fight the flu, and vaccine information statements about the flu vaccine:
The National Library of Medicine Value Set Authority Center (VSAC) has announced a new user interface that displays program releases of value sets on the VSAC homepage. Additionally, the page has a sleek new look and intuitive filters for program-related value sets. All functionality and underlying data remain the same. The new user interface displays current program releases, Centers for Medicare & Medicaid Services electronic clinical quality measure (eCQM) Value Sets and Health Level Seven International Consolidated Clinical Document Architecture (HL7 C-CDA) Value Sets, and introduces the newest program release of value sets, CMS Hybrid Value Sets. Core Clinical Data Elements and Hybrid Measures use a set of core clinical data elements, clinical variables from electronic health records (EHRs), that are routinely collected and can be extracted for use in risk-adjusted hospital-level hybrid outcome measures.
Learn more about creating a program release of your value sets in VSAC, display your published value sets in a program release on the front page of VSAC, and enable easy search and download for your value set consumers! Send any questions and feedback to NLM Customer Support.
A Request for Information (RFI) has been issued to invite comments and suggestions on the first National Institutes of Health (NIH) Tribal Health Research Office (THRO) Strategic Plan, to solicit input from stakeholders, including members of the scientific, tribal, advocacy, and patient communities; basic, clinical, and translational scientists; as well as other interested members of the public. Feedback is requested on five strategic priorities under consideration for the first THRO Strategic Plan. These themes are intended to stimulate new research areas, priorities, and approaches to help put science to work to improve the health of tribal communities.
The National Institutes of Health (NIH) seeks to improve, promote and strengthen communication between NIH and American Indian/Alaska Native (AI/AN) communities, as well as communication among its Institutes, Centers and Offices (ICOs), on Indigenous health research and discoveries. The development of culturally-driven practice and research is vital to improve AI/AN health, build trust in the relationships between NIH and AI/AN communities, and facilitate further integration and collaboration among the AI/AN communities and the NIH ICOs as they develop research that will be accepted by and useful to AI/AN communities.
Responses should be submitted by January 8, 2018. Responses will be acknowledged with receipt of an electronic confirmation. All submissions will be considered but will not be confidential. Responses to this RFI are voluntary. Do not include any proprietary, classified, confidential, trade secret, or sensitive information in your response. The responses will be reviewed by NIH staff, and individual feedback will not be provided to any responder. Inquiries should be directed to the Tribal Health Research Office.
NLM's MedlinePlus team has announced the release of an enhancement that allows users to choose what they want to print from a health topic web page: just the summary text, or the full page including the summary and all links. Users need to click the grey printer button on the page to choose an option:

A dialog will open allowing the choice of "Topic Summary only" or "Full topic including all links." This feature is available on both English and Spanish health topics.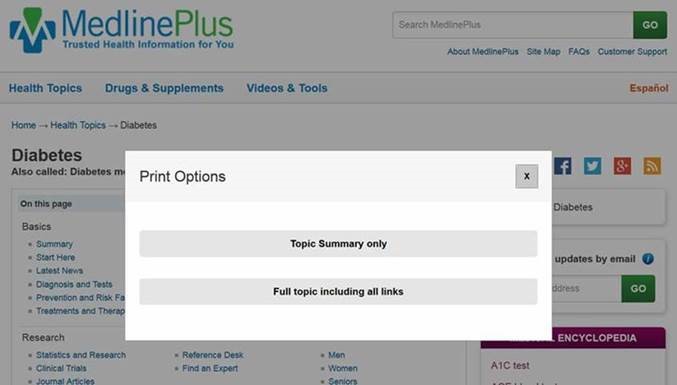 NOTE: The browser File menu > Print option will print the full page without giving the user these options. This feature is only available via the grey Print button on the MedlinePlus web page.
Pages