PNR News
News from the Northwest and Beyond
Updated: 1 hour 34 min ago
LactMed, a free database about drugs and lactation, is produced by the National Library of Medicine. It is available via the website, https://toxnet.nlm.nih.gov/newtoxnet/lactmed.htm, or as a mobile app. LactMed provides information on many of the drugs and chemical to which nursing mothers may be exposed, including dietary supplements. The information contained in LactMed includes: Summary statement about use of the drug during lactation; Measurement of levels of the drug in breastmilk; Effects in breastfed infants; Effects on lactation; Alternate drugs to consider.
References to research studies are also included with each entry (with links to the citations in PubMed), and all of the data in LactMed is a result of peer-reviewed literature. The database is updated monthly to reflect current research. Records may be downloaded and/or printed for yourself or for your patients.
Summary of Use During Lactation: This part of the record offers guidance on the use of the drug or substance during breastfeeding. It summarizes the important points which are provided in the record. If there are conflicting recommendations by experts, the summary mentions all and gives citations to the research.
Drug Levels, Maternal and Infant: This section summarizes studies that have measured drug concentrations in breastmilk, and serum or urine concentration in infants.
Effects in Infants: Known side effects from the published literature are included here, using an adverse drug reaction assessment methodology which categorizes reactions as definite, probable, possible, or unlikely to have been caused by the medication.
Effects on Lactation: All possible effects of the drug on lactation are listed here, in addition to extrapolated information from drugs with similar pharmacology.
Alternative Drugs to Consider: This sections lists drugs that have common uses with the drug being searched, and have a record included in the LactMed databse.
LactMed also includes over 100 dietary supplements (such as Black Cohosh, Cranberry, Dandelion, Elderberry, Fenugreek, Glucosamine, Hibiscus, Lavendar). Supplements may be searched by name in the search box, or a list may be retrieved by typing "complementary therapies", with quotes, in the search box.
Since nurses are such important advocates for breastfeeding, LactMed is a valuable tool. Both the healthcare provider and the nursing mother can benefit from its use.
The National Network of Libraries of Medicine and the Public Library Association are continuing to partner with an opportunity for public library staff, both professional and paraprofessional, to participate in virtual focus groups this spring.
The purpose of the research is to better understand the challenges and rewards of providing health information in public libraries. We are interested in library workers' questions, experiences, concerns and success stories – it's all useful to us!
The focus groups will happen by telephone and will last 1.5 hours; we are scheduling on all days of the week except Sundays. Audio tapes will be made of the groups and only members of the study team will transcribe these audiotapes. No individual person or library will be identified in the transcripts or publications; individual speakers will be referred to as, for example, "Reference Assistant Kansas-1." Participation will last approximately 1.5 hours. As a token of our appreciation, each participant will receive an Amazon gift card worth $25 (which can be donated to your library if employees are not permitted to be compensated).
If you can help us by participating, thank you!
We encourage you to sign up and contact Catherine Arnott-Smith directly:
Catherine Arnott Smith
Preferred contact: Email: casmith24@wisc.edu 
Office phone: 608-890-1334
Associate Professor,
The Information School
University of Wisconsin-Madison
600 N. Park Street Madison, WI 53706
For your Love Data Week poetry enjoyment…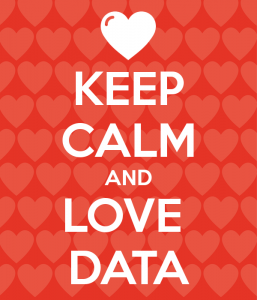 Life is filled with normal distributions
But you are an outlier
You skewed my mean(ing)
Showing me a world beyond average
Somehow helping me find my significance
And yet still bring me back to center
-@epilady
For researchers loving their data,
There are no divisions or strata!
Their passion is strong
As the grip of King Kong,
And their tables and charts even greata!
-@AGlusker
Your still have time to submit your Love Data Week poem! Post it to @NNLM_RD3 and let the world know how much you love data.
In the spirit of Love Data Week's 2018 theme, Data Stories, it's important to consider cautionary tales as well as good outcomes. We should, after all, learn from our mistakes. Perhaps the best known collection of data horror stories is Dorothea Salo's Research Data Management Horror Stories pinboard. Dorothea, a University of Wisconsin academic librarian and library-school instructor, has been pinning data tales of woe since 2010.
We probably all have our own personal examples of data hell, but here are a few of my favorite themes…
Submitting a grant proposal and neglecting to include a well thought out data management plan. Proposal rejected. Research flat lines.
Gathering your identifiable biomedical data without adequately consulting with your Institutional Review Board (IRB). Collateral damage.
Neglecting to develop and implement a detailed naming convention for your data files. Data hot mess.
Neglecting to maintain thorough metadata for your datasets, models, and algorithms. Data bedevilment.
Failing to sync and back up your data in three separate locations. Deadly data loss.
Dismissing the need to follow guidelines to insure the security of your data. Data access nightmare.
Saving your data to a proprietary file format that is on the verge of insolvency. Walking dead data.
Disregarding the need to place your data in an appropriate repository that provides long term access and maintenance. Evil dead data.
Facing the shame of having your publication retracted due to data irregularities. The horror. The horror.
For the love of all things organized, don't let your researchers be condemned to these nine circles of data hell!
Join us for our next PNR Rendezvous, "Hope From Our  Grandmothers: Decolonizing Data Through Stories of Resilience"
When: Wednesday, February 21, 1:00pm PT, Noon Alaska Time, 2:00pm MT
Much research has been historically rooted in controlling American Indian and Alaska Native (AI/AN) and other indigenous peoples to exploit land and natural resources, or even heredity and group identity. Yet, AIAN community ties, tribal sovereignty rights and claims, and cultural values are emerging as critical elements of resiliency key to reversing the very health and social issues that have plagued indigenous populations as a whole since the dawn of colonization. The practice of research and utilizing information collected by means of observation, hypothesis-testing, repetition of experiment and sound conclusions to inform decision-making, have been integral to indigenous survival and well being for centuries. This webinar will review some of the modern scientific values in comparison to AIAN ways of knowing and provide examples of indigenous research concepts as they align with decolonizing data.
Speaker: Rose James, PhD (Lummi), Director of Evaluation and Research for the Urban Indian health Institute
The session qualifies for 1 MLA (Medical Library Association) CE credit whether attending the live session or watching the recording.
Registration is encouraged though not required. Register and learn how to join the session
As you may know, it's "Love Data Week"! Formerly "Love Your Data Week", this is the third year of this international data extravaganza, which seeks to "raise awareness and build a community to engage on topics related to research data management, sharing, preservation, reuse, and library-based research data services."   The theme this year is "Data Stories", which leads to the important question, "How DO you tell a story with data anyway?"
There are many sites that will help you get started on this quest; here, here and here are some good ones.  But, the main prerequisite is to KNOW YOUR DATA.   You can't tell a great story about someone else's vacation, right?  Similarly, to tell a good story with your data, you need to know where it comes from and how it was gathered, what question it's meant to answer, and how it may lead you astray (if your random sample only comes from people with landlines, you may have a LEETLE bias).
Once you know your data, LOOK FOR CONNECTIONS (like the girl in the picture!).  Does a certain pattern seem to emerge if you look at two variables in conjunction with each other?  Does one item seem to predict another?  How does the data compare with other reports you can find in journals or online or among reports from colleagues?  Remember, the data don't necessarily need to be quantitative; qualitative and other types of data can tell stories too!
Then, once the connections start to emerge, SHARE YOUR LOVE!  There are so many great tools to help you make the story take a shape that allows others to read/absorb it!  For example, Tableau has a public version that is free, Excel actually has quite a bit of capability for even sophisticated visualization, and some free online infographic platforms such as Piktochart can be very user friendly.
Be sure to check out the "Love Data Week" site, and some of the links below as well.  And let us know if you have ideas for how we can help you tell better stories!
–"Best Starts for Kids" Data Storytelling webinar
–Data Storytelling Resources, Part 1 and Part 2
–NIH LibGuide on Scientific Communication and Data Storytelling (with slides and handout!)
—Storytelling with Data and related resource list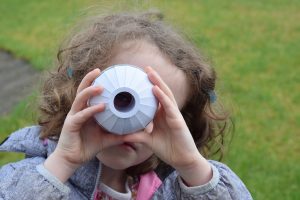 Photo credit:
Diane Hammerton
on Flickr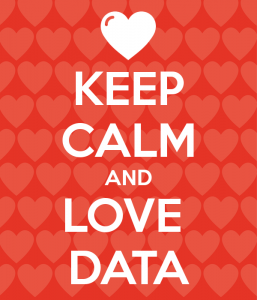 Happy Love Data Week! This year's theme is data stories. Formally known as Love Your Data Week, this social media event has been going on since 2016 when a group of enterprising research data specialists decided it would be a great way to raise awareness about research data management. Over the past two years, Love Data Week has grown to include participants in Europe, Asia, and Australia, and shows no sign of slowing down. The event is marked by Tweets, Facebook posts, Blog posts, webinars and live events, and this year's theme is the broadest yet. Data stories is envisioned as an entry point for conversations about how data is being uses to shape the world around us. Sub-topics include stories about data, telling stories with data, connected conversations, and we are data.
If you or your organization would like to participate in Love Data Week, you will find a wealth of information on the website. Send your data a valentine and get involved!
The National Network of Libraries of Medicine (NNLM) is recruiting public library staff to participate in the online training, "Stand Up for Health: Health and Wellness Services for Your Community." This is a 4-week, online, asynchronous (all self-paced) course where participants will earn 12 continuing education (CE) credits and a certificate. The course is designed to provide public library staff with core competencies of providing health information services and the essential skills and knowledge that library staff need to build those competencies.
The course will begin March 5, 2018, with new content released each Monday. Plan to spend about 3 hours on coursework each week between March 5 and April 1. One additional week will be provided to catch up on assignments if needed. However, because each week involves online discussion with your peers, it is important to keep up with the weekly topics and not attempt to catch up at the end.
This opportunity is part of a project to improve the course content and format to meet the unique needs of public library staff. Participants will be asked to take a short pre- and post-course surveys.
In addition to receiving a certificate for 12 CE hours from the Medical Library Association (MLA), the NNLM will also sponsor the application fee for a Consumer Health Information Specialization certificate from MLA. You will receive a certificate in the mail as well as a digital badge to use online.
If you are interested please complete this online form.
You will be contacted on February 26, 2018, to let you know if you have been selected for the program.
If you have any questions please contact:
Bobbi Newman, MLIS, MA
Community Engagement and Outreach Specialist
National Network of Libraries of Medicine (NNLM)
Greater Midwest Region (GMR)
bobbi-newman@uiowa.edu
The Medical Library Association (MLA) has joined forces with the Public Library Association (PLA) and the National Network of Libraries of Medicine (NNLM) to provide a health information symposium for public librarians that runs concurrent with the last day and a half of MLA '18, including the Tuesday Silver and Gold Networking Dinner.  Health Information for Public Librarians is a symposium which provides a unique opportunity for both public and health sciences librarians to learn and network.
U.S.-based public librarians with interest or responsibility in providing health information to their communities qualify for a free registration for the 1-1/2- day symposium.  MLA headquarters staff will review the application for compliance before sending a confirmation email. Attendance is limited to 150 qualified public librarians, who commit to attending the symposium by registering. Applicants beyond 150 will be placed on a waiting list.
Eligible applicants can also apply for a stipend for up to $500 from the NNLM Greater Midwest Region (deadline March 1, 2018).  Click here for the NNLM Greater Midwest Region stipend application.  In addition to the $500 stipend, more funding support to defray travel costs is also available from the NNLM Pacific Northwest Region.  After first applying for the NNLM Greater Midwest Region stipend, public librarians in the NNLM Pacific Northwest Region (Alaska, Idaho, Montana, Oregon, and Washington state) should contact Carolyn Martin, NNLM Pacific Northwest Region Consumer Health Coordinator (martinc4@uw.edu) about obtaining additional funding  to defray or cover the entire cost of a round trip plane ticket to Atlanta (deadline for NNLM Pacific Northwest Region funding is March 23, 2018).
In short, you only have to commit your time to expand your knowledge of health information and to develop your network of peers in public libraries, health sciences libraries, and NNLM.
Learning objectives include:
Understand how advances in precision medicine are affecting the need for public health information and learn about the All-of-Us objectives
Understand the competencies for public health information, self-assess, and create a personal development plan
Connect health sciences librarians with public librarians involved in health information
Learn about available resources for learning, networking, and outreach, including from MLA, PLA, and NNLM
Overcome barriers to providing health information to the public
Learn what others are doing to engage the public in health information
Learn about national strategies and trends in areas of health disparities, social determinants of health, disease control, and prevention
The symposium will be held during the last day and a half of MLA's  annual meeting at the Hyatt Regency in Atlanta, Georgia.
7:00 a.m., Tuesday, May 22, 2018, to
noon, Wednesday, May 23, 2018
It is recommended to review the full details on the MLA conference website if interested in attending.
Don't miss this opportunity! Space is limited to a maximum of 150 public librarians.
Pages