MCR News
Serving the biomedical information needs of Colorado, Kansas, Missouri, Nebraska, Utah, and Wyoming.
Updated: 1 hour 9 min ago
Liz Waltman, Outreach, Education, and Communications Coordinator, NNLM SEA
April Wright, All of Us Community Engagement Coordinator, NNLM SEA
NNLM's mission "to improve the public's access to information to facilitate making informed decisions about their health" relies on building the skills of consumers and librarians in finding, reading, understanding, and using authoritative health information.
Information literacy, and more precisely related to NNLM's mission, health information literacy, is a practice. As with any skill, information literacy must be learned, practiced, refined, and used for school assignments, looking critically at the news, and evaluating websites. In this regard, Wikipedia edit-a-thons are excellent tools for teaching and learning information literacy skills – they require that participants assess existing information, decide where changes need to be made, and add citations to relevant and authoritative sources.
This fall, join NNLM in our ongoing #citeNLM campaign by hosting a Wikipedia edit-a-thon at your organization. By hosting an event you will be joining a network of librarians, health professionals, and students from around the country working to improve the quality of mental health articles on Wikipedia using trusted National Library of Medicine resources. To get you started, we have created a Guide for Organizers that will walk you through the steps of hosting your own edit-a-thon. In this toolkit you will find an overview of the #citeNLM project, a comprehensive planning checklist, sample marketing materials, and a guide to share with your participants. We also invite you to attend our training session on Thursday, October 17 where you will have the opportunity to ask questions, learn more information, and connect with the #citeNLM community.
No matter if you host your own event or join us for our virtual edit-a-thon on November 20, we look forward to working with you to improve mental health information on Wikipedia! Check out nnlm.gov/wiki to learn more about the project and make sure to follow along on Twitter with the hashtag #citeNLM to ask questions, post photos, and share your Wikipedia experience.
The National Network of Libraries of Medicine invites public libraries and community organizations to host the All of Us Journey during its visit in the MidContinental Region. The Journey is a hands-on experience to engage and build awareness about the All of Us Research Program.
The All of Us Research Program aims to sign up a million or more participants to share their health data in the interest of expanding biomedical research. The nationwide effort is designed to accelerate research and improve health by considering each individual's lifestyle, surrounding environment and biology that can impact their health differently than others.
The Journey can make visits to events and venues within 2-3 hours of the area at each stop. The two Journey units are scheduled to stop in the following areas:
Education and Awareness Exhibit
Casper, WY
July 5th-11th
July 12th-18th
Denver, CO
July 19th– 25th
July 26th– August 1st
August 2nd– 8th
Park City, KS
August 9th-15th
Education, Awareness and Enrollment Center
August 23rd – 31st
If you or an organization you know is interested in hosting the Journey or you know of any events where the Journey could participate, please contact George Strawley at george.strawley@utah.edu or (801) 581-5242.
Please follow the links below for slides introducing the new PubMed to an audience of experienced users (such as health sciences librarians).
We've created two versions for your use:
A New PubMed – NNLM Slides to Adapt – this is a 25-30 minute presentation as is.
A New PubMed SHORT version – NNLM Slides to Adapt – this is a 5-10 minute presentation as is.
These slides were created with librarians and other regular users in mind. Another slide deck: An introduction to PubMed for new users is forthcoming.
We encourage you to adapt these slides to your outreach and training needs and style appropriate to your audience.  These slides are free of copyright restriction, but we appreciate attribution to the U.S. National Library of Medicine.
These slides were created by the National Center for Biotechnology Information (NCBI) and adapted by the Office of Engagement and Training (OET) at the U.S. National Library of Medicine at the end of September, 2019. Please keep your materials up to date by testing all examples and assertions using PubMed Labs (https://www.ncbi.nlm.nih.gov/labs/pubmed/) and by monitoring the PubMed news via the NLM Technical Bulletin (https://www.nlm.nih.gov/pubs/techbull/).
If you have questions, comments, or requests regarding these slides, please write to Kate Majewski, Aimee Gogan or Mike Davidson at NLMTrainers@nih.gov
As you know, the National Network of Libraries of Medicine (NNLM) is supported by a cooperative agreement that operates on a five-year cycle. As NLM prepares for the start of the next funding cycle in May 2021, your input is needed on ways to ensure that the NNLM continues to advance the progress of medicine and improve public health by providing U.S. health professionals with equal access to biomedical information and improving individuals' access to information to enable them to make informed decisions about their health.
A Request for Information (RFI) has been posted and is available by visiting https://grants.nih.gov/grants/guide/notice-files/NOT-LM-19-005.html. The submission deadline is December 2. Please consider responding to the RFI and shaping the future of NNLM! Also, feel free to share this information with anyone who has benefited from NLM and NNLM resources that contributed to their research, teaching, education, and outreach efforts.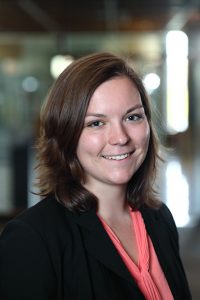 Shannon recently joined the University of Wyoming as the new Data Management Librarian. She works within the Digital Collections department and provides leadership and management for the UW data repository. She also consults with UW faculty and students on research data management, works to cultivate relationships with other departments on campus working with data, and aims to educate the UW community on a variety of data management skills. Shannon's most recent position was as a fellow in the National Library of Medicine Associate Fellowship Program. She spent one year working and doing research at the NLM in Bethesda, Maryland and then spent the second year of the fellowship as a liaison librarian for Drexel University's College of Medicine in Philadelphia, PA.
Shannon will be working 10 hours a week on MCR data projects.
JOB PURPOSE: 
The University of Wyoming Libraries seeks applicants for the Wyoming Membership Coordinator for the National Network of Libraries of Medicine MidContinental Region (NNLM MCR).  The mission of the NNLM is to advance the progress of medicine and improve public health through access to health information.
 ESSENTIAL DUTIES:  
The Wyoming Coordinator will provide leadership for the NNLM's diversity and inclusion initiative in the Mid-Continental Region (https://nnlm.gov/mcr).  This position, based at the University of Wyoming Libraries, also delivers outreach and education programs throughout the state of Wyoming, and builds partnerships and collaborations with librarians, health care providers, public health professionals, K-12 educators, and community-based organizations.  Travel throughout Wyoming will include site visits, exhibits, and teaching. Travel to the MCR offices at the University of Utah and to national conference sites occurs throughout the year.
The Wyoming coordinator is one of six site coordinators throughout the MCR. Each MCR coordinator works closely with other site coordinators and fulfills program duties under the direction of the NNLM MCR Associate Director.  This is a full time, grant funded position and reports to the Associate Dean of Libraries. 
Full Posting

(link is external)
Pages