SEA All of Us

News for Network Members in Alabama, District of Columbia, Florida, Georgia, Maryland, Mississippi, North Carolina, Puerto Rico, South Carolina, Tennessee, U.S. Virgin Islands, Virginia and West Virginia
Updated: 1 hour 15 min ago
It's difficult to talk about, even scary. Important things usually are.
And deciding what to do about that transition between life and death – how to make it more comfortable, what to do afterwards – is so very important, to our loved ones and ourselves. It involves issues not only of health, but of spirituality, compassion and trust.
Whether your focus of concern is on a family member or yourself, NNLM Reading Club suggests three books that may help with your understanding of end-of-life matters and those conversations you probably have been putting off.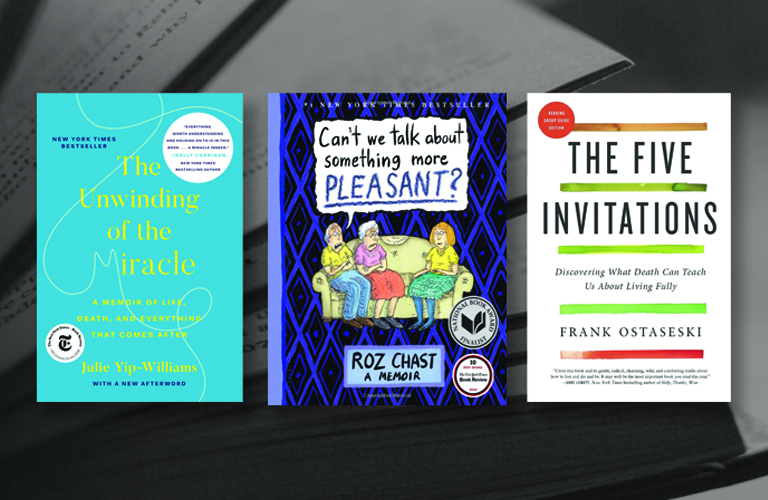 In The Unwinding of the Miracle: A Memoir of Life, Death and Everything That Comes After, the late Julie Yip-Williams leaves behind a chronicle of a life filled with improbable outcomes since her childhood as a blind Vietnamese refugee who regained her sight at the hands of an American doctor. She faces her own terminal illness at age 37 with honesty.
New Yorker cartoonist Roz Chast brings her idiosyncratic humor to her experience as caretaker of aging, declining parents in the graphic memoir Can't We Talk About Something More Pleasant? Finally, Zen Hospice Project co-founder Frank Ostaseski relates the lessons he has learned as a Buddhist teacher who has worked with more than a thousand dying patients in The Five Invitations: Discovering What Death Can Teach Us about Living.
We encourage you to take a deep breath, read one of these books, and discuss it with people whose opinions you respect, especially those in your own family. It just might make you feel a whole lot better about the inevitable. Visit the NNLM Reading. Club: End of Life health topic to get started.
The post
Start the Conversation on End-of-Life Care with the NNLM Reading Club
first appeared on
SEA Currents
.
The NNLM Reading Club in March examines the food we eat and all the factors that make it bad, good or better for us.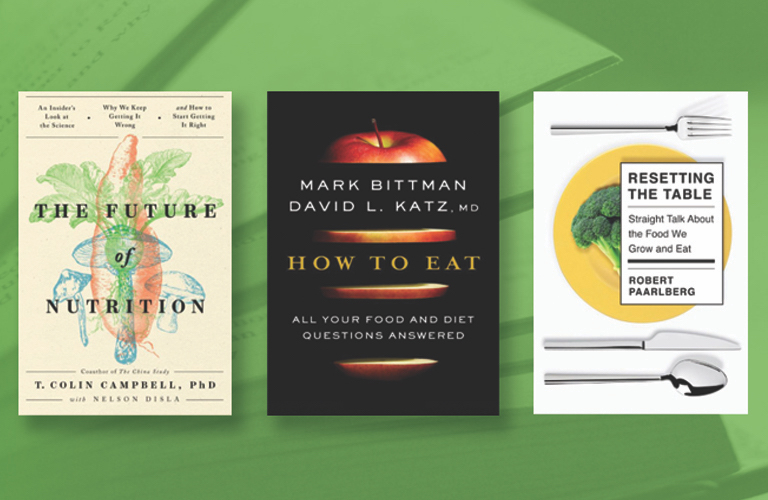 Dr. T. Colin Campbell, whose previous books include best-seller The China Study, covers the nutrition industry and its impact on both our health and the practice of science with The Future of Nutrition. In How to Eat: All Your Food and Diet Questions Answered, Mark Bittman and David Katz, M.D., use a Q&A format address to dispense advice on topics such as dietary patterns and lifestyle; specific diets like the Mediterranean diet, intermittent fasting and the keto diet; and various foods such as grains, meat, dairy and alcohol. Finally, Robert Paarlberg, an associate at Harvard's Weatherhead Center for International Affairs, contradicts some of the conventional wisdom surrounding things like organic foods and those neighborhoods and communities known as food deserts. He looks for solutions to food problems that can make sense for farmers and consumers alike in Resetting the Table: Straight Talk about the Food We Grow and Eat.
No matter what fare typically gets you through your day, we invite you to fortify your knowledge diet with these Reading Club selections. Visit nnlm.gov/all-of-us/nnlm-reading-club/nutrition to see our menu. Enjoy!
The post
Fortify Your Knowledge Diet with the NNLM Reading Club!
first appeared on
SEA Currents
.
In partnership with Cornerstones of Science and the NIH All of Us Research Program, the Network of the National Library of Medicine (NNLM) is offering an exciting new citizen science resource to public libraries.
The Test the Waters Family Exploration Kit is a fun, accessible, loanable kit which includes four family-friendly activities to learn about water as it affects personal and environmental health. All instructions and needed materials are included, with audio file guides available in in Arabic, Chinese, English, Spanish and Vietnamese. The free kits are available to the first 500 requesting libraries! They come in a lockable plastic tote and can fit on a typical library shelf.
Applications for the kits will be open until April 30th, 2021. If you are a member of NNLM you can apply for a kit by visiting https://nnlm.gov/all-of-us/resources/citizen-science-health/ttw. Otherwise, it is easy and free for your organization to join the network.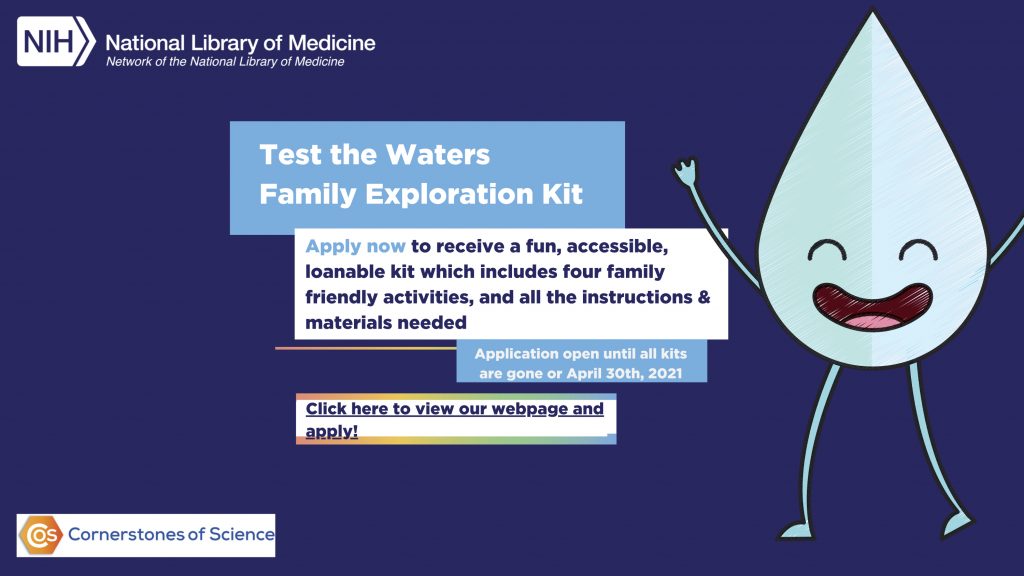 The post
New Citizen Science Exploration Kit from NNLM
first appeared on
SEA Currents
.
The Network of the National Library of Medicine (NNLM) is inviting members to complete a survey about the All of Us Community Engagement Network (CEN). The purpose of the survey is to learn about your experiences participating in the CEN and how we can improve our services to support your organization to be a trusted health resource in your community.
The survey will take approximately 20 minutes to complete. Completing the survey is voluntary.
Participants will be eligible to enter a random drawing for one of ten $25 Target gift cards. Only one person from each NNLM member organization is eligible to win a gift card.
Select here to access the survey: NNLM CEN Survey
Or, copy and paste the following URL: https://nnlm.gov/ZbW
Please respond to the survey by February 26, 2021.
If you have any questions about the survey, please contact Asih Asikin-Garmager at asih-asikin@uiowa.edu.
The post
NNLM All of Us Community Engagement Network Member Survey
first appeared on
SEA Currents
.
The reason we have cancer and heart disease is the same reason you can't get rid of the wear and tear on your tires on your car: as soon as you use them, you are wearing them away. You can't make eternal tires, and it's the same with the human body.
– S. Jay Olshansky, School of Public Health, University of Illinois at Chicago
Like tires, the heart does not run forever but can last longer if the driver makes smart choices. NNLM Reading Club's February selections focus on the heart with three books that provide valuable information for people dealing with heart conditions.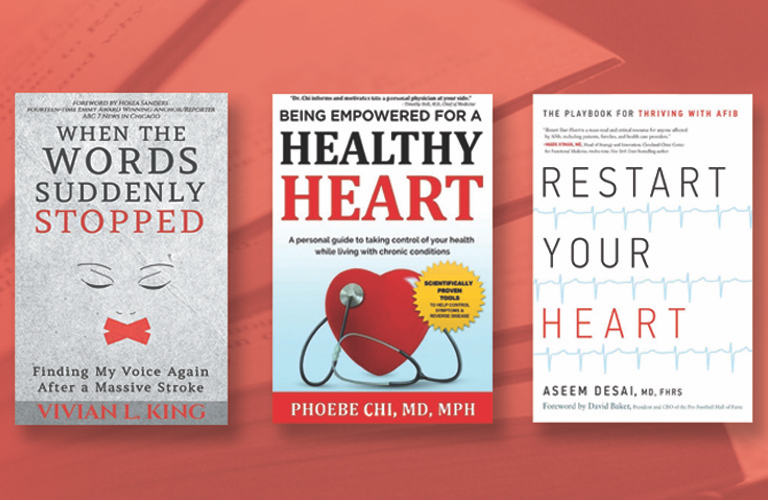 In Being Empowered for a Healthy Heart: A Personal Guide to Taking Control of Your Health While Living with Chronic Conditions, Dr. Phoebe Chi seeks to empower those with chronic diseases of all types, including heart disease and high blood pressure, in the self-management of their conditions. The internal medicine and public health physician does so with practical exercises and tools in each chapter to address symptoms, even throwing some poetry into the mix.
Restart Your Heart: The Playbook for Thriving with AFib by cardiac electrophysiologist Dr. Aseem Desai clears up some of the confusion surrounding atrial fibrillation, an irregular heart rhythm that can interfere with blood flow. In addition to providing knowledge about AFib, Desai discusses how to deal with the diagnosis from a mental and emotional perspective.
Finally, in When the Words Suddenly Stopped, former television broadcast journalist Vivian King describes her experience recovering from a stroke that took away her voice, sharing how determination bolstered by a reliance on faith, family and friends allowed her to recover.
Strengthening your heart knowledge can help strengthen your heart. We hope these books will provide you an opportunity to do both. Visit the NNLM Reading Club for discussion guides to these titles and other useful information.
The post
Strengthen Your Heart Health Knowledge with the NNLM Reading Club
first appeared on
SEA Currents
.
In October 2020, NNLM financially supported 20 library staff across the country to attend the 15th annual Association of Bookmobile and Outreach Services (ABOS) conference. Originally slated for Dallas, TX, the conference was retooled as a virtual event due to Covid-19. Most attendees agreed that there were actually benefits to the online format. NNLM All of Us presented at the conference and continues to work with ABOS on health outreach initiatives. Here, 3 Southeastern/Atlantic Region scholarship recipients outline favorite moments, and what they took away from the ABOS conference.
——–
Nicole Klein, Community Engagement Librarian at Cobb County Public Library System (GA)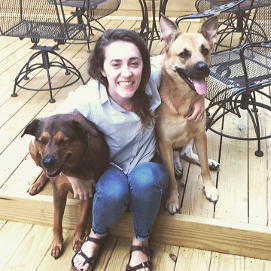 I'm still fairly new to working exclusively in Outreach—I've been in my current position just shy of a year—so this was my first time attending an ABOS conference. I was blown away by how interactive the folks attending the ABOS conference made it for themselves. The virtual format definitely made for a "make what you will out of it" experience this year and I was impressed to see how available and engaged attendees made themselves. As my supervisor has said, the folks that work in Outreach reach are a different breed of librarian and that was very evident to me, and wholly appreciated; it felt like discovering my people. We are looking at procuring a book bike at our library system and Ian Gosse's presentation, "The Paperback Rider: The Five-Year Evolution of a Book Bike Service" was INVALUABLE.
Marlan Brinkley, Library Director of the McDowell County Public Library System (NC)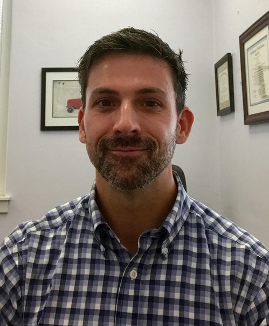 I had a great time attending the ABOS Conference this year.  Normally traveling costs prevent me from going to events like these, so I was glad for the opportunity to attend digitally. Recorded sessions were especially helpful, particularly when I wanted to attend two or more sessions all occurring at the same time. The videos have also been a great resource for when I needed to replay them and catch a product or vendor name I missed the first time.
One of my favorite sessions was Outreach Start Up provided by Beth Brown from the Muskingum County Library System. I was looking forward to it because my library system was finally at a point where we dedicate programs and services toward outreach. While we had successfully done some outreach in the community, I was wanting to hear from someone who created an outreach department practically from scratch. What worked well? What didn't? We're a small rural library system, so I was hoping to hear outreach tips that could be scalable to us. Fortunately, Ms. Brown provided great advice and a general outline of what we should consider as we grow our outreach department.
Here are the items I felt were particularly noteworthy:
The value of information gathering. What services are being offered where? Where are the gaps? What are our community partners (ex. Friends groups) doing?
Tip: imagine the policies you're starting with are a blueprint- they'll be adjusted to suit the needs of your community.
As we consider what policies we should implement, look at policies from other libraries as inspiration.
The ABOS listserv is a dependable resource for advice (which we already knew!).
We were introduced to Bed Bug Bags as a resource. I had no idea this was even a thing.
The value of keeping communication open between the homebound delivery recipients. I especially admired their efforts by writing letters to their patrons during Covid-19 closures.
As we look for opportunities to establish connections in the community, include public events such as festivals, parades, farmer's markets. Bring a collection that matches the theme (ex. cooking, farming, and produce books for the farmer's market).
Consider rebranding some services. Ex. was "homebound", now called "house call."
Finally, be an active member of the community by joining local groups and organizations.
Heather Ogilvie, Outreach Librarian, Bay County Public Library (FL)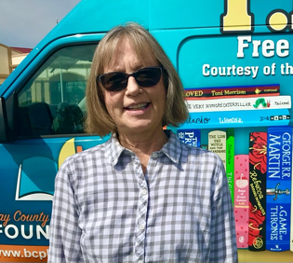 ABOS 2020 Virtual Conference: Outdoing Outreach was AWESOME. ABOS as an organization is a dynamic work group, and a brain trust, but most of all, ABOS is a community where everyone belongs.
[At the orientation] I found at the last minute, that, while I had been using the super-cool Whova App for days to learn about workshops, agendas, attendees, and contests, I didn't know how to get into the actual conference! Turns out I was not alone. We were all wandering around in cyberspace. But within moments everyone began to appear in the ZOOM conference room.
Throughout the day, there were bookmobile videos from other libraries, showcasing their work. That was super interesting. Most bookmobiles on display are currently operating on curbside pickup only. The larger bookmobiles are staying home now, and the vans, cars, and bicycles are on the move.
All the sponsors made personal presentations. Ordinarily, I feel uncomfortable among the vendors… but in this environment, we were discussing products, services, and innovations, rather than what I could purchase. It was just interesting and not stressful!
This was my Ice Breaker for day one: I am currently teaching a class called Conversations that Matter: Tough Topics With Total Strangers. I think we can strengthen community resilience by increasing critical thinking and expanding our ability to find common ground.
I had discussion on this topic throughout the conference. So many libraries are interested in community conversations, deliberative dialogue, and other techniques, and were eager to learn how to get started.
Some of Heather's favorite presentations included:
A session about a library that provides programming through outdoor activities.
A rural library's work with connecting with patrons with dementia.
The Paperback Rider, a session about a book bike, and the librarian that provides services by riding the bike out into the community with giveaways and craft ideas.
Libraries Without Borders talking about their Wash and Learn initiative that reimagines what a library can by bringing popup library programming to laundromats.
The post
Scholarship Recipients Reflect on the Association of Bookmobile and Outreach Services Conference
first appeared on
SEA Currents
.
The New Year is a celebration of new beginnings.  This may be especially true as we welcome 2021, which we hope will be a resilient New Year. Resilience sustains us through adversity by cultivating practices that help us cope … and 2020 was nothing if not full of adversity.
How can we practice resilience in the New Year? Psychologists define resilience as "the process of adapting well in the face of adversity, trauma, tragedy, threats, or significant sources of stress—such as family and relationship problems, serious health problems, or workplace and financial stressors."1 This doesn't mean we deny reality but instead we develop the strong coping skills needed to deal with harsh realities. Fortunately, resilience is something we can cultivate and grow. These featured books offer helpful tips for your resiliency garden.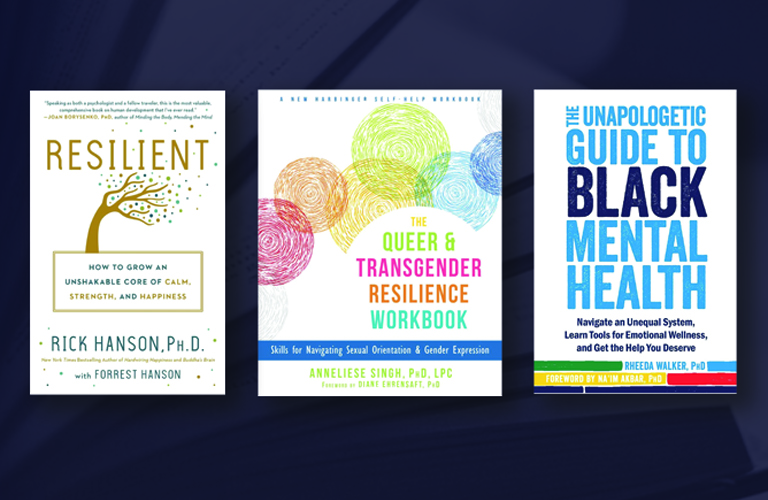 In Resilient: How to Grow an Unshakable Core of Calm, Strength, and Happiness, New York Times bestselling author Dr. Rick Hanson provides a roadmap to develop resilience. In a society that is so often toxic and unwelcoming, Dr. Anneliese A. Singh, Tulane University's first Associate Provost for Diversity and Faculty Development and a prolific author, offers skills to gain resilience in The Queer and Transgender Resilience Workbook. Noted Black mental health expert, Dr. Rheeda Walker, illuminates how to attain what she describes as "psychological fortitude" in The Unapologetic Guide to Black Mental Health: Navigate an Unequal System, Learn Tools for Emotional Wellness, and Get the Help you Deserve.
Each of us can benefit from cultivating resilience, so let's make 2021 a resilient New Year! To learn more about these books and their authors – and to find related helpful information from the National Library of Medicine and other authoritative sources – visit NNLM Reading Club's Mental Health Resilience page.
1American Psychological Association. (2020, February 1). Building your resilience. http://www.apa.org/topics/resilience
The post A Resilient New Year! first appeared on SEA Currents.