SEA All of Us

News for Network Members in Alabama, District of Columbia, Florida, Georgia, Maryland, Mississippi, North Carolina, Puerto Rico, South Carolina, Tennessee, U.S. Virgin Islands, Virginia and West Virginia
Updated: 2 hours 21 min ago
The New Year is a celebration of new beginnings.  This may be especially true as we welcome 2021, which we hope will be a resilient New Year. Resilience sustains us through adversity by cultivating practices that help us cope … and 2020 was nothing if not full of adversity.
How can we practice resilience in the New Year? Psychologists define resilience as "the process of adapting well in the face of adversity, trauma, tragedy, threats, or significant sources of stress—such as family and relationship problems, serious health problems, or workplace and financial stressors."1 This doesn't mean we deny reality but instead we develop the strong coping skills needed to deal with harsh realities. Fortunately, resilience is something we can cultivate and grow. These featured books offer helpful tips for your resiliency garden.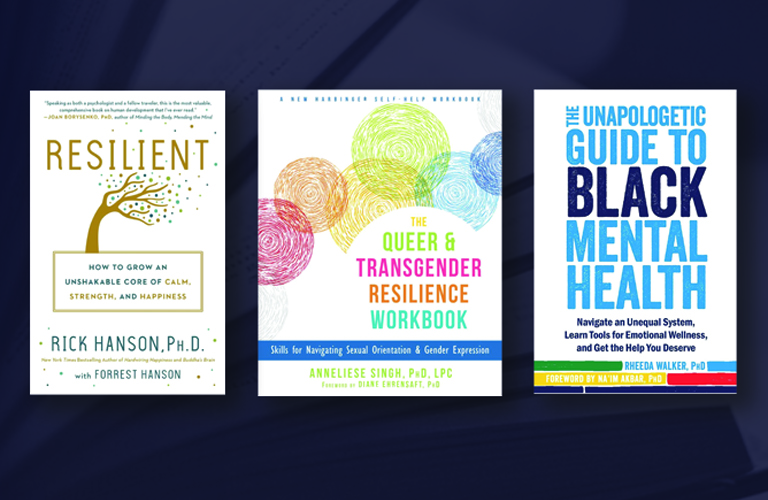 In Resilient: How to Grow an Unshakable Core of Calm, Strength, and Happiness, New York Times bestselling author Dr. Rick Hanson provides a roadmap to develop resilience. In a society that is so often toxic and unwelcoming, Dr. Anneliese A. Singh, Tulane University's first Associate Provost for Diversity and Faculty Development and a prolific author, offers skills to gain resilience in The Queer and Transgender Resilience Workbook. Noted Black mental health expert, Dr. Rheeda Walker, illuminates how to attain what she describes as "psychological fortitude" in The Unapologetic Guide to Black Mental Health: Navigate an Unequal System, Learn Tools for Emotional Wellness, and Get the Help you Deserve.
Each of us can benefit from cultivating resilience, so let's make 2021 a resilient New Year! To learn more about these books and their authors – and to find related helpful information from the National Library of Medicine and other authoritative sources – visit NNLM Reading Club's Mental Health Resilience page.
1American Psychological Association. (2020, February 1). Building your resilience. http://www.apa.org/topics/resilience
The post A Resilient New Year! first appeared on SEA Currents.
We inherit many things from the people who went before us – our physical characteristics, aspects of our personality and, sometimes, our health. December's Reading Club selections discuss inherited diseases, focusing specifically on cystic fibrosis, sickle-cell disease, and cancer caused by the BRCA mutation.
In Resurrection Lily, Amy Byer Shainman discusses her experiences after learning that she inherited a BRCA gene mutation that put her at high risk of developing certain cancers. She struggles with preventively removing her breasts even when she does not have a breast cancer diagnosis. The late Mallory Smith tells how she faced the daily challenges of cystic fibrosis in a diary she left behind in hope of aiding others who live with the disease in Salt in My Soul: An Unfinished Life.  In A Sick Life: TLC 'n Me: Stories from On and Off the Stage, singer Tionne "T-Boz" Watkins recounts her experiences as a member of the all-time best-selling American female music group and as a person with a particularly challenging form of sickle-cell disease.
Perhaps you know someone facing one of these illnesses or another inherited disease. Perhaps you would just like to know more about what it is like to deal with such illnesses. Either way, each of these books will provide you with a first-hand account.
To learn more about these books and their authors – and to find related information from the National Library of Medicine and other authoritative sources – visit NNLM Reading Club's Inherited Diseases page.
The post Explore Inherited Diseases with the NNLM Reading Club first appeared on SEA Currents.
Your health is the product of three factors: lifestyle, environment and genetics. In November, NNLM Reading Club is taking a closer look at human genetics.
Featured are three books that translate the complexities of genetics into understandable terms. Pulitzer Prize-winner Siddhartha Mukherjee traces the history of genetics from its beginnings in the 19th-century experiments of Gregor Mendel and intertwines it with the story of his own family in The Gene: An Intimate History.  Adam Rutherford looks at the wealth of information our DNA contains – including the history of our species – in A Brief History of Everyone Who Ever Lived: The Human Story Retold through Our Genes. Finally, in Pleased to Meet Me: Genes, Germs, and the Curious Forces That Make Us Who We Are, Indiana University School of Medicine Professor Bill Sullivan describes how genetics, epigenetics, microbiology and psychology combine to affect our personalities and actions.
Sullivan will be the guest speaker for a Nov. 17 online author talk as part of the NNLM Reading Club Presents… Series. Join us at 2 p.m. ET at https://youtu.be/1l2CGOsYL04.
To learn more about these books and their authors – and to find related information from the National Library of Medicine and other authoritative sources – visit NNLM Reading Club's Human Genetics page.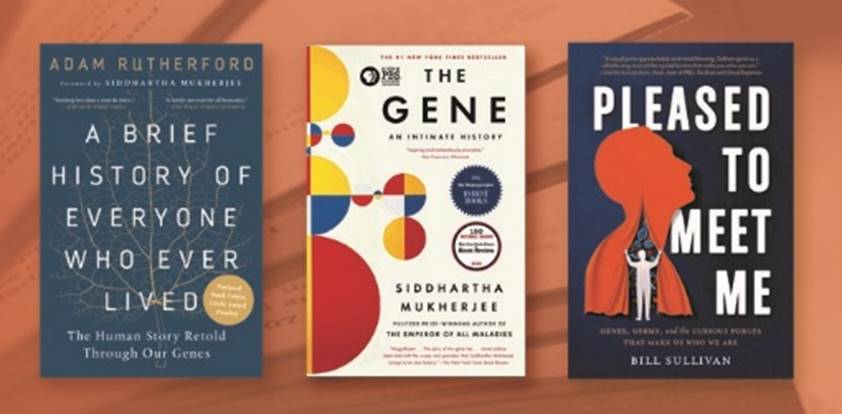 The post Take a Closer Look at Genetics with the NNLM Reading Club first appeared on SEA Currents.
Welcome to the Network of the National Library of Medicine (NNLM), Southeastern/Atlantic (SEA) Region's Weekly Digest. This digest includes upcoming events, online training opportunities, news, and past events.  
NNLM News
Upcoming Online Training Opportunities*
Moodle LMS Asynchronous Course Opportunities
Webinars November 10 – November 16
Webinars November 17 – November 20
Visit the NNLM Training Schedule for all upcoming webinars, scheduled, and on-demand classes. For past webinars and classes, please visit the NNLM on YouTube**
National Institutes of Health (NIH), National Library of Medicine (NLM), and National Center for Biotechnology Information (NCBI) News
NIH News
NLM News
NCBI Insights
NNLM SEA Communications
* Notes on NNLM Training Opportunities
All sessions listed are sponsored by a specific regional or national office, but open to all.

Webinars are scheduled for 1 hour unless otherwise noted.

The NNLM class registration system requires a free

NNLM account

prior to registration.

Visit the

NNLM Training Opportunities

to register and view a full calendar of training opportunities.

Please visit the

NNLM Acronym Guide

to understand the acronyms.

Refer to this guide to claim

MLA CE credit

.

Not all Training Opportunities listed provide MLA CE credit. Please refer to the class page to see if a specific session offers credit.
** Please note that NNLM recordings on YouTube may not have MLA CE Credit available. Please contact the regional office that sponsored the webinar for details.
The post NNLM SEA Digest News – October 30, 2020 first appeared on SEA Currents.
You may already know about the NNLM Reading Club, a selection of "ready-to-use" book titles along with free and downloadable materials designed to help libraries support the health information needs in their communities. Due to COVID-19, All of Us Community Engagement funded in-person activities are suspended until further notice. This includes shipping the NNLM Reading Club kits.
As an alternative, SEA is offering awards (up to $300) for member libraries to purchase 8-10 e-books and e-audio book formats of titles available from the NNLM Reading Club!
Libraries can host a virtual book discussion and make titles available to borrow in a digital format. We also recommend that all awardees include and/or link to All of Us downloadable materials for users to access during your library's virtual book club discussion. Libraries can purchase physical books and audio books if your library offers a safe method for patrons to borrow books (ex. curb side pick up or contactless delivery).
Award recipients will need to host at least one virtual discussion event by March 30th, 2021, fill out the Reading Club survey, and share the event on the Virtual Programs page.  This award will be available until funds are exhausted.
For more information visit the NNLM SEA Book Club website.
The post Host an NNLM Virtual Reading Club Discussion at your Library! first appeared on SEA Currents.
The All of Us Research Program has issued a new funding opportunity seeking the collaboration of national, state, and local engagement partners to recruit and engage participants in the landmark NIH program.
All of Us, a historic effort to accelerate research and improve health, launched nationally in 2018 to create one of the most comprehensive and diverse biomedical data resources of its kind. To date, more than 358,000 participants have enrolled in the program. This latest funding opportunity illustrates the program's commitment to partnering with organizations that are influential in their respective communities, especially those organizations that work with diverse communities. Through these partnerships, All of Us aims to create bi-directional and co-equal relationships that engage communities that have historically been underrepresented in biomedical research.
The program anticipates funding at least six awards in FY 2021 through this latest funding opportunity, each with a total project period of five years. Applications are due on November 23, 2020 at 5:00 p.m. of the applicant's local time. 
All of Us encourages eligible applicants with experience working with and engaging underrepresented communities to apply for this funding. All of Us considers the following populations underrepresented in research: racial and ethnic minority groups; children and seniors; sexual and gender minorities; people living with disabilities; people with barriers in access to care; people who have low income or low educational attainment; and rural residents.
For full details regarding this opportunity, please see the funding announcement.
The post All of Us Research Program Issues Funding Opportunity for New Engagement Partners first appeared on SEA Currents.