PNR All of Us
News from the Northwest and Beyond
Updated: 3 hours 26 min ago
The COVID-19 pandemic has brought widespread stress and uncertainty which may take a toll on our mental health. What an appropriate time to recognize May as Mental Health Month. The NNLM Reading Club features three books to spark a book club discussion on different facets of mental health. On our Mental Health Resources page, you'll find downloadable materials and program ideas to help educate and reduce the stigma often associated with mental health disorders. To learn more, visit the NNLM Reading Club. Choose a book, share the information, and start the conversation.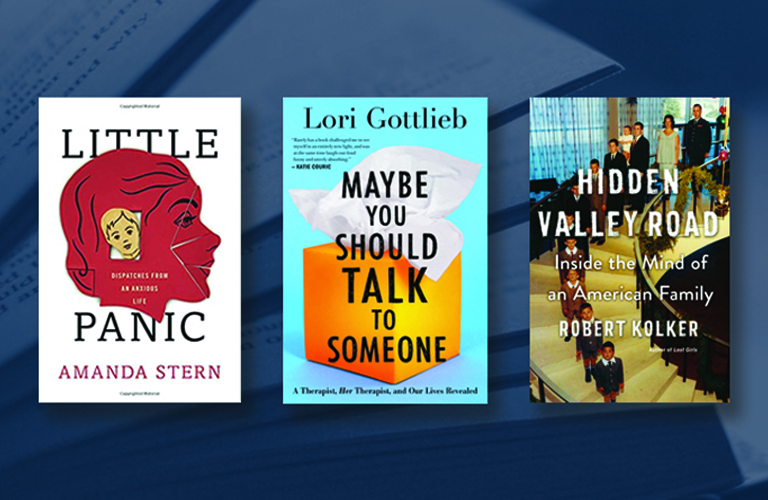 Stall Catchers is an easy online game developed to help accelerate Alzheimer's research. The game was created by the scientists at Cornell University to support their EyesOnAlz research project. According to the SciStarter.org project description, Stall Catchers focuses on one aspect of Alzheimer's Disease: reduced blood flow in the brain. This symptom of Alzheimer's has been known about for years, but, until now, nobody knew why reduced blood flow happens in the brain. Scientists are now finding a connection between blood flow and memory and they are testing that connection by inviting ordinary people to help by playing a simple game called Stall Catchers. When blood flow is stuck, the scientists call that a "stall" thus the name of the game, "Stall Catchers."
How does it work? Stall Catchers' participants watch videos of mice brains and "catch" blood flow stalls. Not a neuroscientist or animal biologist? No worries, participants are taught how to score blood vessels as "flowing" or "stalled." Responses are shared with the EyesOnAlz scientists who use this data to help them fully understand how stalls are contributing to Alzheimer's. The goal is to use this knowledge to uncover potential treatment targets in the brain. To play, participants, need a Smartphone (or computer) and an internet connection. This citizen science project is important, easy and fun!
So, who's ready to advance scientific discovery from the comfort of their living room and help Alzheimer's research?  Stall Catchers, that's who!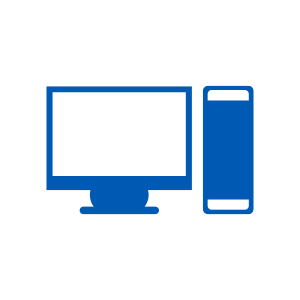 In a time where we rely so heavily on digital connectivity, how can we ensure that library communities have the support they need to stay connected?
The Public Library Association (PLA), National Network of Libraries of Medicine (NNLM) and the All of Us Research Program (All of Us) have partnered together to create free resources for library staff to support their community's digital literacy needs. Resources include a curriculum guide for library staff to teach digital literacy by using health topics and a series of online modules designed to teach basic Internet skills. Available in English and Spanish, the modules are designed to help new internet users navigate the online world.
Learn more about why digital literacy is so important to health, participate in virtual trainings, access free resources to help your library support digital health literacy, and promote your digital literacy training sessions to individuals in your community in partnership with NNLM and All of Us.
Visit nnlm.gov/allofus/digitalhealthliteracy to access these resources and opportunities and more!
Looking for more ways to engage your community around digital literacy?
Try promoting citizen science as a way for your community to practice digital literacy skills, learn about factors that impact health, and contribute meaningful data to scientific research!
To get started, check out our online course "Introduction to Citizen Science," a free, online class developed in partnership with SciStarter. This course is for any member of the public who is interested in learning about citizen science and how they can participate in citizen science activities both online and in-person.
Visit scistarter.org/nlm to access citizen science resources.
NNLM invites you to learn and share innovative ways to continue supporting the digital literacy needs of your communities with your colleagues in the NNLM network.
These opportunities have been brought to you in partnership with All of Us, a national research program seeking one million or more people from across the United States to help speed up medical research. Learn more about All of Us at joinallofus.org/internetskills.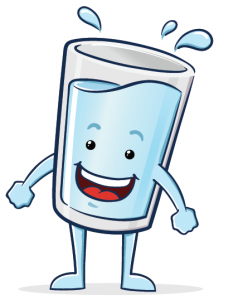 In collaboration with Cornerstones of Science, NNLM is offering a new resource to public libraries to help library staff support citizen science outreach efforts in local communities through a fun, accessible and loanable kit for families. The Test The Waters Family Exploration Kit  is available now during Citizen Science month (April 2020). Within each kit are four family-friendly citizen science water-themed activities and all the instructions and materials needed to conduct each activity.
The kits are shipped free to the first 500 requesting libraries. They come in a lockable plastic tote and can fit on a typical library shelf. If your library is closed, no worries – you can specify when it ships. That said, kits must be requested by April 30, 2020. To request your kit, click here.
The collaboration with Cornerstones of Science is part of NNLM's partnership with the NIH All of Us Research Program which seeks to shine a light on citizen science as a means to connect people with research that has real-world impact.
During Citizen Science Month, NNLM PNR is featuring simple, health-related citizen science projects

that you can lead as either a virtual library program event; share through your library's social media; or for you to do as a private citizen. NLM has partnered with SciStarter.org to bring you these important projects. This week, we feature a vitally important project called "The COVID-19 Citizen Science Project."
It's no secret we've all been touched by the COVID-19 pandemic. Many of us are sheltering in place while continuing to support our communities: We're expanding access to online library resources and offering virtual programming as we work remotely or from within our closed libraries. "Stressful" is an understatement. Yet while we work, thoughts of COVID-19 are never far from mind.
This is where the collective impact of citizen science provides a tangible way to help. The COVID-19 Citizen Science (CCS)  project has just been launched by physician-scientists at the University of California San Francisco, offering a way for people from every walk of life to help in the battle against this virus. The project seeks ordinary people age 18 or over to help advance scientists' understanding of the disease. All that's needed to participate is a smartphone and the ability to download the app.
The project's goal is to learn what behaviors slow the spread of the virus and what factors increase or lessen the long-term health impacts of COVID-19. Through the project's app, participants self-report their symptoms daily (healthy or not) and complete simple surveys. People have the option to provide their location, allowing researchers to determine how geography may affect the spread of infection.
In return, researchers will share updates, create and post maps related to reported behaviors and symptoms, and inform participants of what they discover. The more who participate, the better and more reliable the data, so scientists encourage participants to share the project with at least five other individuals. Libraries are perfectly positioned to help spread the word.  To host a virtual library event, share on social media or participate, visit: SciStarter's COVID-19 Citizen Science or the COVID-19 Citizen Science Project.
Important note: In deciding to participate myself, I learned it's best to request the App directly from either SciStarter's website or from the COVID-19 Citizen Science Project's website via your Smartphone rather than through the Apple Store or Google Play.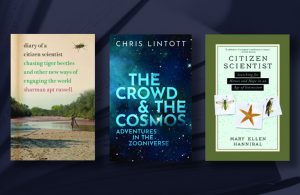 Citizen science is collaborative research done by everyday people, anytime, anywhere, to help answer questions scientists can't answer alone. In order to turn curiosity into impact, Citizen Science Month is recognized annually in April to promote all things citizen science. Libraries can serve as a hub for citizen science in their communities by mobilizing patrons to get involved in collecting data and spreading the word about their efforts, and participants can develop a deeper engagement in scientific and health literacy through their active involvement in the scientific process. There are many citizen science projects that can be done in a backyard or from home. Our friends at SciStarter have easy citizen science ideas to share and even some health-related projects selected in collaboration with NLM.
To learn more, visit NNLM Reading Club Book Selections and Health Resources: Citizen Science. Choose one of the three featured books. Then either host a virtual book club discussion or, when your library reopens, download the discussion guide, promotional materials, and corresponding health information. Short on time? No worries! Apply for a a free NNLM Reading Club Book Kit.
Are you planning an in-person Citizen Science Month event in April? Looking to host a virtual event, or transition your previously in-person event to a virtual format? Then this is the virtual training for you! Join us on March 25th at 11:00 am Pacific, Noon MT, 1:00pm CT and 2pm ET.  Register here for the free webinar. 
The Science Friday and SciStarter teams will share tips to facilitate citizen science virtual events for schools and general audiences in April.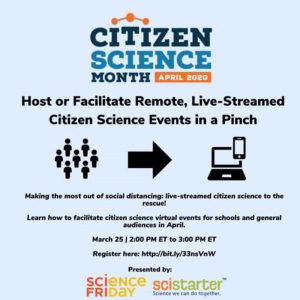 In addition to being a trusted public media source for science news, Science Friday has been livestreaming live interactive science demonstrations, fully online educator learning communities and workshops, place-based science events for general audiences, and more since 2015. Their livestream audiences reach in the millions across platforms such as Periscope, Facebook Live, and Zoom and have served kids, parents, educators, and lifelong learners around the country and world.
Learn more about CitSciMonth at CitizenScienceMonth.org on SciStarter.
Speakers & Facilitators for this webinar: Ariel Zych, Education Director, Science Friday; Xochitl Garcia, K-12 education program manager, Science Friday; and Caroline Nickerson, Program Manager; SciStarter
NNLM's partner, SciStarter, has asked us to share this brief survey with you!
With support from the Institute for Museum and Library Services (IMLS), Arizona State University and SciStarter have spent the past 2+ years developing and field testing resources for libraries,to introduce citizen science and field-testing kits to their communities. Within the STEM realm, citizen science enables people from all walks of life to actively contribute to real scientific research. 
Our pilot project has expanded throughout the state of AZ, thanks to mini grants offered by Arizona State Library, Archives, and Public Records and the National Network of Libraries of Medicine (NNLM) and we are eager to get a sense of the levels of interest and commitment from more libraries across the country!
Please complete the brief survey by March 20, 2020: https://forms.gle/3f9qsEMjM4E6NwKE9
We appreciate your interest and commitment to supporting public engagement in science and hope that we can work together in the near future!
Sincerely,
The ASU-SciStarter team
NNLM is partnering with the Public Library Association (PLA) to offer the free webinar "Creating a Diverse Archive: Lessons in Community Engagement from StoryCorps."
When: Wednesday, March 25  11:00 AM-12:00 PM (Pacific) 12:00 PM-1:00 PM (Mountain) 1:00 PM-2:00 PM (Central) 2:00 PM-3:00 PM (Eastern)
Join StoryCorps, the national oral history project, for an in-depth look at how to engage your community and local stakeholders through storytelling.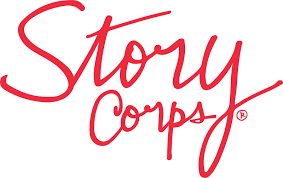 Each year, StoryCorps collaborates with hundreds of community partners in order to record and preserve diverse voices from across the U.S. In this webinar, we'll share insights from our partnership model, discuss StoryCorps' efforts to create a representative archive, and provide best practices and case studies for engaging your library community through storytelling. Sponsored by the National Network of Libraries of Medicine/All of Us Community Engagement Network.
For more information and to register, please visit: http://www.ala.org/pla/education/onlinelearning/webinars/storycorps
Citizen science can build upon your existing STEM programs or introduce a whole new world of STEM engagement opportunities for library patrons. From tracking species migrations to measuring light pollution or searching online for new galaxies, citizen science invites patrons to engage in REAL research projects and contribute to scientific knowledge. Discover how libraries are serving as community hubs for citizen science with support from the National Library of Medicine, SciStarter and Arizona State University's School for the Future of Innovation in Society. We invite you to join this free, interactive webinar "Citizen Science Month and Beyond!" and discover how you can access the many FREE resources to help introduce, facilitate, or promote citizen science in your library…yes, even THIS April!
Learn more about citizen science at CitizenScienceMonth.org.
Register in advance for this webinar: https://zoom.us/webinar/register/WN_suwQ2J1RQjCqkzJcVhiHYA
After registering, you will receive a confirmation email containing information about joining the webinar.
Good nutrition, combined with physical activity, can help you to reach and maintain a healthy weight, reduce your risk of chronic diseases, and promote your overall health. Unfortunately, social factors such as poverty or inadequate food options may lead to obesity, malnourishment, and poor health. National Nutrition Month®, recognized each year during the month of March, focuses on the importance of making informed food choices, developing sound eating habits, and raising awareness of food insecurity.
To spark the conversation, visit NNLM Reading Club Book Selections and Health Resources: Nutrition. Choose one of the three featured books. Then download the discussion guide, promotional materials and corresponding health information. Short on time?  No worries! Apply for a free NNLM Reading Club Book kit.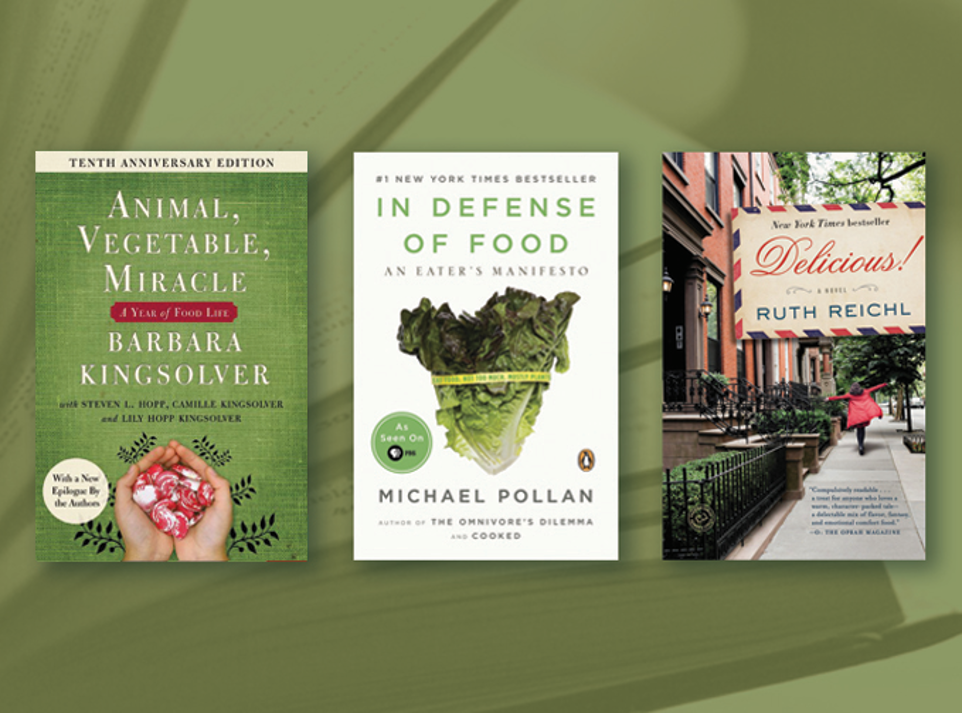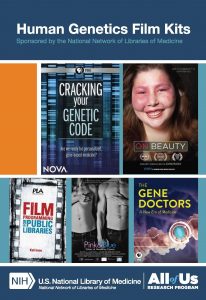 Announcing the NNLM Human Genetics Film Kit! Through our partnership with the NIH All of Us Research program, we are providing free film kits to up to 250 public libraries across the United States. Because we know how difficult programming and resources for providing health information can be in small and rural libraries with limited budget and personnel, Association for Rural and Small Libraries (ARSL) members receive first consideration.
The Human Genetics Film Kit comes with four films, discussion guides, and customizable marketing materials. Applications are open until March 16. Selected public libraries can expect to receive their kits by April 30, 2020.
Learn more about the NNLM Human Genetics Film Kit at https://nnlm.gov/all-of-us/funding/human-genetics-film-kits
Apply to receive a film kit at https://nnlm.gov/ZNv