PNR All of Us
News from the Northwest and Beyond
Updated: 3 hours 28 min ago
The New Year is a celebration of new beginnings.  This may be especially true as we welcome 2021, which we hope will be a resilient New Year. Resilience sustains us through adversity by cultivating practices that help us cope … and 2020 was nothing if not full of adversity.
How can we practice resilience in the New Year? Psychologists define resilience as "the process of adapting well in the face of adversity, trauma, tragedy, threats, or significant sources of stress—such as family and relationship problems, serious health problems, or workplace and financial stressors."1 This doesn't mean we deny reality but instead we develop the strong coping skills needed to deal with harsh realities. Fortunately, resilience is something we can cultivate and grow. These featured books offer helpful tips for your resiliency garden.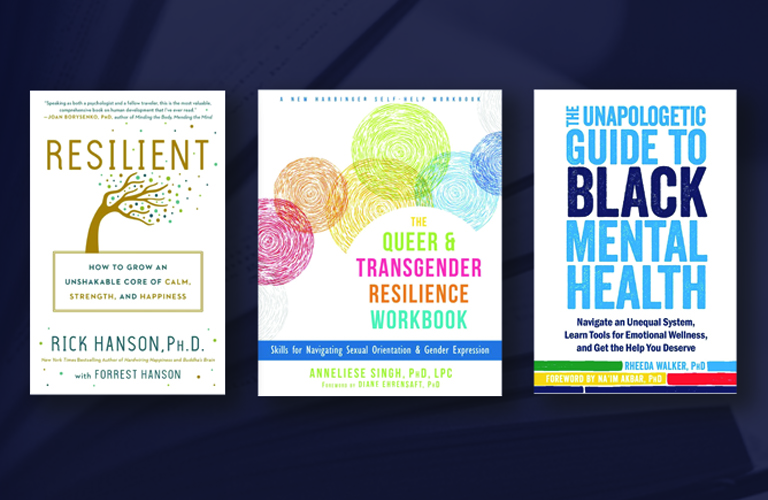 In Resilient: How to Grow an Unshakable Core of Calm, Strength, and Happiness, New York Times bestselling author Dr. Rick Hanson provides a roadmap to develop resilience. In a society that is so often toxic and unwelcoming, Dr. Anneliese A. Singh, Tulane University's first Associate Provost for Diversity and Faculty Development and a prolific author, offers skills to gain resilience in The Queer and Transgender Resilience Workbook. Noted Black mental health expert, Dr. Rheeda Walker, illuminates how to attain what she describes as "psychological fortitude" in The Unapologetic Guide to Black Mental Health: Navigate an Unequal System, Learn Tools for Emotional Wellness, and Get the Help you Deserve.
Each of us can benefit from cultivating resilience, so let's make 2021 a resilient New Year! To learn more about these books and their authors – and to find related helpful information from the National Library of Medicine and other authoritative sources – visit NNLM Reading Club's Mental Health Resilience page.
1American Psychological Association. (2020, February 1). Building your resilience. http://www.apa.org/topics/resilience
The post A Resilient New Year! first appeared on Dragonfly.
We inherit many things from the people who went before us – our physical characteristics, aspects of our personality and, sometimes, our health. December's Reading Club selections discuss inherited diseases, focusing specifically on cystic fibrosis, sickle-cell disease, and cancer caused by the BRCA mutation.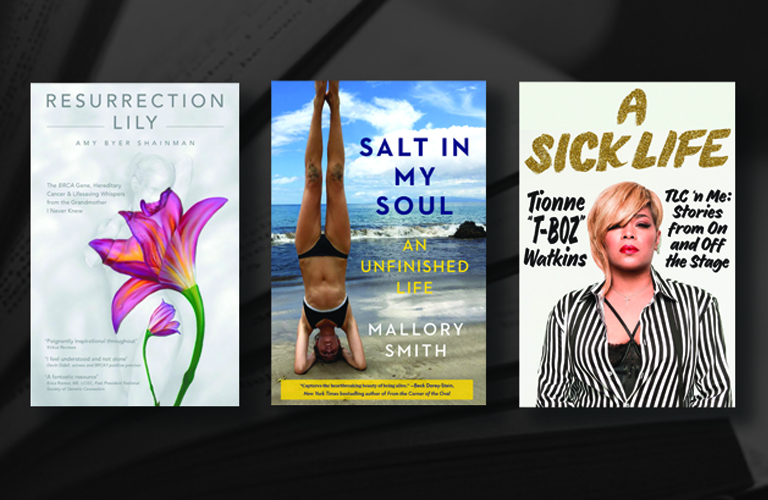 In Resurrection Lily, Amy Byer Shainman discusses her experiences after learning that she inherited a BRCA gene mutation that put her at high risk of developing certain cancers. She struggles with preventively removing her breasts even when she does not have a breast cancer diagnosis. The late Mallory Smith tells how she faced the daily challenges of cystic fibrosis in a diary she left behind in hope of aiding others who live with the disease in Salt in My Soul: An Unfinished Life.  In A Sick Life: TLC 'n Me: Stories from On and Off the Stage, singer Tionne "T-Boz" Watkins recounts her experiences as a member of the all-time best-selling American female music group and as a person with a particularly challenging form of sickle-cell disease.
Perhaps you know someone facing one of these illnesses or another inherited disease. Perhaps you would just like to know more about what it is like to deal with such illnesses. Either way, each of these books will provide you with a first-hand account.
To learn more about these books and their authors – and to find related information from the National Library of Medicine and other authoritative sources – visit NNLM Reading Club's Inherited Diseases page.
The post December's NNLM Reading Club: Inherited Diseases first appeared on Dragonfly.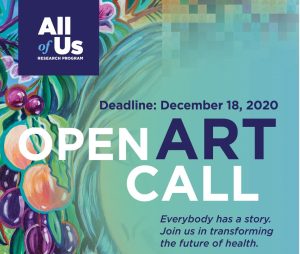 The All of Us Research Program is holding a call for artists' designs to transform select traffic signal and utility cabinets in Seattle, Washington. The designs should be reflective of the program's core values to promote diversity and inclusion in health research and represent the local community. Designs should reflect the project theme: A Healthy Future for All of Us and the diversity of the Seattle community.
The project aims to drive awareness and education about All of Us and boost enrollment in communities historically underrepresented in biomedical research. This project utilizes public art to celebrate community diversity and enhance the visual landscape. Artists designs will be printed on vinyl and installed on locally-maintained signal box cabinets in high-traffic areas. In addition, each traffic box will contain a prominently placed QR code that engages passersby in an augmented reality experience introducing the program's values and goals.
Deadline: December 18, 2020 5:00pm Eastern Time
For more information and submission guidelines, click here.
The post Call for Washington Artists: Seattle Traffic Box Community Connector first appeared on Dragonfly.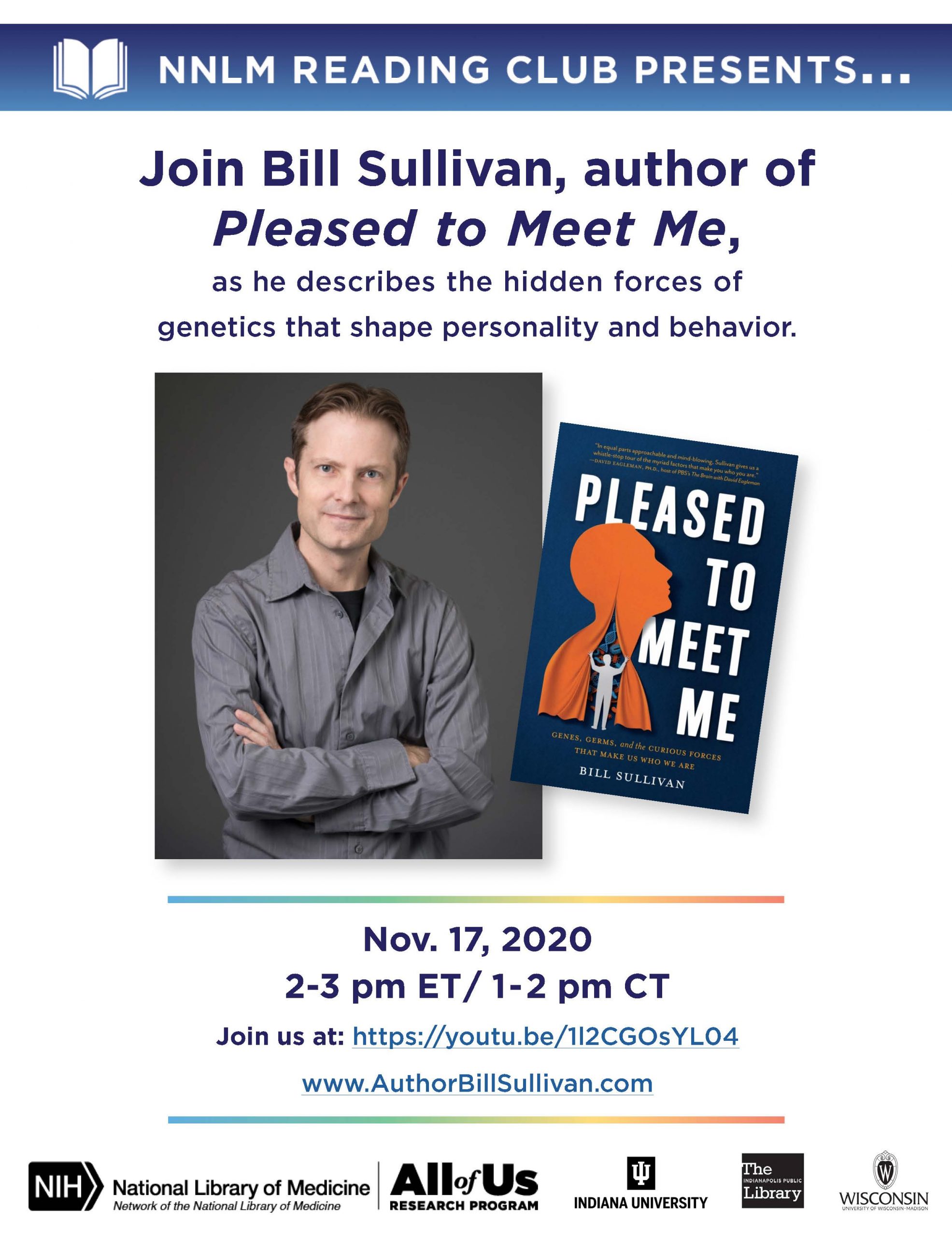 The post NNLM Reading Club Presents...Pleased to Meet Me: 11.17.20 first appeared on Dragonfly.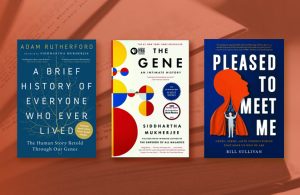 Your health is the product of three factors: lifestyle, environment and genetics. In November, NNLM Reading Club is taking a closer look at human genetics.
Featured are three books that translate the complexities of genetics into understandable terms. Pulitzer Prize-winner Siddhartha Mukherjee traces the history of genetics from its beginnings in the 19th-century experiments of Gregor Mendel and intertwines it with the story of his own family in The Gene: An Intimate History.  Adam Rutherford looks at the wealth of information our DNA contains – including the history of our species – in A Brief History of Everyone Who Ever Lived: The Human Story Retold through Our Genes. Finally, in Pleased to Meet Me: Genes, Germs, and the Curious Forces That Make Us Who We Are, Indiana University School of Medicine Professor Bill Sullivan describes how genetics, epigenetics, microbiology and psychology combine to affect our personalities and actions.
Sullivan will be the guest speaker for a Nov. 17 online author talk as part of the NNLM Reading Club Presents… Series. Join us at 2 p.m. ET at https://youtu.be/1l2CGOsYL04.
To learn more about these books and their authors – and to find related information from the National Library of Medicine and other authoritative sources – visit NNLM Reading Club's Human Genetics page.
The post NNLM Reading Club Looks Beneath the Surface first appeared on Dragonfly.
"For I know that diversity is important, not based just on gender, or your race or ethnicity, but your unique experiences, your perspectives and solutions that you bring to the table. … Don't shy away from your experiences, your challenges, your joys. Yes, they are wonderfully complicated, but they shape who you are."  ~Valerie Montgomery Rice, MD, President and Dean of Morehouse School of Medicine [1]
 About 13 percent of the U.S. population identify as Black or African American, but only 5 percent of active physicians do. Eighteen percent of people list themselves as Hispanic or Latino while the representation among doctors is less than 6 percent. [2] [3] In order to talk about diversity and equity in health care, we must also discuss diversity and equity in the medical profession.
For the month of October, the NNLM Reading Club recommends three memoirs that explore the personal experiences of physicians of color.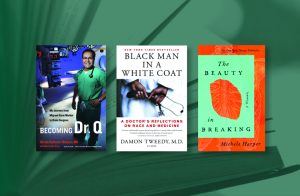 Becoming Dr. Q: My Journey from Migrant Farm Worker to Brain Surgeon by Alfredo Quiñones-Hinojosa, MD, traces the author's journey from child in a Mexican village to migrant farmworker in California to brain surgeon and researcher. Black Man in a White Coat: A Doctor's Reflection on Race and Medicine by Damon Tweedy, MD, looks at how both Black doctors and patients must navigate the difficult and often contradictory terrain of race and medicine. Finally, The Beauty in Breaking: A Memoir by Michele Harper, MD, recounts the experiences of an African American emergency room doctor amid personal struggles that include her history with an abusive father and racial conflict faced in the ER ward.
To learn more about these books and their authors and to find related information from the National Library of Medicine and other authoritative sources, visit NNLM Reading Club's Racism and Health: Diversity in Medicine. 
[1] Rappleye, E. (2018, June 4). Eight inspiring quotes from 2018 medical school graduation speeches. Retrieved September 28, 2020, from Becker's Hospital Review.
[2] U.S. Census Bureau. ACS Demographic and Housing Estimates. Retrieved September 28, 2020, from United States Census Bureau.
[3] Association of American Medical Colleges. Diversity in Medicine: Facts and Figures 2019. Retrieved September 28, 2020, from AAMC.
The post NNLM Reading Club Explores Diversity in Medicine in October first appeared on Dragonfly.