PNR All of Us
News from the Northwest and Beyond
Updated: 3 hours 8 min ago
It's difficult to talk about, even scary. Important things usually are.
And deciding what to do about that transition between life and death – how to make it more comfortable, what to do afterwards – is so very important, to our loved ones and ourselves. It involves issues not only of health, but of spirituality, compassion and trust.
Whether your focus of concern is on a family member or yourself, this April the NNLM Reading Club suggests three books that may help with your understanding of end-of-life matters and those conversations you probably have been putting off.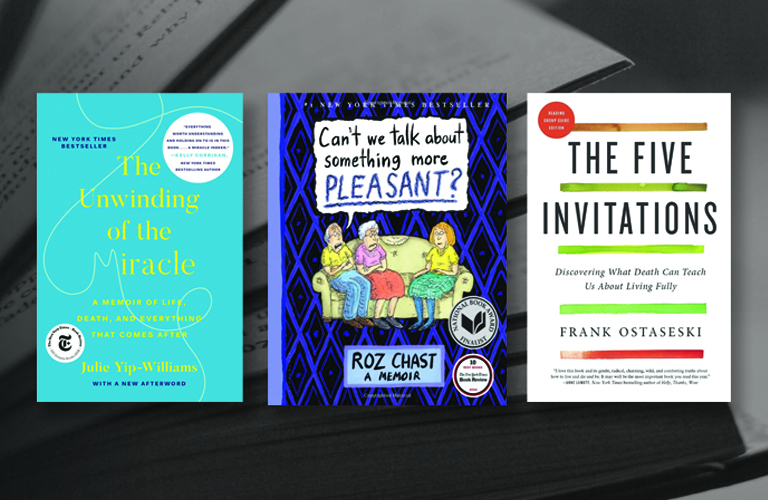 In The Unwinding of the Miracle: A Memoir of Life, Death and Everything That Comes After, the late Julie Yip-Williams leaves behind a chronicle of a life filled with improbable outcomes since her childhood as a blind Vietnamese refugee who regained her sight at the hands of an American doctor. She faces her own terminal illness at age 37 with honesty.
New Yorker cartoonist Roz Chast brings her idiosyncratic humor to her experience as caretaker of aging, declining parents in the graphic memoir Can't We Talk About Something More Pleasant? Finally, Zen Hospice Project co-founder Frank Ostaseski relates the lessons he has learned as a Buddhist teacher who has worked with more than a thousand dying patients in The Five Invitations: Discovering What Death Can Teach Us about Living.
We encourage you to take a deep breath, read one of these books, and discuss it with people whose opinions you respect, especially those in your own family. It just might make you feel a whole lot better about the inevitable. Visit the NNLM Reading. Club: End of Life health topic to get started.
The post
Understanding End-of-Life Matters
first appeared on
Dragonfly
.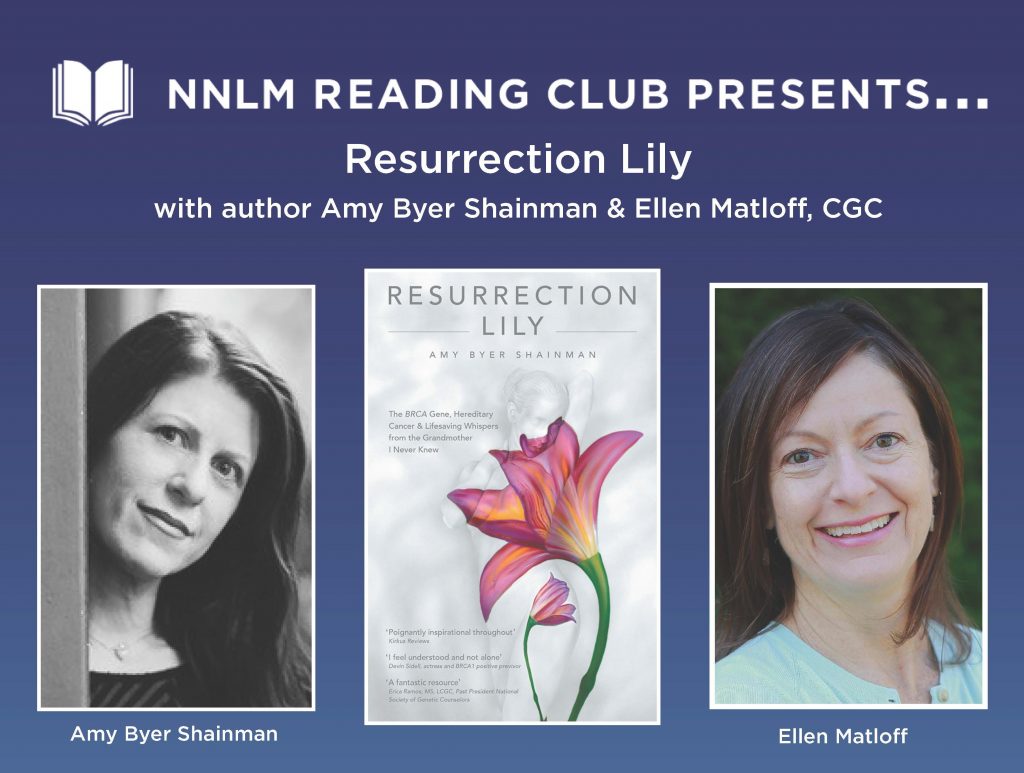 Please join us this Thursday as Amy Byer Shainman, also known as the BRCA Responder, talks about her book, Resurrection Lily: The BRCA Gene, Hereditary Cancer & Lifesaving Whispers from the Grandmother I Never Knew with Certified Genetic Counselor Ellen Matloff.
In this powerful program, these two genetic cancer experts will share their knowledge and answer your questions.
Mar. 11,
2021
   11:00 a.m. Alaska | 12:00 p.m. PT | 1:00 p.m. MT 
Join the live stream on YouTube 
https://youtu.be/PJBzdgCTn2E
The post
Join us on March 11th for Resurrection Lily
first appeared on
Dragonfly
.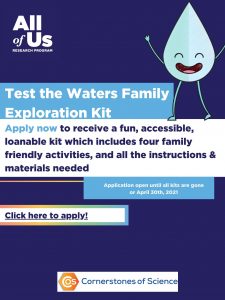 In partnership with Cornerstones of Science and the NIH All of Us Research Program, the Network of the National Libraries of Medicine (NNLM) is offering an exciting new citizen science resource to public libraries. The Test the Waters Family Exploration Kit is a fun, accessible, loanable kit which includes four family friendly activities, and all the instructions and materials needed (audio file guides are available in in Arabic, Chinese, English, Spanish and Vietnamese).
The free kits are available to the first 500 requesting libraries! They come in a lockable plastic tote and can fit on a typical library shelf. Applications for the kits will be open until they are all gone/April 30th, 2021. If you are a member of NNLM you can apply for a kit by clicking here. Otherwise, it is easy and free to sign your organization up.
To learn more about the Test the Waters Family Exploration Kit, click here.
Questions? Email us at lib-nnlmallofus@uiowa.edu
The post
Free: Test the Waters Family Exploration Kit!
first appeared on
Dragonfly
.
The NNLM Reading Club in March examines the food we eat and all the factors that make it bad, good or better for us.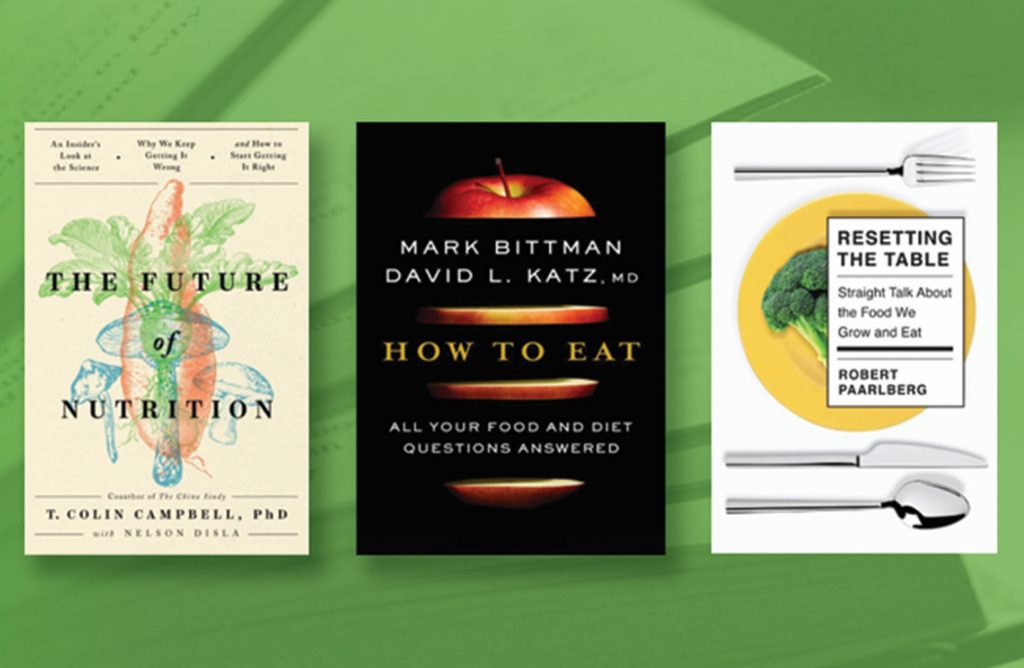 T. Colin Campbell, whose previous books include best-seller The China Study, covers the nutrition industry and its impact on both our health and the practice of science with The Future of Nutrition. In How to Eat: All Your Food and Diet Questions Answered, Mark Bittman and David Katz, M.D., use a Q&A format to dispense advice on topics such as dietary patterns and lifestyle; specific diets like the Mediterranean diet, intermittent fasting and the keto diet; and various foods such as grains, meat, dairy and alcohol. Finally, Robert Paarlberg, an associate at Harvard's Weatherhead Center for International Affairs, contradicts some of the conventional wisdom surrounding things like organic foods and those neighborhoods and communities known as food deserts. He looks for solutions to food problems that can make sense for farmers and consumers alike in Resetting the Table: Straight Talk about the Food We Grow and Eat.
No matter what fare typically gets you through your day, we invite you to fortify your knowledge diet with these Reading Club selections. Enjoy!
The post
Fortify Your Knowledge
first appeared on
Dragonfly
.
By Guest Contributor Karen Yother, Community Library Network, Idaho
Anyone who has worked with teens will tell you that they are quite the unique audience. What is trendy one day is out of favor the next. They eagerly develop their own personalities and interests, continually seeking ways to express their ideas in a variety of formats. But today's teens also are under an intense amount of pressure at home, at school, from friends, the community and – unlike their earlier counterparts — in the virtual world.
Project Rationale/Description/Goals
More than 19,600 teens live in our Northern Idaho Community Library Network service area: approximately 34% of our total population. Yet, similar to most communities, needed programs and services to teens are poorly funded. The Alliance for Excellent Education reports that teens (ages 12-18) receive the least financial support, lagging far behind what is invested in children (birth-11 years) and new adults (ages 19 and up).
Conversations with our community partners working with teens center around Adverse Childhood Experiences (ACEs), and ways to help teens overcome traumatic experiences. The more ACEs a child experiences, the more likely he or she will suffer poor academic achievement, substance abuse, and toxic stress. According to the Child Mind Institute, nearly one in three teens meet the criteria for an anxiety disorder by the age of 18. Given that mental health is a topic not frequently discussed, teens often suffer in silence. That needn't happen as there are a variety of approaches to help teens who have experienced ACEs, including meditation, exercise, and spending time outdoors. To help allay the anxiety suffered by many teens, we developed Pop-Up Library: Wellness Edition, with a focus on mindfulness, physical activity, and nutrition.
Our Pop-Up Library: Wellness Edition project was funded by the Network of the National Library of Medicine, Pacific Northwest Region. Our project goal was to provide health literacy programming along with technology access, exploration, and training to teens in the Community Library Network service area. We planned to use a mobile discovery bike and van to reach young members whose communities lack the facilities and infrastructure to offer wellness programming by using tech-discovery options.
Through this wellness initiative, teens would gain first-hand experience with various mindfulness techniques, access technology to find quality health resources, and discover how their local library is available to assist their wellness exploration, practices and learning.
Regrettably, onset of the COVID pandemic required us to forego the majority of our programming for the time being. Following is a report of what we planned to accomplish … and what we still hope to achieve, once conditions allow.
Project Plans
Our project focuses on teens ages 11-18 and their health literacy needs, specifically providing them access to quality health information and community resources to help reduce stress and anxiety. We identified teens' health and wellness because teens increasingly use our library for respite and safe harbor. Our project embraces one of the core tenets of precision medicine, a focus of the NNLM All of Us Community Engagement Network and aimed to equip teens with access to quality health information and resources, as well as to empower them to make the best choices for themselves. According to the Precision Medicine Initiative, precision medicine is "an emerging approach for disease treatment and prevention that takes into account individual variability in genes, environment, and lifestyle for each person." While we are not medical professionals, we recognize the individuality of teens in our community and the need to offer a variety of programs and resources to meet their unique and varying needs.
The Wellness Open House is one program we designed to offer through Pop-Up Library: Wellness Edition. Health, wellness, alternative medicine, and other practitioners were invited to participate, share information, and provide demonstrations as appropriate. All of Us materials would be distributed to all attendees in an effort to raise awareness of the All of Us Research Project. While the Wellness Open House was designed with teens in mind, the event was also open to their family members and the general public. COVID-19 put our Open House on hold, but plans are in place to offer this event later this year.
Many families within our District's 1,100 square miles lack access to technology and quality health resources, especially in our rural areas. Four of our library communities — Athol, Harrison, Pinehurst and Spirit Lake — are towns with fewer than 2,500 people. These small towns lack the resources and infrastructure to expose teens and families to the countless educational, cultural and entertainment opportunities available through today's technology. This lack of technology access coupled with work and school schedules, shelter and transportation difficulties, add to the stress of daily life for many teens, contributing to increased anxiety. All of these factors are obstacles to success.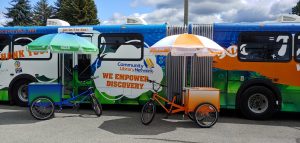 We planned to use Pop-Up Library Book Bikes, equipped with hotspots, tablets, virtual and augmented reality equipment to bring programming to neighborhoods, parks and targeted community locations.  Engaging programs such as meditation, yoga, Zumba, healthful cooking, and paint & sip will be scheduled once it is safe again to do so. Teens will receive access to new technologies and learn about health resources for their personal health literacy toolkits.
During our planning sessions, the Youth Services (YS) team discussed the project's programs, community partnerships, timelines and branding needs. We wanted to create a brand that empowered teens and opened them up to a world of possibilities. The team selected "I Am" as the theme to empower teens to think of all the positive characteristics to define themselves: bold, strong, empowered, loved, fearless, creative. Once the project's logo was completed, using Community Library Network funds, we created materials for distribution at community events to engage teens, including stickers, magnets, and stress balls.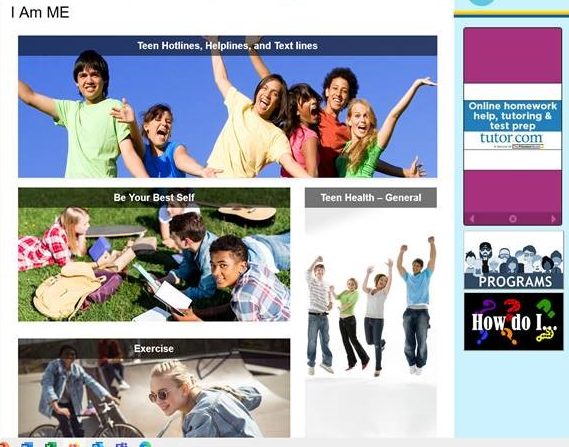 We built a project website, I am ME, which provides quality health resources for teens. Topics include mental health, self-care, relaxation, food, be your best self, along with hotlines, helplines, and text lines.
We purchased six (6) sandwich boards to use as 'talk back' boards. Drawing from the Public Library Association Project Outcomes evaluation tools, we selected three questions for teen response at each program's conclusion:
Did you learn something helpful?
Are you more aware of health-related resources and services provided by the library?
What did you like most about the program?
Using this method, teens will write their responses on Post-it notes and place them under each question, giving them an opportunity to respond honestly and anonymously.
COVID-19
We held a few initial programs and were just about to fully launch our Pop-Up Library: Wellness Edition project when the pandemic hit and everything shut down. Staff attempted to re-invent programs to meet community health requirements but were unable to do so in a safe, engaging way. Throughout the pandemic, it has been heartbreaking for staff to see teens stressed and distanced from both their friends and routines, knowing there is nothing we can do. Pre-COVID-19, the library was a safe place for teens to come and hang out, chat with friends and staff, and attend quality programs. Being closed has heightened teens need for a safe place and not being able to provide it was a significant blow to the staff as well as the community.
Recently our local schools began offering mental health and suicide prevention programs to the 3rd-5th grade students. Because of its "I Am" initiative through the Pop-Up Library: Wellness Edition project, the library is poised to provide support and resources to the schools for these students. Being able to support and embed ourselves in the community again to provide kids and teens with tools for their well-being toolbelt is gratifying.
Our "Why"
The Pop-Up Library: Wellness Edition project's "I Am" initiative is important because one year ago, three teens in our community committed suicide. We are not naïve to think that this project, once fully launched, will save every teen who struggles with mental health, self-esteem, family issues, food insecurity, bullying, trauma – the list of ACEs goes on and on. Rather, we want the library, through this project, to be part of the solution, the place teens will think of to:
provide the tools and resources to help them make the best decisions possible.
learn to take a deep breath before they lash out.
understand the connection between a balanced diet and their overall health.
understand the importance of a good night's sleep.
learn ways to gather their thoughts, use positive internal messaging, find ways to manage stress, and develop skills to have a healthy school/work life balance.
Will our teens always make the 'right' decision? No. But having the proper tools gets them one step closer and that is something we can all support.
The Community Library Network's mission, "We empower discovery" encompasses nearly every aspect of what we do. This project aligns closely with what we aim to accomplish every day – to better the lives of our members through empowerment. While we did not get to complete the entire year of our project's plans, we consider this project one of our stars. Our early efforts were well-received by teens; community members expressed their appreciation; partners have signed on to support it post-pandemic; and staff frequently share new ideas and plans for upcoming virtual and in-person programs.
Setting COVID-19 aside, issues facing teens today can feel overwhelming and insurmountable. The spotlight the pandemic shone on teen health was a stark reminder of why what we do is so important. While we did not have the opportunity to host every aspect of our projects' programs or events that we wanted to in 2020, we've chosen to persevere and forge ahead into 2021 with renewed vigor and excitement to reach the teens in our community and ensure access to quality health resources and programs in whatever format possible.
Note: If you would like more information about the Pop-Up Library: Wellness Edition project, you may reach Karen Yother at: kareny@communitylibrary.net
The post
Pop-up Library: Wellness Edition
first appeared on
Dragonfly
.
The reason we have cancer and heart disease is the same reason you can't get rid of the wear and tear on your tires on your car: as soon as you use them, you are wearing them away. You can't make eternal tires, and it's the same with the human body.                                                                                                         – S. Jay Olshansky, School of Public Health, University of Illinois at Chicago
Like tires, the heart does not run forever but can last longer if the driver makes smart choices. NNLM Reading Club's February selections focus on the heart with three books that provide valuable information for people dealing with heart conditions.
When the Words Suddenly Stopped by Vivian King l Being Empowered for a Healthy Heart by Phoebe Chi l Restart Your Heart by Aseem Desai
In Being Empowered for a Healthy Heart: A Personal Guide to Taking Control of Your Health While Living with Chronic Conditions, Dr. Phoebe Chi seeks to empower those with chronic diseases of all types, including heart disease and high blood pressure, in the self-management of their conditions. The internal medicine and public health physician does so with practical exercises and tools in each chapter to address symptoms, even throwing some poetry into the mix.
Restart Your Heart: The Playbook for Thriving with AFib by cardiac electrophysiologist Dr. Aseem Desai clears up some of the confusion surrounding atrial fibrillation, an irregular heart rhythm that can interfere with blood flow. In addition to providing knowledge about AFib, Desai discusses how to deal with the diagnosis from a mental and emotional perspective.
Finally, in When the Words Suddenly Stopped, former television broadcast journalist Vivian King describes her experience recovering from a stroke that took away her voice, sharing how determination bolstered by a reliance on faith, family and friends allowed her to recover.
Strengthening your heart knowledge can help strengthen your heart. We hope these books will provide you an opportunity to do both. Visit the NNLM Reading Club for discussion guides to these titles and other useful information.
The post
Care for Your Heart with the NNLM Reading Club
first appeared on
Dragonfly
.
The New Year is a celebration of new beginnings.  This may be especially true as we welcome 2021, which we hope will be a resilient New Year. Resilience sustains us through adversity by cultivating practices that help us cope … and 2020 was nothing if not full of adversity.
How can we practice resilience in the New Year? Psychologists define resilience as "the process of adapting well in the face of adversity, trauma, tragedy, threats, or significant sources of stress—such as family and relationship problems, serious health problems, or workplace and financial stressors."1 This doesn't mean we deny reality but instead we develop the strong coping skills needed to deal with harsh realities. Fortunately, resilience is something we can cultivate and grow. These featured books offer helpful tips for your resiliency garden.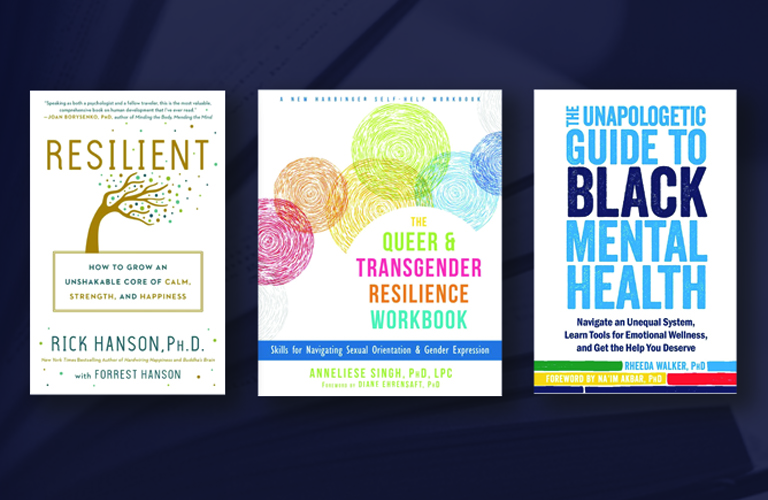 In Resilient: How to Grow an Unshakable Core of Calm, Strength, and Happiness, New York Times bestselling author Dr. Rick Hanson provides a roadmap to develop resilience. In a society that is so often toxic and unwelcoming, Dr. Anneliese A. Singh, Tulane University's first Associate Provost for Diversity and Faculty Development and a prolific author, offers skills to gain resilience in The Queer and Transgender Resilience Workbook. Noted Black mental health expert, Dr. Rheeda Walker, illuminates how to attain what she describes as "psychological fortitude" in The Unapologetic Guide to Black Mental Health: Navigate an Unequal System, Learn Tools for Emotional Wellness, and Get the Help you Deserve.
Each of us can benefit from cultivating resilience, so let's make 2021 a resilient New Year! To learn more about these books and their authors – and to find related helpful information from the National Library of Medicine and other authoritative sources – visit NNLM Reading Club's Mental Health Resilience page.
1American Psychological Association. (2020, February 1). Building your resilience. http://www.apa.org/topics/resilience
The post A Resilient New Year! first appeared on Dragonfly.