NER News
Updated: 1 hour 58 min ago
The 2018 NACCHO Preparedness Summit (April 17-20, 2018-Atlanta, GA) was my first chance to tell people about the emergency preparedness resources available from NLM including DIMRC and MedlinePlus.
Check out the Disaster Information Management Research Center (DIMRC) to find resources for preparedness professionals, community organizations and the general public on preparing your community and your family for natural and man-made disasters.
MedlinePlus has health information in plain language, including information on disaster preparedness for families and communities.
I also got to hear about free resources available from organizations across the US.
Do you need to find a way to collaborate across departments? Or between organizations? Let Mesa County, CO teach you how to use FREE Google tools to do everything from mapping and tracking resources to putting up a website.  Learn more on their interactive Google site.
Do you live in a rural area and want to help your community plan for disaster recovery? Check out the toolkit created by the Texas Chapter of Planners4Health (a project of the American Planners Association).  The toolkit lays out best practices for bringing rural communities together after an emergency to help in the recovery.
Do you work with older adults? Do you want to help them prepare for emergencies?  Check out the interactive toolkit from the RAND Cooperation to find out how your organization can help prepare older adults for emergencies and help make them more resilient.
Before joining NNLM-NER in February, I worked for the Philadelphia Department of Public Health on public health preparedness projects including teaching people how to prepare themselves and their families for emergencies. It was great to be able to bridge my past in public health preparedness and present with NNLM-NER by meeting folks at the 2018 NACCHO Preparedness Summit.  And I'm looking forward to continuing to bring NLM and NNLM resources to public health and preparedness professionals.
Last week, I met with staff at the Cambridge Economic Opportunity Committee (CEOC) for a MedlinePlus training. CEOC is an anti-poverty agency which seeks to "empower people and mobilize resources to fight poverty's causes and impacts through education and organizing." My goal was to share information about freely available health information resources for 1) personal staff use and 2) raise awareness of a possible resource for the greater community.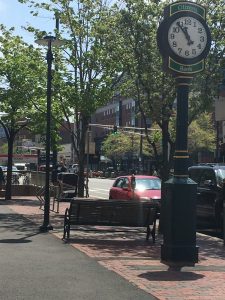 I began the training with an overview of MedlinePlus and the advantages of this website over commercially sponsored websites. I used slides to go through a compare-and-contrast exercise. Next, I pulled up MedlinePlus and asked the staff for health topics.
The first topic was seasonal allergies. Not surprising. Many of us were sniffling as pollen wafted through the lovely spring air. We explored the Allergy Health Topics page. I demonstrated toggling between the English and Spanish language versions. We looked at allergy triggers (did you know that Asian ladybugs are a trigger for allergies?), and allergy treatments. We talked about the increasing acceptance of using neti pots as a treatment protocol for allergies. We reviewed an antihistamine drug comparison chart from Consumer Reports.
We turned to the topic of Lyme disease, and looked at images of the telltale rash. We reviewed the best ways of removing ticks. We skimmed information from the CDC on post-treatment Lyme disease syndrome. This led to a discussion on natural remedies.
We talked about scientific evidence for natural remedies. Chiropractic, acupuncture and massage therapy are relatively safe methods of supporting your body in healing. I cautioned against the use of herbs, vitamins, and supplements without checking on potential interactions with medications. We took a look at resources available in MedlinePlus, including links to the National Center for Complementary and Integrative Health (NCCIH).
One staff member stumped me on a question about traditional medicine from her country of origin. I promised the group that I would use the subscription database Natural Medicines for further investigation.
Natural Medicines
The remedy is moringa, a plant grown in Asia, Africa and South America. Neither MedlinePlus nor NCCIH have entries on moringa. My search in Google brought up hits from Wikipedia, WebMD, Medical News Today and a host of marketers for natural remedies. I explained to the group that I'd rather consult an evidence-based subscription database before I shared any information about this remedy.
Natural Medicines is my favorite subscription database. Here's what I learned about moringa: traditionally, moringa is used for anemia, arthritis, asthma, cancer, diabetes, digestive disorders, headaches, heart problems, and reproductive issues. Moringa is applied to the skin for infections and injuries. As food, the seed pods are prepared like green beans and the leaves like spinach. When eaten as food, moringa is likely safe. Root extracts are possibly unsafe. Moringa interacts with drugs for hypothyroidism, liver disease, diabetes, and high blood pressure. Pregnant and breastfeeding women should be cautious. Specifics are listed in the Natural Medicines monograph.
As this level of information is not freely available on the internet, I promote the use of libraries as a way to access this information without a subscription fee. Contact us to learn more.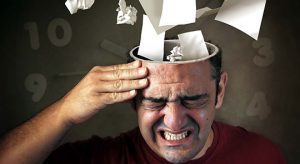 Are you a student or a teacher? My answer is I am both.
Even if you are an educator in a K-12 school, college or a university, I bet you also spend a portion of your time wearing the hat of a student.  Most of us experience being a student because our jobs require us to receive additional training or offer to us opportunities to learn new skills.
Recently I have been researching what's new in education to give me a foundation as I begin to develop a Communities of Interest program in Instructional Design.  Here's what I've learned are the current trends for adult learning.
Learning anytime, anywhere 
Online, mobile learning that is social provides learning opportunities through interaction and collaboration. Document sharing, blogging and video are allowing students to learn from each other and the instructors take on the roles of facilitators, rather than the traditional "teacher" role.  Online, mobile learning gives students flexibility as courses may be available on-demand or be self-paced. Course flexibility also gives students options to learn within a span of time that works with their schedule.
Online learning provides the ability to tailor the content of information to the needs of the student. Learning can be personalized through technology like academic analytics and facial coding built into some online learning environments. Adaptive learning systems and platforms that give real-time assessment provides immediate feedback to the student about their retention of material.  Students have the ability to control the pace of their learning too.
Artificial intelligence (AI), virtual reality (VR) and augmented reality (AR) interfaces and applications are giving students a more complete learning experience. Learning is moving from being static to being dynamic and immersive. For example, instead of learning about the circulatory system through a diagram in a textbook, students can experience the heart beating through an AR-supported device that enables visualization.
Classrooms, playrooms, unbundled education
Freelancing is on the rise. Design thinking, entrepreneurship and innovation are qualities employers are looking for.  Students are using physical places such as "makerspaces" where they have the space and time to learn through playing, building and discovery. Makerspaces are collaborative learning spaces where students come together to share materials and learn new skills. Some students are using problem solving as a method of learning that provides education across a variety of subjects.  As students learn to solve problems, they are thinking critically and creatively, as well as gaining essential communication and collaboration skills.
School-business collaboration and employer partnerships
Educators are realizing their business communities offer some great resources students can use for real-world experience. When schools align learning opportunities based on input from the business community they are providing students with needed skills and ensuring that companies will have a workforce that is prepared for these jobs. School business partnerships can also provide the re-training for workers who need updated skills. Schools and businesses working together is a win-win for both.
In closing, the following quotes from Sandy Shugart, President of Valencia College sums up what many of these current trends will accomplish. "There is no reason any human can't learn anything," says Shugart as he stressed the need for educators, entrepreneurs and investors to stop classifying people based on their perceived ability. A successful learning experience occurs when the focus is on the learner and their experience. "Rather than trying to figure out who will succeed and who won't, now we ask, what are the right conditions for each learner to succeed?"
I used the following articles for the information provided in this post:
Deloitte Touche Tohmatsu Limited, "Education 2020," 2014, http://government-2020.dupress.com/wp-content/uploads/2014/11/Education-+-sources-11-7-14_Ramani-proofread.pdf.
David Wentworth, "5 Trends for the Future of Learning and Development," August 28, 2014, https://trainingmag.com/5-trends-future-learning-and-development.
Tom Vander Ark, "10 Current and Emerging Trends in Adult Learning," September 21, 2017, http://www.gettingsmart.com/2017/09/10-current-and-emerging-trends-in-adult-learning/.
On a rainy Sunday afternoon, I pulled my rolly luggage into a church basement on the Everett/Chelsea line in Massachusetts. I had MedlinePlus materials, printouts from HealthReach, laptop, iPhone and my National Library of Medicine table cover. I heard the congregation singing in the chapel upstairs. Our Lady of Grace celebrates Mass in Haitian Creole on Sundays at 12:30pm. On this day, the Everett Haitian Community Center (EHCC) hosted a panel discussion on legal rights and responsibilities for those with Temporary Protected Status, and the impacts of stress on mental and physical health. All members of the panel focused on telling the congregation where they could access free, reliable assistance. An interpreter translated all comments into Haitian Creole.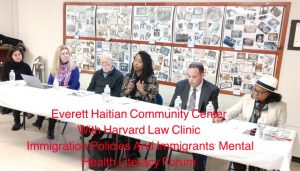 The discussion was moderated by EHCC's Reverend Myrlande DesRosiers and was interpreted by Kam Sylveste. Father James Barry welcomed us to Our Lady of Grace, and Everett City Councilor Michael McLaughlin reiterated Fr. Barry's sentiment that we all are learning from each other at this event.  Boston City Councilor Ayanna Pressley spoke of her commitment to those living with uncertainty. Temporary Protective Status (TPS) ends for Haitians on July 22, 2019.
Sabrineh Ardalan, Professor at Harvard Law School, warned the congregation about immigration scams. She urged everyone to contact the Harvard Immigration and Refugee Clinical Program for referrals to reliable immigration lawyers. Alex Prie, Coordinator of Somerville's Immigrant Providers Group, spoke about available health care services. He acknowledged the impacts of stress on mental and physical health. I spoke about accessing health information in English, French and Haitian Creole from MedlinePlus. I demonstrated how to use MedlinePlus on a laptop and a phone. MedlinePlus draws most of its multilingual materials from HealthReach. In addition, I talked about the role of public libraries in assisting those without computer or internet access.
After the panel discussion, I distributed bilingual stress-related health information. I located these topics in HealthReach: violence in the home, suicide prevention, asthma triggers, diabetes management, and the benefits of exercise and mindfulness meditation.
HealthReach
The website MedlinePlus.gov is available in English and Spanish. For other languages, MedlinePlus taps into HealthReach. Developed by the National Library of Medicine, HealthReach collects print and video resources from U.S. Federal and state government agencies, as well as from major national organizations such as the World Health Organization. HealthReach works to identify materials created by hospitals, clinics, community health centers, and voluntary organizations who serve people with limited English proficiency. Many of the materials are bilingual. The English-language versions are easy-to-read.
Community-based organizations and health care centers might be interested in submitting translated health print materials and/or videos. HealthReach will want to know the copyright status, type of resource and contact information. Please email HealthReach with any questions about submission.
HealthReach will be discontinuing the "Provider Information" materials due to low usage.
Pages