NER News
Updated: 5 hours 5 min ago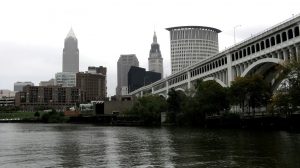 Cynthia Young, MLIS, Associate Academic Dean of Library Services at Eastern Maine Community College Library, received funding to attend the Association of College & Research Libraries (ACRL) 2019 Conference in Cleveland, OH. She contributed this blog post on the session "Improving Ourselves and Improving Care: Mitigating bias in literature searching in health sciences" presented by Rachel Stark, California State University – Sacramento, Molly Higgins, Library of Congress.
Are librarians biased in their health research with students? Is health literature biased? Those are the questions two librarians tried to answer in their research for a workshop at the Association of College & Research Libraries Conference (ACRL 2019) in Cleveland, Ohio, on April 11, 2019. The workshop was led as a teach-the-teacher type course. The intent was that librarians would adapt a similar training session at their own institutions.
The conference workshop was attended by mostly college health librarians and health science librarians from medical institutions. Participants were introduced to three types of bias including racism, microagressions and implicit/unconscious bias. The first activity involved using mobile devices or laptops to take the Project Implicit bias tests created by Harvard University. The implicit bias tests use repetitious images and keyboard functions to learn users unconscious bias toward various minorities including but not limited to, sexuality, gender and weight. The test results often proved difficult for participants to accept, but the intent was to help them become aware of their faults in order to better serve diverse populations.
The next activity had participants write down an assumption of themselves made by a library patron. Each person then walked around the room viewing each person's response and putting a checkmark if they'd experienced the same. Several librarians in the room wrote, "I thought you were a student" or "where's the real librarian?" Other assumptions included, "you must love to read" and "you're Asian, you must be smart." To further drive home the concept, participants then walked back around the room and put an X if they'd seen a library patron experience that bias. The most common assumptions centered on age, sexuality and race.
A slideshow and discussion around the results of the presenter's research showed large biases in medical research. Many minority groups were underrepresented or in some cases were completely unrepresented in health literature. The largest group of represented individuals in health research was Caucasian males. Caucasian women were less represented than males. Other demographics were less represented. An example used was that even studying Japanese women in Japan does not necessarily represent Japanese American women in the United States.
The final activity split the room into groups to do live database searching. The scenario participants were given involved a 30-year-old, pre-diabetic Japanese American female who went to her librarian to try to find a food list that was specific to her diabetic needs, but also met her Japanese style diet. Each table was tasked with developing a PICO question and using a computer to try to best answer the reference question. The research on the topic was lacking. There were plenty of diabetic studies on diet, but most were not focused on Japanese American females.
What will I take from attending this workshop? Many things! First, I work closely with our nursing students every year. Eastern Maine Community College (EMCC) has the highest NCLEX-RN pass rate in the state of Maine, so our students perform very in-depth research for a two-year program. In future work, I will be cognizant of broadening student's minds concerning the biases that exist in healthcare research. The workshop leaders also encouraged us to search many types of populations while searching with students. Second, during the search activity, I learned about many databases I had never used. Embase, EthnoMed, MedEdPORTAL and SPIRAL were all new resources to me. EthnoMed proved perfect for the activity search because you could filter by population and location. These newly discovered databases will be helpful for not only assisting our nursing students, but other healthcare program students we have at EMCC. Finally, Eastern Maine Community College has a diverse student population. We serve many first-generation college students, veterans, distance education students, students with disabilities and non-traditional students. It is imperative that as the sole librarian, I am serving all students to the best of my ability without making assumptions about their needs, habits or abilities. I also oversee our student employees, so my plan is to also add some training for them on serving diverse populations. In addition, I am interested in offering this type of health bias course to our nursing instructors. I believe it would be of value to them in developing their courses.
Overall, I am very grateful to NNLM-New England for giving me the opportunity to attend ACRL 2019! I attended many wonderful sessions that will help in all aspects of my work including a session on assisting patrons with an Autism Spectrum Disorder, training student employees with future workplace skills and offering faculty mini-grants to partner with a librarian on an assignment. I look forward to using all of these tools in the future.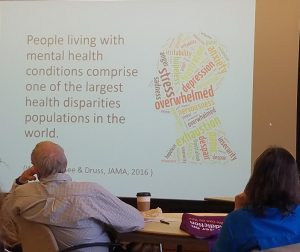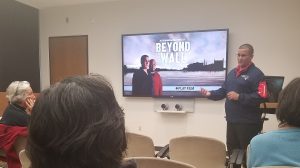 What do you like most about your job?
A big perk to my job as an Education and Outreach Coordinator for the NNLM NER is that there are many opportunities to attend very interesting conferences.
Just last week, I was in Boston at the Countway Library of Medicine attending a 3-day annual conference of the Association of Mental Health Librarians (AMHL) and the Substance Abuse Librarians and Information Specialist (SALIS) organizations. For the third year in a row, these 2 organizations have combined their resources and efforts to put on an exceptional annual conference with engaging speakers and presentations about timely topics in the areas of mental health and substance use disorder.
The conference was small and provided opportunity to get to know a bit about each of the participants.  I met mental health professionals from across the US, as well as Canada and the UK.  They shared the work they do in following organizations —  Alcohol and Drug Abuse Institute at University of Washington, Hazelden Betty Ford Addiction Research Library, McLean Hospital – Belmont, Massachusetts, St. George's University of London, Colorado Mental Health Institute at Fort Logan, Center on Addiction in New York City, Nathan S. Kline Institute for Psychiatric Research in New York, International Alliance for Responsible Drinking in London, University of South Florida, and University of Massachusetts Medical School. I felt honored to update the group about the outreach and education work the NNLM has been doing in New England. Over 3 days of  presentations I learned about cannabis legalization in Canada, how Art is being used as medicine, approaches to regulating alcohol marketing from a public health perspective,  how to engage minority populations in health research, the  history of mental health treatment in the US and UK, the work Louie Diaz is doing with the Middlesex Sheriff's office in Lowell, Massachusetts providing outreach to those with SUD, we watched the documentary made about Louie – "Beyond the Wall," https://beyondthewallfilm.com/, learned the true story of Phineas Gage (Google it, a fascinating story) and we received a sneak peak of a new mental health literacy project. Mentalhealthbridges, is a new website created through a multi-year NNLM grant. The site is due to go live in the next couple of months. It will be a terrific resource for consumers, as well as those involved with mental health education. This conference was the perfect lead into the month of May which is Mental Health month!
For more information about the Mentalhealthbridges website you can contact Len Levin Leonard_Levin@hms.harvard.edu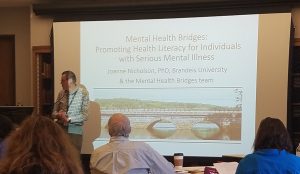 If you would like to know more about AMHL or are interested in attending next year's conference (location TBD) consider joining AMHL https://www.mhlib.org/.
This is the first blog post in a series authored by several individuals who received professional development scholarships for completing the Biomedical and Health Research Data Management Training for Librarians. In this installment, a scholarship recipient, Jennifer Chaput, describes her professional development opportunity in data science.  For more posts about resources from this funding opportunity and views from other scholarship recipients please keep watch in the upcoming weeks.
~~~~~~~~~~~~~~~~~~~~~~~~~~~~~~~~~~~~~~~
Jennifer Chaput – STEM Librarian
In 2018, I participated in the National Network of Librarians of Medicine (NNLM) course "Biomedical and Health Research Data Management Training for Librarians". This year the NNLM made available a training grant for members of that class cohort to pursue additional professional development. I received funding from this grant for a site visit with my course mentor at the NYU Health Sciences Library in New York City.
Along with three other members of my class cohort, I spent two days in March 2019 meeting with the NYU Health Sciences librarians, observing classes, meeting the NYU main campus Data Services team, and attending a symposium on data rigor and reproducibility at Columbia University.
The main portion of our site visit involved discussions with the NYU Health Sciences librarians to talk about their work and get perspectives and suggestions on how to offer successful research data programming and classes. For me, the most useful discussions were the ones on assessment of programming and on active learning ideas. We also discussed how to create a presence for data services at our institutions. Continued small steps and continually putting yourself out there in any way possible are the most important takeaways. These small steps will lead to more opportunities and connections over time, and though the pace may seem slow, looking back will allow you to see how your program has grown. I can see this myself in how much our program has grown in the year since I took the RDM 101 course, and I am looking forward to expanding more using the new ideas gained from this visit.
Our group also observed two classes taught by the librarians. In "Data Visualization in Excel for Biomedical Research", we participated in the class as learners and came away with new tricks and tools in Excel to simply but effectively visualize data. This type of information is something that any researcher (or librarian!) can use and I look forward to incorporating this material into my work. We also observed a Research Data Management 101 workshop for first-year PhD students. Educating graduate students and early-career researchers on best practices for data management is essential to improving research data rigor and reproducibility and making data more open and accessible. I have been teaching a version of this workshop at my own institution and I got some helpful tips and updates of the material.
We also met with the main NYU campus Data Services team after a beautiful spring afternoon walk through some of New York City's parks. It was interesting to see perspectives on how such a large institution manages their data services program. My institution has a much smaller data program and it was helpful to see how research data services could be scalable. It was also useful to see how they have integrated data services through the entire campus and include the humanities departments, not just STEM as is often a typical focus for RDM services.
The last day of the trip we attended "A University Symposium: Promoting Credibility, Reproducibility and Integrity in Research" at Columbia University. I greatly enjoyed hearing about the perspectives of the journal editors on the other side of the practice that I prepare researchers for during the session on "Journal Editor Perspectives on Rigor and Transparency".  I also enjoyed the opening talk on "Recognizing Influences and Biases in Research" by Dr. Brian Nosek, which was engaging and interactive, and which helped us learn how our brain processes what we see and how difficult it can be to overcome what our brains are telling us.
The research data related training opportunities that have been provided by the NNLM National Training Office have been invaluable in my education and training as a data librarian, and in developing the research data management services at my library. I highly encourage anyone interested in further training to investigate the RDM courses and opportunities offered by the NNLM. My thanks to them for this continued education grant, and to our hosts at the NYU Health Sciences Library for a great trip!
~~~~~~~~~~~~~~~~~~~~~~~~~~~~~~~~~~~~~~~~~~~~~~~~
For more about data science or other upcoming events, please visit the NNLM Data Driven Discovery Website and the  NNLM NER website, or contact anyone in the NNLM NER office.
Pages