NER News
Updated: 2 hours 39 min ago
This is the fourth blog post in a series authored by twelve individuals who received scholarships to attend the 2018 Science Boot Camp held at Brandeis University on June 13-15, 2018. In this installment, a fresh look at how science boot camp for librarians is valuable for those entering science librarianship from the humanities.  Please watch for more posts about this event and from scholarship recipients in the upcoming weeks.
~~~~~~~~~~~~~~~~~~~~~~~~~~~~~~~~~~~~
I had the pleasure and privilege of being awarded a scholarship to attend the Science Boot Camp at Brandeis University in June of this year, and I'm pleased to be able to acknowledge what a positive and enriching experience it was.
I am new to the world of science librarianship, having come from the humanities, as many of us have. So this boot camp seemed a perfect opportunity to learn from my peers, as well as science and engineering professionals, specifically about what is expected of the STEM librarian in academia. The topics selected this year were all timely and cutting edge: ecology, genetic counseling, materials science, with a keynote of publication retraction and policing. Each one of the topics held good kernels of truth and intellectual depth that really couldn't have been conveyed in a different setting.
For our ecology talk on Wednesday, I found myself fascinated by Dr. Davis' understanding of the current and future trends in ecology, and I was also deeply interested in Dr. Olson's granular knowledge of the tick problem in New England, and how he uses our offerings as librarians to help in his research. Both interestingly acknowledged that, in order to be an effective ecologist, you had to be a sucker for pain, considering the precision involved in mapping ecosystems from the individual all the way to the biosphere. Nota bene: invest in getting more opossums around my property, as they are natural-born tick killers!
Our Wednesday evening speaker, Retraction Watch co-founder, Ivan Oransky, was an engaging advocate for accountability in the academic publishing sphere, a subject near and dear to the heart of every academic librarian that I'm aware of. One key takeaway is that he insisted that the hallmark of a good academic publisher was its willingness to retract articles that require it, which is in contrast to my initial presumption of considering those with few-to-no retractions as the gold standard. Such is the state of academic publishing today: every one of them has likely had occasion to retract, but not all have done so. These retractions, it should be noted, can be performed for reasons ranging from something as generally benign as publisher error all the way to something as pernicious as plagiarism and faked data, or even faked peer-review, which is another type of duplicity on the rise.
On Thursday, we had separate panels on two flourishing scientific fields. The former panel was an interesting overview on genetic counseling, which is one of the hottest careers in the United States and Canada, with projected growth of 29% over the next eight years! The ubiquity of retail genetic tests such as 23&Me and Ancestry also make this a hot-button conversation as well, considering the amount of personal data being willingly given to companies by millions of people. The latter panel was a fascinating look at materials science, with Dr. Christopher Schuh speaking as head of the Materials Science and Engineering Department at MIT, and Dr. Seth Fraden speaking as a professor of Physics at Brandeis. They engaged in a very spirited discussion regarding the direction of the profession, as well as whether it's a time for optimism or pessimism for materials science in both the near and distant future. (Unsurprisingly, good cases were made for both.) The capstone on Friday tackled the subject of predatory journals and open access, which has become a leech on the hide of many academic fields, and it encapsulated rather nicely Mr. Oransky's talk on publication retractions two nights previous.
But perhaps the most important takeaway of the entire conference was how kind and accessible so many of the librarians were at this conference, from the organizers to the attendees. I've been to other, larger conferences, and they can easily devolve into a networking nightmare, with previously-formed cliques dominating the social scene. This retreat created an experience of bonhomie and openness. I met so many friendly librarians from so many interesting places, and I went back to my home library with a quiver full of new techniques and information. It was a truly worthwhile experience, and one I hope to repeat, perhaps even as a mentee, if time allows in the coming years.
Daniel A. Neal, MLIS
Reference & Instruction Coordinator
Douglas D. Schumann Library & Learning Commons
Wentworth Institute of Technology
~~~~~~~~~~~~~~~~~~~~~~~~~~~~~~~~~~~~
I hope you enjoy the latest installment of the Science Boot Camp for librarians. To read the first post please click here. For information about last week's reflection please click here. For more about this year's Science Boot Camp resources or other upcoming events, please visit the NNLM NER website, or contact anyone in the NNLM NER office.
If you have concerns about data privacy here is your chance to advance the privacy and security of information and public safety data! There is a contest called the Unlinkable Data Challenge: Advancing Methods in Differential Privacy to address the issue of protecting individual privacy while allowing for data to be used by researchers for positive purposes. It is posted by the National Institute of Standards and Technology, and the Public Safety Communications Innovation Accelerator. The challenge is to propose a mechanism to protect personally identifiable information while maintaining a data set's utility. The Unlinkable Data Challenge is a multi-stage Challenge with prizes. There are many ways to participate, as a contestant, individually or as part of a team, or as a voter. The planned prizes for the Stage 1 Concept Paper are:
$15,000 – Grand Prize
$10,000 – Runner up prize
$5,000 – Honorable Mention Prize
$20,000 – Four, $5,000 People's Choice Prizes
The more ideas and more people involved the better we all will be. The NIST official rules to the contest are posted on Challenge.gov and a full copy of those rules are in the Challenge Specific Agreement on the HeroX Unlinkable Data Challenge: Advancing Methods in Differential Privacy website. To register for the challenge competition: go to the HeroX website. https://www.herox.com/UnlinkableDataChallenge and register with a username and password. Official entries are accepted only through the HeroX platform on or before 5 PM ET August 2, 2018.
Submission deadline August 2, 2018 @ 5pm ET
People's Choice Voting August 14 – August 28, 2018
Winners Announced September 12, 2018
Registration for Stages 2 and 3 will take place in September and November 2018 through the TopCoder platform. Announcements will be posted to Challenge.gov for the final two 'algorithm' stages. With your help we can assure trust in the privacy and security of information and data through vigilance, proactive policies and innovative technological developments.
This is the third blog post in a series authored by 12 individuals who received scholarships to attend the 2018 Science Boot Camp held at Brandeis University on June 13-15, 2018. Please watch for more posts about this event and from scholarship recipients in the upcoming weeks. For more about this year's
Science Bootcamp
resources or other upcoming events, please visit the
NNLM NER website
, or contact anyone in the NNLM NER office.
~~~~~~~~~~~~~~~~~~~~~~~~~~~~~~~~~~~~~~~~~~~~~~~~~~~~~
Alex Goudreau– Science & Health Sciences Liaison Librarian at University of New Brunswick Saint John, Canada
Attending Science Boot Camp 2018 was the best professional development I've had so far as a new academic librarian. Supporting the science side of my new role is my biggest challenge, and learning more about the topics at Boot Camp has started to fill in my knowledge gaps.
Boot Camp was a short and sweet experience; 2 ½ days really flew by. Despite this being my first boot camp, I felt immediately welcome by members of the Planning Committee and fellow attendees. I arrived early enough Wednesday morning to wander around the lovely Brandeis campus (bunnies everywhere!), and attended the pre-camp visit to the Robert D. Farber University Archives & Special Collections. The archivist was thrilled to show off the science and medical special collections; weird and wonderful pieces included a book on the science of toenails!
This year's topics covered ecology, genetic counseling, and materials science, and I learned so much! Miranda Davis of UConn gave an easy to understand overview on ecology, and Brandeis' own Eric Olson's presentation on his Lyme disease and tick research was especially fascinating. We learned about tick lifecycles and how they contract Lyme, how deer end up as walking singles bars for adult ticks, and how possums may be our saviors to help lower the spread of Lyme.
The show and tell Materials Science presentation delivered by Chris Schuh from MIT was such a great experience. As the "architects of solid matter" he showed us how materials scientists bring ideas from other science disciplines and engineering to create really useful things – including 3D metal printing, foam made out of aluminum, neural interface fiber probes, and super elastic wires.
Being a scholarship recipient was very beneficial. Having the registration covered was helpful, and being assigned a mentor was even better. I really appreciated the dedicated time in the schedule for meeting with mentors – I wish it was longer! Talking with my mentor, Barbara Merolli, was invaluable. We had similar work experiences, and after peppering her with questions I felt like I was on the right track settling into my new role. Having buttons identifying mentors and mentees was a great idea, and helped the mentees in particular mingle with each other. Maybe sensing kinship, many of the librarians I spent time with at camp were fellow mentees.
This was also only my second experience live tweeting and following an event hashtag (#sciboot18) on Twitter. It was great engaging with fellow campers on Twitter, and sharing what was being presented for everyone who couldn't attend. It was also amusing to be recognized at breaks from my Twitter profile and it helped break the ice meeting people.
Boot Camp was educational yes, but also a lot of fun! Meals were great, staying in the dorm was an experience in and of itself, and the banquet was a blast. I can't say enough positive things about the Planning Committee, and how well everything was organized; their hard work showed. And the food! I'm someone who has to snack often or I get hangry, and I never went hungry with all the delicious snacks and meals at Boot Camp!
I loved my time at Boot Camp, and will definitely attend in the future. If you're looking for an opportunity to connect with your community of science librarians, learn about interesting science topics from interesting people, then I highly recommend New England Science Boot Camp! Thank you again for the scholarship and the opportunity to attend.
~~~~~~~~~~~~~~~~~~~~~~~~~~~~~~~~~~~~~~~~~~~~~~~~~~~~~
I hope you enjoy the latest installment of the Science Boot Camp for librarians. To read the first post please click
here
. For information about last weeks reflection please click
here
. For more about this year's
Science Bootcamp resources
or other upcoming events, please visit the
NNLM NER website
, or contact anyone in the NNLM NER office.
This is the second blog post in a series authored by individuals who received scholarships to attend the 2018 Science Boot Camp held at Brandeis University on June 13-15, 2018. Please watch for more posts about this event and from scholarship recipients in the upcoming weeks. Read the first post here.
~~~~~~~~~~~~~~~~~~~~~~~~~~~~~~~~~~~~~~~~~~~~~~~~~~~~~~~~~~~
Andrew Lambert
Science Boot Camp 2017 Blog Post
Hi everyone! First and foremost, I would like to extend a sincere 'thank you' to the Science Boot Camp committee for both selecting me as a scholarship recipient as well as their tireless effort in putting on such an enjoyable and rewarding camp at UMass Amherst.
Boot Camp was an entirely new experience for me as this was the first year I attended camp, so I'd also like to pass along my thanks to my mentor, Zac Painter, as well as my colleague at Holy Cross, Barbara Merolli, for making the experience that much more welcoming overall.
The first day started off right away with insightful tours of both the Digital Media Lab and Morrill Greenhouses at UMass Amherst. Both sites were extraordinary in what they offer the community at UMass and seeing the collaboration of both science and technology at both sites was very interesting, to say the least.
Wednesday afternoon began with an overview of Mathematics & Statistics with Adena Calden and Julie Blackwood then Britt Florio discussed the overall sustainability efforts going on with UMass dining services later in the evening. Personally, I was very pleased to hear UMass dining is focused on allocating more funds each year to local farms and producers throughout Massachusetts and New England to supply the university's culinary needs.
Thursday was focused on Geosciences, with Isla Castaneda and Jon Woodruff, and Biomedical Research with Wilmore Webley and Michele Markstein, in the afternoon. It was a pleasure to hear these four speakers discuss what is going on now and what is expected to happen in the not-too distant future in their respective fields and in research library settings.
Friday was the capstone session focusing solely on scholarly communications and how it is shaping UMass now and moving forward. This is a field I personally have a great deal to do with on a regular basis and was glad to have the chance to hear from the four individuals from UMass's scholarly communication office along with sitting in on breakout sessions to discuss matters further.
Once again, I would like to thank everyone involved with making Boot Camp such a fun and great experience – the planning committee, my mentor, and the rest of the camp attendees who were incredibly nice and always curious to get to know more about each other. It was a terrific experience and I'm already looking forward to Boot Camp next year.
~~~~~~~~~~~~~~~~~~~~~~~~~~~~~~~~~~~~~~~~~~~~~~~~~~~~~~~~~~~~
For more about this year's Science Bootcamp resources or other upcoming events, please visit this NNLM NER website, or contact anyone in the NNLM NER office.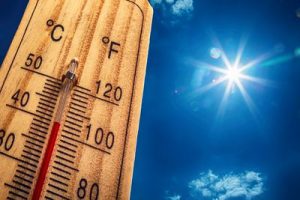 Summer is a great time to be outside going to the beach or community events, having fun.  But with heat waves happening more often and for longer stretches of time, it's important to stay healthy by being prepared.
Who is most at risk?
The elderly, children, people with chronic diseases such as diabetes and heart disease, and people who work outside may be at greater risk for heat related health issues.
NEVER leave children or pets in the car. Cars quickly heat up to dangerous temperatures even with the windows open.
Check on elderly family and neighbors to make sure they're drinking enough water and staying cool.
Visit the CDC's Protecting Vulnerable Groups from Extreme Heat page for more information.
Stay Cool, Stay Healthy:
Stay hydrated by drinking plenty of water. Avoid alcohol and drinks with caffeine.
Wear loose, lightweight, light-colored clothing.
Spend a few hours in air conditioning during the hottest part of the day to help manage body temperature. It's a great reason to visit your local library.
If you have to be outside, take frequent breaks and rest in the shade.
Visit the Red Cross's Heat Wave Safety page for more information.
Health risks of extreme heat:
Extreme heat can lead to heat illness which can progress to heatstroke.  Heatstroke can cause brain damage, organ failure and even death.  It's important to know the early signs of heat illness and treat them accordingly.
Know the symptoms of heat exhaustion:
Muscle cramps
Very heavy sweating
Fatigue
Thirst
Headache
Dizziness
Weakness
Nausea and vomiting
If you or someone around you is experiencing symptoms of heat exhaustion, lie down in a cool place, apply cool clothes, and sip water.  If the person loses consciousness or starts having seizures, call 911 immediately.
Know the symptoms of heatstroke.  Heatstroke is a medical emergency; call 911 right away.
Fever
Irrational behavior
Extreme confusion
Dry, hot, and red skin
Rapid, shallow breathing (panting)
Rapid, weak pulse
Seizures
Unconsciousness
Visit MedlinePlus's Heat Emergencies page to learn more about symptoms and treatments for heat illness.
Now that you know how to beat the heat, you're ready to take advantage of the fun things that summer has to offer.
Pages