NER News
Updated: 1 hour 59 min ago
This is the third blog post in a series authored by individuals who received scholarships to attend the 2017 Science Boot Camp held at the University of Massachusetts – Amherst on June 14-16, 2017. Please watch for more posts about this event and from scholarship recipients in the upcoming weeks. Read the first post here and the second post here.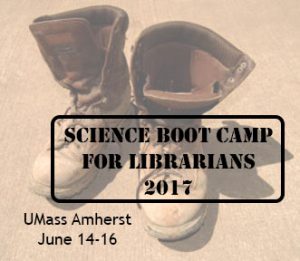 ~~~~~~~~~~
Have you ever wondered what it's like to be a scientist? New England Science Boot Camp for Librarians could be your chance to glimpse into the lives of others. I've heard more than a few librarians, or aspiring librarians (myself included) quip that they pursued a life of librarianship to satisfy, if only for brief minutes, their research itch for an endless number of topics. Boot Camp certainly entertains that curiosity (but, forewarning, it will only feed your curiosity, not satisfy it).
We had some great speakers at Boot Camp this year: Adena Calden (UMass Amherst) describing the lives of applied and pure mathematicians, Julie Blackwood (Williams College) talking ecological statistics of cicadas and vampire bats, Isla Castañeda (UMass Amherst) with an overview of the broad world of geosciences, Jon Woodruff (UMass Amherst) captivating us with his research into sediment transport and the reconstruction of large storm events, Wilmore Webley (UMass Amherst) dazzling us with the bright future of biomedicine (CRISPR is a game changer!), and Michele Markstein (UMass Amherst) extolling the virtues of Drosophila as a research model (she says 'we' when referring to flies) and pounding the metaphorical podium of open access (go OpenFly!). To cap it all off, the inspiring team of the UMass Amherst Scholarly Communications office – Marilyn Billings, Erin Jerome, Laura Quilter, and Jeremy Smith – brought us up to speed on all the things they're doing to improve open access to scholarship and educational resources. These folks are tireless and unapologetic in their advocacy for Open Access!
Doesn't that sound like great fun? It was! But at this point you may be asking "Isn't this just like a symposium or a brown bag at my university/college? I could just go across campus to listen to scientists talk about their research". And you're right, sort of.  But it's a little more than that. With an audience of librarians, not necessarily only other scientists, the speakers at Boot Camp concentrate more on process than on the technical side of their science. This lends us the point of view of the science researcher, allowing us to imagine points in the research process where we could help. Our speakers gave us clues to what resources and services they and their students need to get their work done (e.g. open access journals, data repositories, writing retreats).
Science Boot Camp also differs from a symposium or brown bag in your science departments in that we are in the company of other librarians and aspiring librarians. As riveting as the science talks were, the between-session conversations were of great value to a library school student such as myself. Fellow attendees were ever so generous in answering my endless questions on how their institutions do this or that, what their backgrounds are, and what they see as the skills to concentrate on in the final semesters of my graduate program. I appreciate these experienced professionals taking the time to share the inside stories and boost my confidence that I, too, can someday be a friendly, helpful librarian. You all were great – thanks!
And, finally, a hearty thank you to the planning committee for pulling off a great event, and to the scholarship committee for generously affording me the opportunity to attend. I have a feeling I'll be seeing you again.
—Jodi Shippee, MSLIS Student, Simmons College & First-time Boot Camp Attendee—
~~~~~~~~~~
For more about this Science Bootcamp or upcoming event, please visit this year's website, or contact anyone in the NNLM NER office.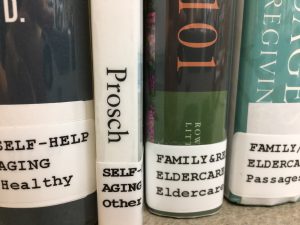 This week, I headed to the Wilbraham Public Library (MA) to lead a book discussion based upon the NNLM NER Graphic Medicine Book Club Kits initiative. We were discussing Can't We Talk About Something More Pleasant? (Chast). I arrived a bit early. I wanted to check in with librarian Mary Bell and director Karen Demers. I've lead health-related book discussions at this library for several years. We've discussed Your Medical Mind (Groopman and Hartzband), Know Your Chances (Woloshin, Schwartz and Welch), and The Power of Habit (Duhigg). Wilbraham has a nice group of book club attendees. They are never shy about sharing their opinions.
I learned that Wilbraham is ditching the Dewey Decimal System for the Book Industry Standards and Communications (BISAC). I've heard the argument for going with this bookstore-type of categorizing system, but I'd never been in a library that was actually doing it. Karen brought me up to the mezzanine so I could grab some books on Aging and Eldercare. Back on the ground floor, I asked Mary for back issues of The New Yorker. I wanted to share samples of Roz Chast's more familiar work before we launched into a discussion of her graphic novel.
The first attendee walked in with high praise for Can't We Talk About Something More Pleasant? She told her 50-something son that he should read the book. She was enthusiastic about the format of the story. Like all the attendees, this was her first experience with reading a graphic novel. For those attendees who had not read the book yet*, I selected several pages to demonstrate the power of sharing a story through comics. They quickly understood.
The discussion was a success. Attendees were comfortable with sharing their impressions of Roz Chast and her struggles with her aging parents. Likewise, they shared their own experiences with aging parents and with their own aging. One man said that his family's story mimicked that of Roz Chast. The photos of her parents' chaotic apartment were familiar to him. His wife said that their goal was not to put their son through the stress of tossing out decades of their stuff. At the same time, everyone in the room marveled at how easy it is to accumulate stuff.
One attendee wryly told the story of hearing that her son was not comfortable with her driving on the Massachusetts Turnpike. "We'll come get you," he told her. She rolled her eyes. Clearly, she still felt competent at driving on the highway.
During the book discussion, I took a few minutes to demonstrate MedlinePlus by pulling up the End of Life Issues Health Topics page. I distributed a few printouts to show the high quality of the information. I searched additional topics to show that MedlinePlus is not a one-trick-pony. We talked about the differences between using MedlinePlus, WebMD, Mayo Clinic, and Google for health information searches. I hope to get back to Wilbraham. Maybe with a Precision Medicine discussion?
*At every library-sponsored book club, there are always people who haven't read the book!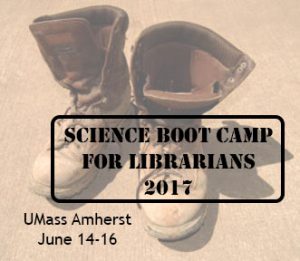 This is the second blog post in a series authored by individuals who received scholarships to attend the 2017 Science Boot Camp held at the University of Massachusetts – Amherst on June 14-16, 2017. Please watch for more posts about this event and from scholarship recipients in the upcoming weeks. Read the first post here.
~~~~~~~~~~
I attended this year's Science Boot Camp for Librarians as a paraprofessional scholarship winner. This is actually the fourth year I have attended boot camp. This year, I was attending the conference as a paraprofessional just prior to beginning a full-time librarian position. Receiving this scholarship was valuable as it allowed me my to continue my development as a new library professional, and in particular, maintain contact with colleagues from the New England region I have met at previous Boot Camps. I also wanted to connect with my mentor and other librarians to get advice as I enter the next phase of my career.
The UMass Amherst campus is beautiful and there are many changes from when I was an undergraduate there. Prior to the start of Boot Camp, I went on a tour of the greenhouses offered to our group. We saw lots of beautiful plants, a few resident critters,  and heard about the goals of the greenhouse staff in maintaining their "library" of plants and their efforts in making the greenhouses more thematic and interesting for visitors.
This year's educational sessions were on the topics of Math and Statistics, Geosciences, and Biomedical Research. Each of the sessions included a speaker who gave an overview of the field, and a second speaker who talked about their research and more in-depth concepts. I am amazed each year that the planning committee is able to select dynamic, friendly, and interesting speakers. Many of them have won teaching awards for their skills in communicating their fields to students, and this is clear in the way they spoke to us as well. Additionally, the speakers make an effort to discuss how librarians can help them in their work, and share resources we might find useful.
One of the most interesting talks for me was our after-dinner speaker on sustainability at UMass Dining Services. We learned how the school has created an award-winning dining program and  has committed to sourcing local and sustainable foods on a larger scale while serving over 50,000 meals per day.
The final morning's capstone session on Scholarly Communication provided insight into the typical work done by that department at UMass. A panel discussion was followed by breakout sessions on related areas, such as Open Educational Resources, where the librarian speakers and the conference attendees shared stories about issues they may have encountered or new developments in their field.
One of the best reasons to attend Science Boot Camp is the ample opportunity to connect with mentors and other librarians from our region, many of whom you will see at other events if you stay in New England, but also to meet others from around the country who decide to come attend. I was starting a new professional librarian job the week after Boot Camp, and was serendipitously matched with a mentor from my new institution. She made a great effort to connect with me and answer my questions about transitioning from a paraprofessional to professional librarian.
In addition to the networking, Boot Camp fosters friendships and social communication. I saw many people making a point of connecting with others, and making sure that no one was sitting alone at meals. The opportunity to meet librarians from a wide variety of science libraries is amazing. I dined with librarians from the Woods Hole Oceanographic Institute and NOAA, among many others! Discussing the types of work we all do, in addition to sharing personal stories about travel, pets, and family, creates a connection that persists yearly among returning campers and is also welcoming to newcomers. I encourage anyone in New England or beyond to attend, including library school students!
— Jennifer Chaput —
~~~~~~~~~~
For more about this Science Bootcamp or upcoming event, please visit this year's website, or contact anyone in the NNLM NER office.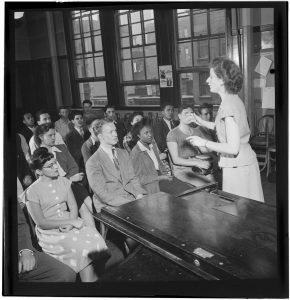 We still have a few hot and sticky days ahead in New England, yet the stores are full of back-to-school items and some children are climbing onto school buses next week. Here at NNLM NER, we are putting together a list of opportunities for hospital librarians who are looking for continuing education. Advanced MeSH Techniques
On Sept 19, 2017, we are offering an Advanced Search Skills webinar with Rebecca Brown from the National Training Office. Rebecca is an experienced technology instructor. She will be teaching advanced techniques in using MeSH to find information on drug and pharmacological actions.
After Rebecca's presentation, we will take 10 minutes to discuss crafting an "Aim for Excellence" elevator speech for hospital librarians with advanced search skills. We hope this segment will help build the confidence necessary for self-promotion.
Cannot attend the live webinar? Please register anyways. We will send you the link to the recording.
Did you miss the DOCLINE Update?
Erin Latta, National DOCLINE Coordinator, delivered an update for specifically for the New England Region. Much of the information shared is available on the NDCO website. Erin acknowledged the decline in DOCLINE usage. University health sciences libraries are shifting their interlibrary loan services to OCLC to align with other discipline-specific requests. Sixty percent of DOCLINE users are hospital librarians. For these libraries, the decline of usage is due to point-of-care tools and availability of open/public access articles.
One interesting trend is a re-imagining of Loansome DOC. Initially created to support unaffiliated health care providers with a source of interlibrary loan services, Loansome DOC is attracting a new user… hospital librarians! Those who no longer have the capacity to lend are moving onto Loansome DOC to obtain articles for their institutions. Erin is happy to speak with hospital librarians considering this shift.
Solo Hospital Librarians
During the DOCLINE Update, Erin spoke briefly about the impact of licensing agreements on borrowing and lending journal articles. Negotiating with vendors is such a challenge, particularly for solo librarians. The Medical Library Association recently announced the formation of a Solo Librarians Special Interest Group (Solo SIG). Louise McLaughlin, MSLS at Women's Hospital in Baton Rouge, LA and Ellen Aaronson, MLS, AHIP at West Hills Medical Center in West Hills, CA are the co-conveners. The purpose of this SIG is to provide an opportunity for support, help and professional development. NNLM South Central Region is supporting monthly Solo SIG chats through WebEx. MLA members are encouraged to participate.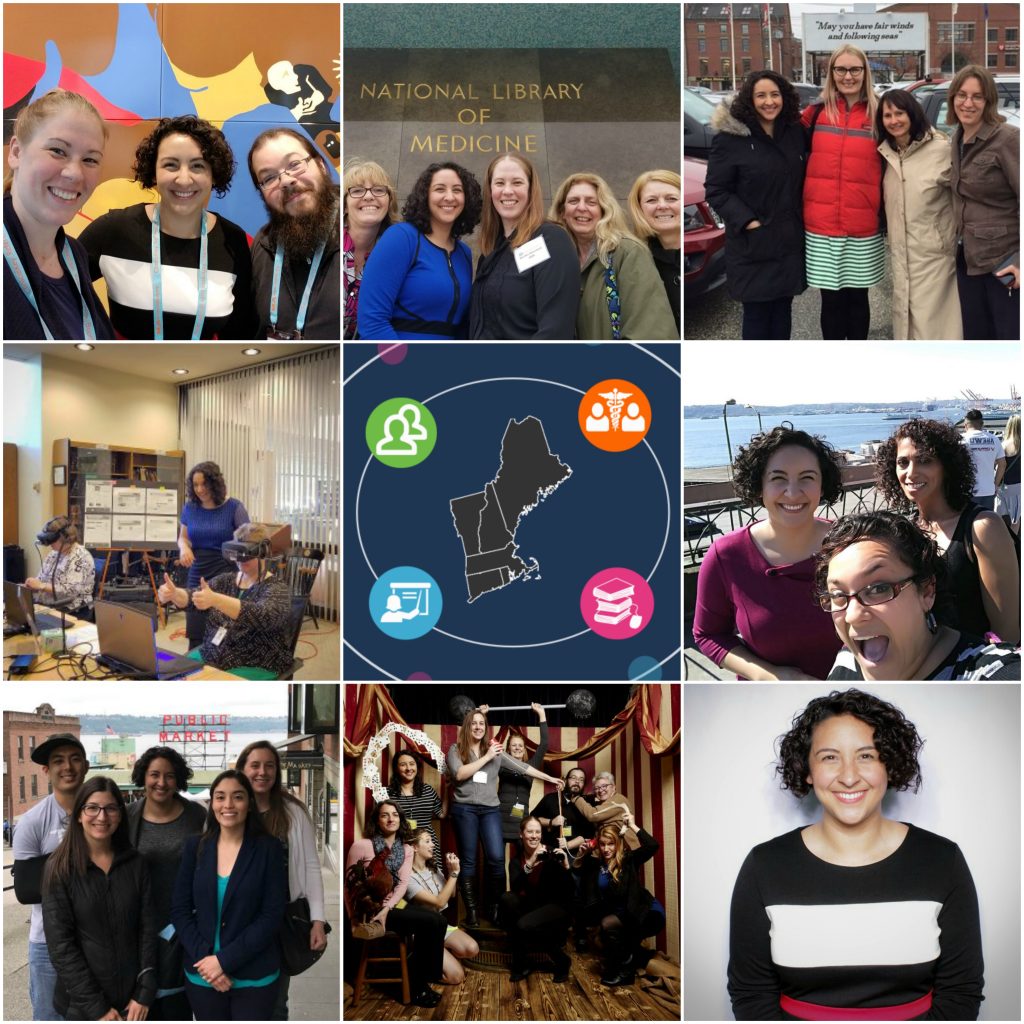 Hello New England Region,
Thank you for the congratulations. This is my last week at UMass Medical School. Working with the NNLM New England Region office, and previously with the NNLM National Public Health Coordination office, has been absolutely wonderful. I'm going to miss everyone and I'm grateful that I got to know y'all. (I'm from Texas, if you didn't know!)
In the last year my work with NER has been varied and exciting. We've accomplished quite a bit through unexpected challenges! My projects involved technology, communications, user experience, website design, virtual reality, and outreach as well. I'm happy to say that our communications and back-end technology initiatives have been going very well and grew incredibly quickly. We launched our new website, our new newsletter, and revamped our social media, such as our Twitter. We started new data analysis that allowed us to create data visualizations that helped inform our decision making processes. We've used open communication channels and usability testing to hear more from our members about how we can better serve you as a New England Region and created better experiences form this feedback.
If you aren't familiar with the NER team, please reach out or get connected with them. Everyone in the team is bright and has exceptional strengths. You still have a window of opportunity to apply to join this team.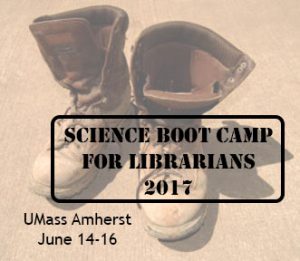 This is the first blog post in a series authored by individuals who received scholarships to attend the 2017 Science Boot Camp held at the University of Massachusetts – Amherst on June 14-16, 2017. Please watch for more posts about this event and from scholarship recipients in the upcoming weeks.
~~~~~~~~
Hi everyone! First and foremost, I would like to extend a sincere 'thank you' to the Science Boot Camp committee for both selecting me as a scholarship recipient as well as their tireless effort in putting on such an enjoyable and rewarding camp at UMass Amherst.
Boot Camp was an entirely new experience for me as this was the first year I attended camp, so I'd also like to pass along my thanks to my mentor, Zac Painter, as well as my colleague at Holy Cross, Barbara Merolli, for making the experience that much more welcoming overall.
The first day started off right away with insightful tours of both the Digital Media Lab and Morrill Greenhouses at UMass Amherst. Both sites were extraordinary in what they offer the community at UMass and seeing the collaboration of both science and technology at both sites was very interesting, to say the least.
Wednesday afternoon began with an overview of Mathematics & Statistics with Adena Calden and Julie Blackwood then Britt Florio discussed the overall sustainability efforts going on with UMass dining services later in the evening. Personally, I was very pleased to hear UMass dining is focused on allocating more funds each year to local farms and producers throughout Massachusetts and New England to supply the university's culinary needs.
Thursday was focused on Geosciences, with Isla Castaneda and Jon Woodruff, and Biomedical Research with Wilmore Webley and Michele Markstein, in the afternoon. It was a pleasure to hear these four speakers discuss what is going on now and what is expected to happen in the not-too distant future in their respective fields and in research library settings.
Friday was the capstone session focusing solely on scholarly communications and how it is shaping UMass now and moving forward. This is a field I personally have a great deal to do with on a regular basis and was glad to have the chance to hear from the four individuals from UMass's scholarly communication office along with sitting in on breakout sessions to discuss matters further.
Once again, I would like to thank everyone involved with making Boot Camp such a fun and great experience – the planning committee, my mentor, and the rest of the camp attendees who were incredibly nice and always curious to get to know more about each other. It was a terrific experience and I'm already looking forward to Boot Camp next year.
— Andrew Lambert —
~~~~~~~~~~
For more about this Science Bootcamp or upcoming event, please visit this years website, or contact anyone in the NNLM NER office.
When I was a teacher, the days leading up to the end of August would cause me to experience a range of emotions. Knowing that the freedom of the summer would soon be over, made me sad. Conversely, anticipation about new opportunities for learning, new students and colleagues to get to know, and having a shiny classroom and brand new supplies would make me excited. In my current position as an Education and Outreach Coordinator for the New England Region of the NNLM, I am excited to share some educational resources from NLM that are very useful, in or out of the classroom.
Whether you are an educator, teacher, student or parent, there are free NLM resources that can foster learning of all kinds and for all ages. This post will focus on a few key resources for K-12 learning.
The current topics of "Fake News," and "Alernative Facts" that have become part of our present-day vocabulary provide an opportunity to promote the use of NLM resources as a productive way to begin learning about a new topic, and a smart way to start a research project. NLM resources are trusted resources because they are written by experts, the information presented is peer-reviewed, NLM sites are updated on a regular basis, and advertising is not allowed on any NLM resource.
The MedlinePlus website, https://medlineplus.gov/ which is collaborative effort from the U.S. National Library of Medicine and the National Institutes of Health, offers information about 750 health topics, a dictionary, medical encyclopedia, news, and directories to find physicians. MedlinePlus is written in simple language, for a consumer audience.  Each page of the website is translated into Spanish and depending on the page, there are an additional 40 languages that the information is translated into.
If you are looking to teach students about how to evaluate online health information, MedlinePlus offers a helpful tutorial about what to consider. Many high school and post-secondary classes that use internet resources may find a MedlinePlus tutorial on website evaluation a valuable first step in the process of learning about a specific health or medical topic. The information provided in the tutorial is presented in different formats. The tutorial can be viewed and heard as a video https://medlineplus.gov/webeval/webeval.html  or accessed in written format, https://medlineplus.gov/evaluatinghealthinformation.html, MedlinePlus also offers a link to a useful website evaluation tool called "Trust it or Trash it" http://www.trustortrash.org/ that can be printed as a handout and used as part of a lesson on how to evaluate internet websites. There is also an abbreviated version of the tutorial,  https://medlineplus.gov/healthywebsurfing.html that could be used as a review tool for students already familiar with this information.  MedlinePlus has a Children's page ttps://medlineplus.gov/childrenspage.html and a Teen Page https://medlineplus.gov/teenspage.html.  Medline offers topics that are related, and links to additional information on its pages.  Both the subject matter and language used is age appropriate.
PubMed, https://www.ncbi.nlm.nih.gov/pubmed/, NLM's most well-known product, is a database of indexed citations and abstracts to medical, nursing, dental, veterinary, health care and preclinical sciences journal articles. PubMed is an excellent resource for high school juniors and seniors to locate articles for research about medical topics, especially if they are taking AP classes or if they plan to pursue a post-secondary education in any of the health sciences. PubMed through its tutorials, can also teach students how to start a health-related research project. Some of the articles from a PubMed search may cost money to access.  However, an alternative that can be used to locate free, full-text articles on topics, is PubMed Central https://www.ncbi.nlm.nih.gov/pmc/.  Another PubMed product, PubMed Health,https://www.ncbi.nlm.nih.gov/pubmedhealth/ is a great place to locate information about "hot topics" of interest to teens, such as obesity and mental health.  When PubMed Health highlights a news article, it also provides the source of the news story, what type of research was conducted, whether the research involved animals or humans, and a summary of the research results. PubMed Health has useful resource, England's Behind the Headlines service from the National Health Service https://www.ncbi.nlm.nih.gov/feed/rss.cgi?ChanKey=BehindTheHeadlines, that contains a section about how to read health news critically.
As a new school year begins, consider sharing these helpful, educational resources with your favorite teacher or student. Those of us who provide education and training for the NNLM NER are available to provide your organization with training for any of the resources we offer.
TLDR: Medicinal Flora of Massachusetts an exhibit at Lamar Soutter Library from August 1-Septmeber 30. As part of the exhibit, Dayne Laskey from the University of Saint Joseph School of Pharmacy will be presenting "The Medicine Garden: Bioactive plants of the past, present, and future" at UMass Medical on August 22.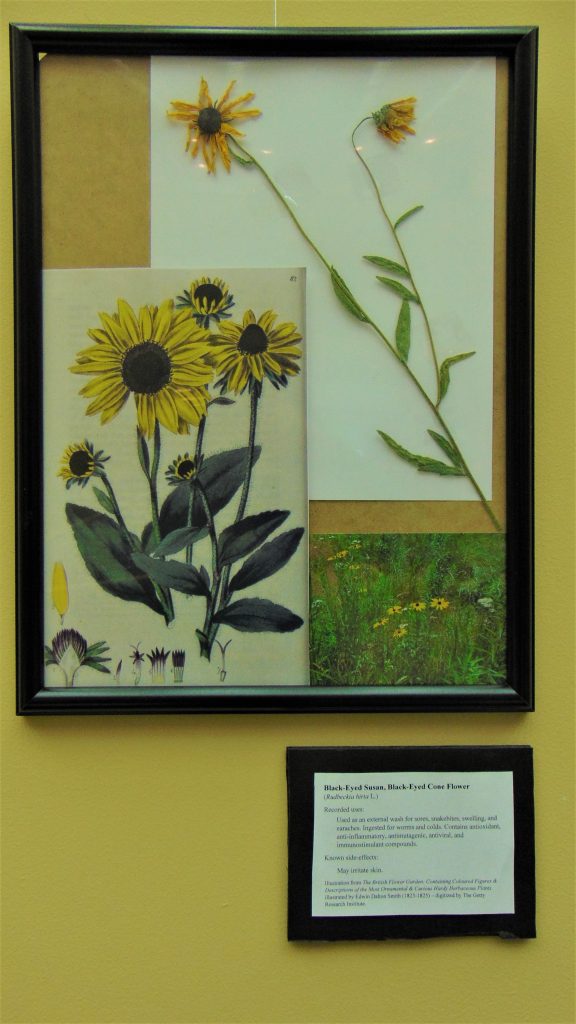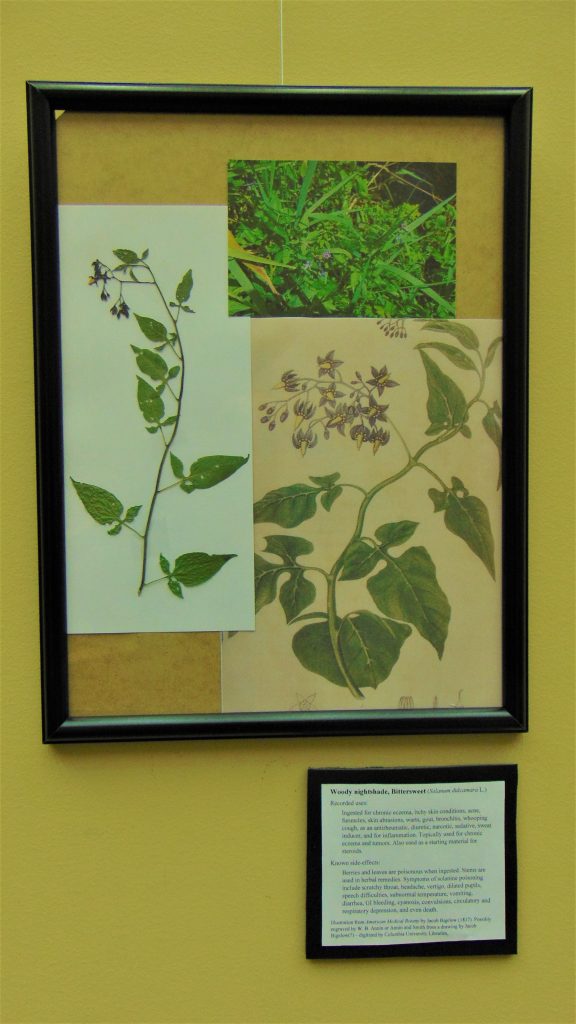 Wouldn't it be great if we had medicinal plants in the medical library, was the thought that crossed my mind before I created a proposal to host a medicinal plant exhibit at the Lamar Soutter Library. The Library provides a unique exhibition space frequented by the Worcester medical community and biomedical researchers as well as members of the public. I have a background in botany and a keen interest in medicinal plants in particular. Having recently moved to the area, I saw the exhibit as a great opportunity to familiarize myself with the local flora while gaining further project management, event marketing, research, and networking experience. Through the exhibit, I have expanded the library's network of outreach partners and collaborators by reaching out to local organizations to gather materials for the exhibit. The exhibit also showcases our holdings, provides a unique and innovation educational resource to the UMass Medical School community and surrounding Worcester area, and provides an aesthetically pleasing display for the shared school/hospital space used for work and relaxation. The exhibit will also hopefully attract new patrons into the library from UMass Medical, UMass Memorial, and the general public.
The exhibit features native and naturalized medicinal plants from around Massachusetts, highlighting both their historical and modern uses as herbal remedies along with their sometimes deadly side effects. Each pressed plant specimen is accompanied by an illustration, a photograph of the plant, and a short description of its medicinal properties and side effects. The intention of presenting each plant in three ways is to give the viewer a better understanding of each species. Historically, someone wishing to find these herbs would need to rely on a written description or illustration. Today, many plant guides come with photographs which offer one static view of the plant. The pressed specimens allow one to see the minute details such as hairs on the stems and how the leaves are attached. The books that are displayed alongside the exhibit showcase the variation in plant illustration and some of the medicinal plants that were not collected.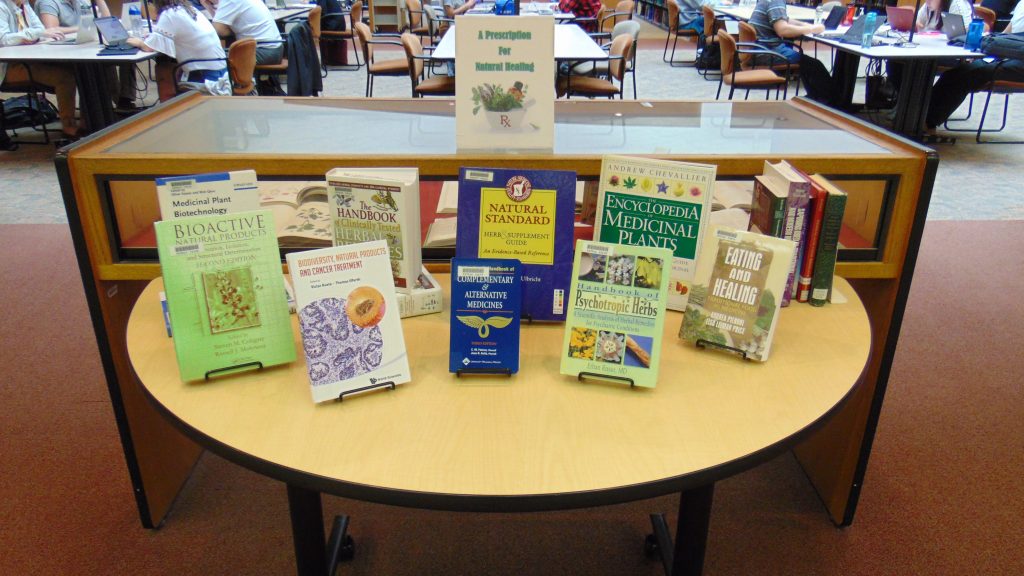 Native plants in Massachusetts have been used in herbal remedies by Native Americans for centuries and European settlers prospered from the medicinal plants they found in North America and brought from home. The need to know and understand the medicinal properties of plants is not just ancient history. Herbal remedies are still used today and can be found on drug store shelves as teas, herbal remedies, and components of manufactured pharmaceuticals. Herbal remedies can work alongside modern medicine if doctors and caregivers are informed of the benefits and possible side-effects that may be exhibited by their patients. This is only possible if patients also tell their doctor about herbal remedies they are self-prescribing. Ongoing research is discovering new plant species and new plant-based bioactive chemicals every day. Hopefully, this exhibit will better inform both patients and caregivers and spark the imagination of researchers to the endless possibilities presented by the plant kingdom.
The Medicinal Flora of Massachusetts exhibit is located on the first floor of the Lamar Soutter Library, UMass Medical School, 55 Lake Avenue North, Worcester, MA, and will run from August 1-September 30. As part of the exhibit, Dayne Laskey (PharmD, DABAT), Assistant Professor of Clinical Toxicology at the University of Saint Joseph School of Pharmacy, will provide an introduction to medicinal plant uses and the University of Saint Joseph School of Pharmacy's evidence-based medicine garden during his talk, "The Medicine Garden: Bioactive plants of the past, present, and future" on August 22nd from noon-1pm in Amphitheater I (S2-102) at UMass Medical School. All are welcome to attend.
By Tess Grynoch
Library Fellow, Lamar Soutter Library, UMass Medical School
Pages