MCR All of Us
Serving the biomedical information needs of Colorado, Kansas, Missouri, Nebraska, Utah, and Wyoming.
Updated: 2 hours 37 min ago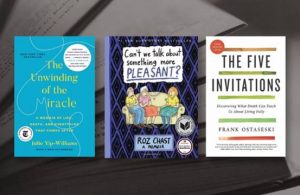 It's difficult to talk about, even scary. Important things usually are.
And deciding what to do about that transition between life and death – how to make it more comfortable, what to do afterwards – is so very important, to our loved ones and ourselves. It involves issues not only of health, but of spirituality, compassion and trust.
Whether your focus of concern is on a family member or yourself, NNLM Reading Club suggests three books that may help with your understanding of end-of-life matters and those conversations you probably have been putting off.
In The Unwinding of the Miracle: A Memoir of Life, Death and Everything That Comes After, the late Julie Yip-Williams leaves behind a chronicle of a life filled with improbable outcomes since her childhood as a blind Vietnamese refugee who regained her sight at the hands of an American doctor. She faces her own terminal illness at age 37 with honesty.
New Yorker cartoonist Roz Chast brings her idiosyncratic humor to her experience as caretaker of aging, declining parents in the graphic memoir Can't We Talk About Something More Pleasant? Finally, Zen Hospice Project co-founder Frank Ostaseski relates the lessons he has learned as a Buddhist teacher who has worked with more than a thousand dying patients in The Five Invitations: Discovering What Death Can Teach Us about Living.
We encourage you to take a deep breath, read one of these books, and discuss it with people whose opinions you respect, especially those in your own family. It just might make you feel a whole lot better about the inevitable. Visit the NNLM Reading. Club: End of Life health topic to get started.
The post
April NNLM Reading Club Selections: End of Life
first appeared on
MidContinental Region News
.
In this post, Paula Mozen, Director of the documentary LIFE INTERRUPTED, shares  the story of her journey with this film about the experiences of three breast cancer survivors. Portions of the original post have been edited for clarity.
I was a documentary filmmaker long before I became a breast cancer survivor. When I was first diagnosed, I wanted to take care of my situation and move on. The last thing I wanted to do was to make a film about it, a project that I knew would take several years to fundraise and complete. As time passed and I gained perspective on my own situation, I realized I was NOT alone; there are hundreds of thousands of us out here. In the United States, 1 in 8 women will get breast cancer in her lifetime. In 2021, an estimated 330,000 new cases will be diagnosed.
Breast Cancer is indeed an epidemic. It can be found across all age, gender, socio-economic, ethnic, and geographic groups. It does not discriminate; however, as we know, access to quality healthcare can be very discriminatory.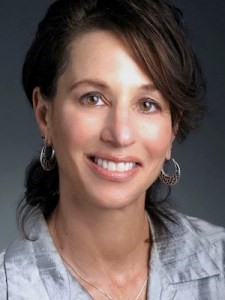 MSU photo by Kelly Gorham
Holding these truths together plus having the inside track to my own experience, I decided to make the film I wish I could have seen when I was diagnosed – both times. I wanted LIFE INTERRUPTED to put a face to the statistics and tell meaningful stories in order to inspire change.
Breast cancer patients are often asked to make their own choices in terms of treatments available. The moment the diagnosis is received, each person must gather information and make life-altering decisions under extreme emotional duress, all in a relatively short period of time. While individual circumstances are unique, hearing about the personal journeys from articulate women who have traveled this road before is invaluable for navigating treatments and keeping hope alive. Knowledge is power; the successful prevention and treatment of breast cancer depends on this.
Persistence is a common theme for indie filmmakers and breast cancer survivors alike. Just when you think you are finished, there is usually another mountain to climb.
From Berkeley to Berlin to Beirut and back to Bozeman, MY LIFE INTERRUPTED was screened, was reviewed, and won several awards at festivals. After these events, I wanted to connect directly with audiences who cared about the themes and issues the film covered, including healthcare advocates, providers, and survivors. My hope was to provide empowerment for survivors to be self-advocates  and to share with family members, advocates and healthcare providers what it truly means to survive breast cancer.
I learned about the All of Us Research Program (http://joinallofus.org/nlm) and partnership with NNLM through Julie Sherwood, the Partnership & Community Engagement Manager for the Wichita Public Library. After a series of emails, a partnership was formed that would involve collaborations with NNLM staff from throughout the organization, including Brittney Thomas, Brian Leaf, Linda Loi, Darlene Kaskie, Michele Spatz, George Strawley, Asih Asikin-Garmager, Richard McLean, Helen Spielbauer, Rachel Maller, Holly Stevenson, Laura Bartlett, and Frost Keaton.
Beginning March 3rd through April 15th, NNLM and I look forward to presenting the LIFE INTERRUPTED Virtual Screening Series which includes live interactive panel discussions in partnership with The Black Women's Health Imperative, The Arab Community Center for Economic and Social Services (ACCESS), Asian Health Coalition, Henry Ford Health System, Greensboro AHEC and Nashville Public Library.
During the panel discussions, hear from medical or research professionals who specialize in breast cancer, breast cancer survivors, and advocates who represent populations historically underrepresented in medical research. Panelists will share their experiences and knowledge on diagnosis and treatment for breast cancer, living with breast cancer, advancing treatments and cures for breast cancer, and advocating for precision medicine and diversity of medical research through programs like All of Us.
It has been an absolute honor and pleasure to work with the entire team so far, a group of talented, motivated and detail-oriented individuals who are dedicated to creating the best possible audience user experience. Everyone is focused on making each event engaging, interactive, relevant and accessible. To work with a team like this is – well – a filmmaker's dream come true; we are all on the same page, doing the right thing for the right reasons, all to empower patients and share meaningful stories.
Thank you to Paula Mozen for the work she is doing and for contributing to this blog post. We look forward to seeing the great things that come from this project.
Below are all the upcoming free virtual screenings and LIVE Q&A panel discussions. For more information or to attend any of these upcoming events, visit watch.eventive.org/lifeinterrupted.
Free Virtual Screenings start March 16 and continue through April 15.
LIVE Q&A Panel Discussions
Monday, March 22 at 2 pm MT presented by ACCESS: Arab Community Center for Economic and Social Services
Wednesday, March 31 at 4 pm MT presented by the Asian Health Coalition
Friday, April 2 at 2 pm MT presented by Henry Ford Health System
Monday, April 15 at 2 pm MT presented by Greensboro AHEC and Nashville Public Library
For more information on the film LIFE INTERRUPTED and to sign up for the free screening, click here: https://watch.eventive.org/lifeinterrupted. .
Remember to follow the NNLM MCR on Twitter.
The post
Paula Mozen, Director of LIFE INTERRUPTED, Shares Her Filmmaking Journey
first appeared on
MidContinental Region News
.
Join NNLM and our All of Us community partners on March 11, 2021, 3-4 pm ET for a live event with Amy Byer Shainman, author of Resurrection Lily: The BRCA Gene, Hereditary Cancer & Lifesaving Whispers from the Grandmother I Never Knew.
Shainman and Ellen Matloff, a certified genetic counselor, will discuss and answer your questions about hereditary cancer syndromes.
To attend the event, go to https://www.youtube.com/watch?v=PJBzdgCTn2E.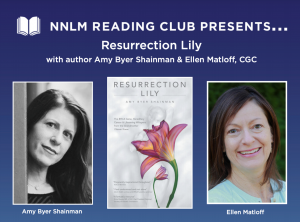 The post
NNLM Reading Club Presents… Resurrection Lily
first appeared on
MidContinental Region News
.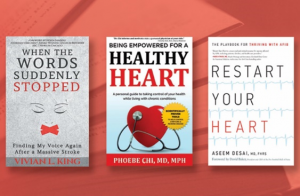 The reason we have cancer and heart disease is the same reason you can't get rid of the wear and tear on your tires on your car: as soon as you use them, you are wearing them away. You can't make eternal tires, and it's the same with the human body.
– S. Jay Olshansky, School of Public Health, University of Illinois at Chicago
Like tires, the heart does not run forever but can last longer if the driver makes smart choices. NNLM Reading Club's February selections focus on the heart with three books that provide valuable information for people dealing with heart conditions.
In Being Empowered for a Healthy Heart: A Personal Guide to Taking Control of Your Health While Living with Chronic Conditions, Dr. Phoebe Chi seeks to empower those with chronic diseases of all types, including heart disease and high blood pressure, in the self-management of their conditions. The internal medicine and public health physician does so with practical exercises and tools in each chapter to address symptoms, even throwing some poetry into the mix.
Restart Your Heart: The Playbook for Thriving with AFib by cardiac electrophysiologist Dr. Aseem Desai clears up some of the confusion surrounding atrial fibrillation, an irregular heart rhythm that can interfere with blood flow. In addition to providing knowledge about AFib, Desai discusses how to deal with the diagnosis from a mental and emotional perspective.
Finally, in When the Words Suddenly Stopped, former television broadcast journalist Vivian King describes her experience recovering from a stroke that took away her voice, sharing how determination bolstered by a reliance on faith, family and friends allowed her to recover.
Strengthening your heart knowledge can help strengthen your heart. We hope these books will provide you an opportunity to do both. Visit the NNLM Reading Club for discussion guides to these titles and other useful information.
The post
NNLM Reading Club February Selections Focuses on Heart Health
first appeared on
MidContinental Region News
.