MAR All of Us
News Highlights from the NNLM Middle Atlantic Region
Updated: 3 hours 37 min ago
Good nutrition, combined with physical activity, can help you to reach and maintain a healthy weight, reduce your risk of chronic diseases, and promote your overall health. Unfortunately, social factors such as poverty or inadequate food options may lead to obesity, malnourishment, and poor health. National Nutrition Month®, recognized each year during the month of March, focuses on the importance of making informed food choices, developing sound eating habits, and raising awareness of food insecurity.
To spark the conversation, check out the NNLM Reading Club Book Selections and Health Resources for Nutrition. Choose one of the three featured books:
Animal, Vegetable, Miracle: A Year of Food – Tenth Anniversary Edition by Barbara Kingsolver
In Defense of Food: An Eater's Manifesto by Michael Pollan
Delicious!: A Novel by Ruth Reichl
For each of the featured book selections, you can download the discussion guide, promotional materials and corresponding health information. Short on time? No worries! Apply for a free NNLM Reading Club Book kit that includes everything you need to host a book club, delivered to your institution.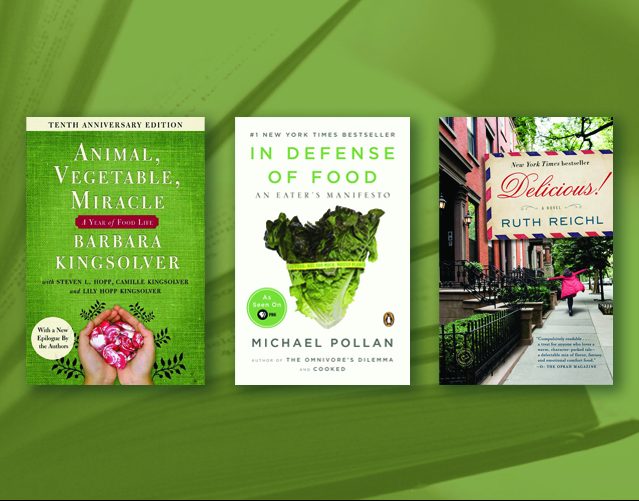 MAR is heading to PLA Nashville this week! If you are attending the conference, stop by the NLM exhibit booth #1907 to meet us, join us for a Health in Libraries Social Hour, or attend a free workshop with our colleagues at the NNLM All of Us Community Engagement Network.
Engaging with the Community: Learning and Applying the Essentials of Cultural Humility to Improve Health Information Outreach – February 25, 1:30-5:00 PM – Collaborate with colleagues to learn more about serving underserved communities in a culturally humble and inclusive manner. Learn about trusted health information resources from the National Library of Medicine and how you can partner with NNLM to support the All of Us Research Program. This program is free for NNLM Members – please register to attend.
Health in Libraries Social Hour – February 26, 5:30-7:30 PM – Want to connect with other conference attendees doing health work in their libraries? Nashville Public Library and NNLM-SEA will host a casual meet-up at Frothy Monkey, in Downtown Nashville. Look for us upstairs in the café area. The company is free, but you'll have to buy your own food and drink. We look forward to seeing you there!
StoryCorps: Tools to Amplify Diverse Voices in Your Community – February 27, 2:00-3:00 PM – In this session, expert presenters from StoryCorps will highlight resources to support community engagement at your library through storytelling. You'll learn about good story collection methods, walk away with ideas for low-cost ways to record and archive the voices of your community, and hear how other libraries have used these tools to preserve underrepresented voices in their communities.
Celebrating Libraries in Communities Through Stories – February 28, 2:15-3:15 PM – Libraries are constantly evolving — from information providers into critical centers of learning, community engagement, and access to information. In this session, StoryCorps will inspire you with stories from their archive highlighting the role of public libraries in the community. You'll walk away with tips and examples on how to use community listening events in your public engagement work, including specific information on how to use the StoryCorps model for collecting and sharing stories.
MAR at the NLM Exhibit booth:
February 27, 3:00-5:00 PM – Michael Balkenhol and Tess Wilson
February 28, 11:00 AM-1:00 PM – Michael Balkenhol