BHIC All of Us
Sharing health information resources, news, and issues affecting communities
Updated: 5 hours 3 min ago
Black Maternal Health is the inaugural topic for the new Racism and Health Series. NNLM encourages you to select one of the three books pictured that are written by Black authors. Bring your book-discussion group into one of the central conversations impacting our nation as the NNLM Reading Club focuses on Racism and Health for its July reading selections.
To find out more about the NNLM Reading Club and this month's focus on Racism and Health, click here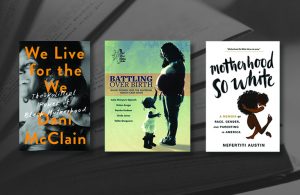 .
August is "Talk To Your Doctor" Month. Clear and honest communication between you and your physician can help you both make smart choices about your health. It's important to be honest and upfront about your symptoms even if you feel embarrassed or shy. Have an open dialogue with your doctor — ask questions to make sure you understand your diagnosis, treatment, and recovery.
For tips on how to effectively talk to your doctor, click here. For this website in Spanish, click here. For example, it is recommended to make a list of symptoms and/or questions for your provider before your appointment in order to ensure you do not forget to address everything you want to have covered.
The All of Us Research Program, part of the National Institutes of Health, recently announced that it is leveraging its significant and diverse participant base to seek new insights into COVID-19—through antibody testing, a survey on the pandemic's impacts and collection of electronic health record information.
"With our nearly 350,000 participant partners across the country, All of Us will enable the research community to answer some of today's most critical questions and inform future preparedness efforts," said Josh Denny, M.D., All of Us's chief executive officer.
To learn more about the All of Us Research Program's response to COVID-19, click here. You can also find out more about All of Us and enrol here. The mission of the All of Us Research Program is to accelerate health research and medical breakthroughs, enabling individualized prevention, treatment, and care for all of us.
LinkedIn Learning for Libraries
LinkedIn Learning, formerly Lynda.com, is excited to share that after continued discussions with the library community over the past few months, it's taking the first steps toward building a new LinkedIn Learning library product that's dedicated to serving the needs of library customers and patrons. While LinkedIn works to develop this new product for libraries, library patrons can continue to use Lynda.com until the new product is in place. LinkedIn looks forward to sharing more specific timing in the coming months.
PLA's Digital Literacy Webinars: Free and On-demand
May 27, 2020 is the 27th annual National Senior Health & Fitness Day. It is extremely important to continue a healthy and active lifestyle as one ages. In a recent study, researchers concluded that higher daily step counts were associated with lower mortality risk from all causes. They found that, compared with taking 4,000 steps per day, a number considered to be low for adults, taking 8,000 steps per day was associated with a 51% lower risk for all-cause mortality (or death from all causes). Taking 12,000 steps per day was associated with a 65% lower risk compared with taking 4,000 steps. Learn more about how exercise and physical activity can help you stay healthy.
Join the NNLM for a free webinar on May 27 at 1:00PM CT. In light of the COVID crisis, this Zoom presentation blends learning, participant sharing, and brief practices: straw breathing, gentle stretching, guided meditation, silent sit, and gratitude. Emphasis is on strengthening our collective immune system and our responsibility (response+ability) to sharpen self-regulation skills in service to the greater good.
Facilitator: Madeleine Charney is a Research Services Librarian at UMass Amherst. She is co-editor of Recipes for Mindfulness in Your Library: Supporting Resilience and Community Engagement (ALA, 2019) and works passionately to support healthy climate-soil-people-food.