NER News
Updated: 47 min 36 sec ago
Hospital Libraries Advisory Group (HLAG) seeking advanced skills, survival techniques in evolving healthcare environment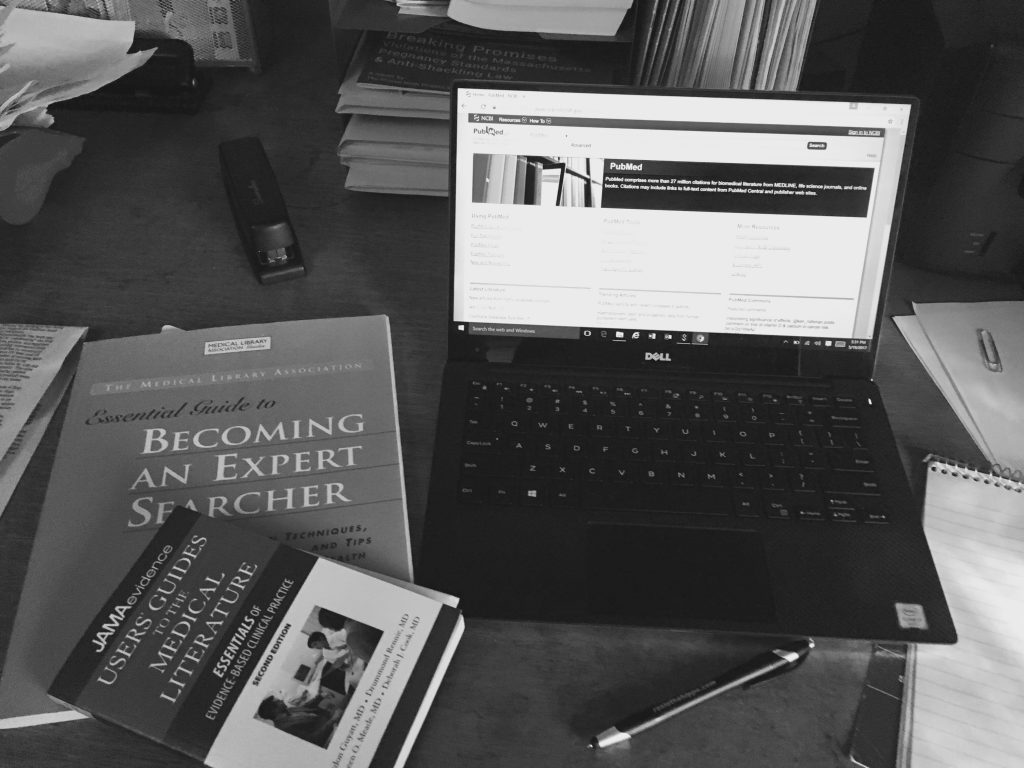 On Mon, May 8, 2017, NNLM NER convened an online meeting of the Hospital Libraries Advisory Group (HLAG). Our goal was to gauge the interests of regional hospital librarians before developing NNLM training opportunities for our 2017-2018 fiscal year. In preparation for this meeting, we distributed a survey to identify hot topics. Library closures and hospital mergers are foremost on the minds of hospital librarians. The needs of solo librarians, the impact of library closures on DOCLINE/ILL, and the trend toward virtual libraries are top concerns as well.
The HLAG meeting included an overview of the results from a recently released National Training Office (NTO) Training Needs Assessment. These results pointed to a national interest in honing skills in evaluating outreach activities, learning about open science and data extraction, and gaining advanced skills in searching NLM databases. We reviewed all of these results to identify the best areas for NNLM NER to provide support. We talked about best methods (webinars, in-person events, newsletter items) to engage hospital librarians in learning opportunities.
In response to the HLAG meeting, NNLN NER is developing a schedule of three webinars and one in-person event. New NNLM DOCLINE Coordinator Erin Latta will give us an update on DOCLINE during a webinar in July 2017. Erin, a New Hampshire native, works out of the NNLM Southeastern/Atlantic Region. She will bring an understanding of the New England environment to her presentation.
In September 2017, we will be scheduling an Advanced Search Skills webinar with Rebecca Brown from the National Training Office. Rebecca is an experienced technology instructor. She will teach us advanced techniques in using MeSH to find information on drug and pharmacological actions.
NNLM NER is looking into presenters for a Business of Healthcare webinar in January 2018. We are particularly interested in hearing from someone who will speak about the business decisions of mergers and the elimination of jobs in the healthcare market. We want to better understand the circumstances that we are all facing. Lastly, we are planning on hosting an in-person event at UMass Medical School in March 2018 to discuss the how-to's of creating a Virtual Library.
NNLM NER hopes this suite of learning opportunities meets the needs our New England hospital librarians. We will update you on the specifics as our plans solidify.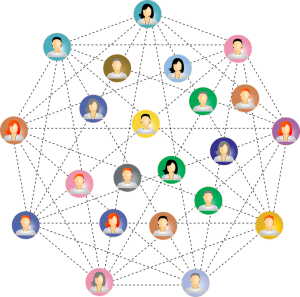 If you listen to the worries and anxieties of other professions, one, you start to realize that they often have the same concerns as librarians; and two, you start to repeatedly hear about breaking down silos. We talk about silos in librarianship as well – which may be a topic for another day – but it seems to be a major and constant refrain in medicine, research, patient care, and the sciences in general – often because of the dramatic innovations that are possible and the depressing results when it doesn't happen. In research, one lab won't know want the lab next door is doing, even when they are working on very similar topics. In the clinic, the public health worker doesn't realize that a problem they are facing is also being addressed by an internal medicine doctor. An intrepid student makes headway on a problem that has plagued a seasoned faculty. Those who work by the bedside don't always know what is happening at the bench – let alone the public knowing what is going on. We all live in, and are concerned with, the bubbles immediately around us. Innovation and growth occur when we can get these bubbles to intersect.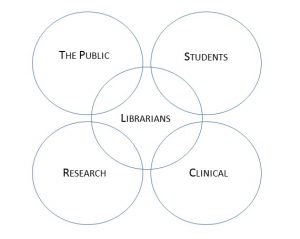 I propose that librarians serving any field or population – from health science to public librarians – are in the perfect position to help breakdown these silos – to serve as the intersection points for different bubbles. Librarians' jobs necessitate that they interact with a wide variety of people and information within their institutions and beyond. Librarians are also masters at creating connections; from one resource to another, from a resource to a person, and hopefully, from person to person. We pride ourselves on ensuring access to information. Well, that guy you just helped could be the source of information someone else is looking for. Through our ability to organize and make connections, we could provide the access need to bridge silos. Librarians are generally curious, inquisitive, and well informed. We also love to share what we know. You know the department you work with better than most. A public librarian knows her community and its needs intimately. A manager may see the business trends or funding implications well before others. A systems librarian knows the tech and works closely with the IT department. How can we work together to employ these connections and intersections, while using them to increase the access and innovation of our communities?
Many librarians already do this, and do it well. What I suggest is that the profession more consciously, explicitly, and deliberately leverage this skill and our positions at the intersections. Librarians are in a very unique position. We must promote ourselves as the facilitators, the connectors, the means to move others beyond their silos. Move beyond the question of, "How does this apply to me?" or "How does this apply to librarianship?" Rather ask, "How does this apply to those I serve?", "Where is the connection and how can I position myself to provide information and service at that intersection?" Focusing on the informational connections between communities and people, rather than just the connection between the resource and the person, will be the strength librarianship needs.
Hopefully, the NNLM NER can serve to educate and facilitate all on our region in creating connections and building the skill necessary to break down silos. We are in a unique position that interacts with a wide variety of fields – librarians of all strips, community organizations, scientists, researchers, students, the public, and so many others. We hope to break down the silos in our own region and for those we serve. I have seen the power of strong networks and connections. We are striving to make NNLM NER an example and leader.
Martha Meacham
(this is an editorial piece and does not necessary reflect the view of the New England Region, the National Network of Libraries of Medicine, or the National Library of Medicine)
"You are the Spinners of Webs of Hope"
Eighth Annual Asian American Mental Health Forum
Higgins Campus Center, Clark University Worcester, MA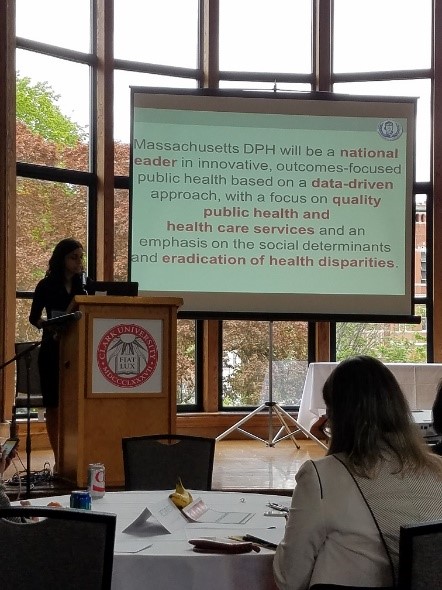 On Wednesday, May 10th Clark University in Worcester hosted the Eighth Annual Asian American Mental Health Forum. This year's forum, in a similar fashion to previous years, was planned and presented by an all-volunteer community. From 9AM to 3PM I was immersed into Massachusetts's Asian American culture through presentations and discussion forums from Massachusetts' Asian community leaders, the debut of a new and thought-provoking film Looking for Luke, and through Asian artisans sharing their world through poetry, pottery, photography, painting, weaving, sewing, cooking and dance.
Christina Chan from the Breaking Silences Project served as the Master of Ceremonies and opened up the forum introducing local and state leaders who each shared their perspective on the need to end the current stigma that is attached to mental health, This stigma is especially prevalent in the Asian American population.
In the first session of the forum, the presenters from the Boston University School of Social Work, Mass General Hospital and Newton-Wellesley Hospital underscored the need for suicide prevention across the life span through honest communication and giving as much attention to mental health as is given to physical health. The morning ended with narratives from community stakeholders such as the Southeast Coalition of Central Massachusetts, and a few members of the Burmese community presenting the community perspectives of suicide and its prevention.
After a delicious lunch prepared by local Asian chefs from around the Worcester area, participants were asked to choose to attend one of the five workshops offered. The workshops were:
Navigating Culture and the Asian Perception of Health and Health Care
Question, Persuade, Refer (QRI, an evidence-based training that addressed suicide prevention)
Engaging in Public Advocacy as an Immigrant
Asian, Queer, Crip: Disability Justice in Intersected Lives
The Worcester Experience: Challenges, Solutions, Sustainability on the Promotion of Mental Wellness and Suicide Prevention Through Community Partnerships
Monica Bharel, the Commissioner of the Massachusetts Department of Public Health delivered the Afternoon Keynote giving an update about what the Massachusetts Department of Public Health is doing to promote mental health and to end the stigma. The youth from the Southeast Asian Coalition ended this interesting and informative day by performing a Lion Dance.
As a first-time participant in this forum I came away with a more accurate understanding of the many cultures that make up the Asian-American community in Massachusetts – Cambodian, Vietnamese, Burmese, Chinese, Japanese, Korean, and Filipino. Another underlying theme of the forum was the great need for cultural sensitivity as the first step in providing physical and mental health care.
Thank you,
Susan Halpin
Last week the NNLM NER teamed up with the Connecticut Association of Health Science Librarians (CAHSL – pronounced castle) to exhibit at the Connecticut Library Association Annual Meeting. This was a great opportunity for health science librarians in Connecticut to connect with peers from other types of libraries, while also giving all attendees at the conference valuable, vetted health information tools from the National Library of Medicine.
Public librarians, school librarians, academic librarians, and others can face health questions from their very diverse patrons. These groups often have fewer specific resources to draw upon when attempting to direct, say, a public patron to reliable health information. We asked almost every public librarian we talked to, "Do you have someone who specializes in consumer health or medical topics?" The answer, with only one exception, was basically, "No. We all cover a bit of everything." (The one exception was a former hospital librarian now working in a public library. While not official, she has become the de facto person whenever a patron comes in with a health related question.) Similarly, many academic librarians not at a medical school often work with allied health fields, or liaison to health related departments. These librarians may not have the specialized resources of a medical school library. By adding more tools to the reference tool belt in the form of information resources AND network connections to other health science librarians, all staff, in any type of library, will be equipped to help serve their patrons.
Additionally, it was important for the NNLM NER to partner with CAHSL because, while having information resources is valuable, one of the most powerful tools those in libraries can arm themselves with is partnerships. CAHSL is a valuable, knowledgeable, and helpful group of librarians who have spent their – sometimes considerably long – careers building knowledge and skill. And as most in the profession know, librarians love sharing knowledge and skill. CAHSL is also intimately aware of the unique needs and circumstances in Connecticut. Even within our relatively small region, drawing upon the experience of CAHSL helps the NNLM NER and others gain a deeper understanding of, and therefore better serving, those unique communities. Helping communities connect is one of the missions of NNLM NER. We are fortunate enough to know and work closely with many of the members of CAHSL. It seems a natural extension to build this powerful partnership with CAHSL in order to reach all those who might benefit.
If you would like to know more about CAHSL, please visit http://nahsl.libguides.com/cahsl. Please feel free to contact anyone in the NNLM NER office to learn more about partnering or exhibiting opportunities.
Thank you
Martha Meacham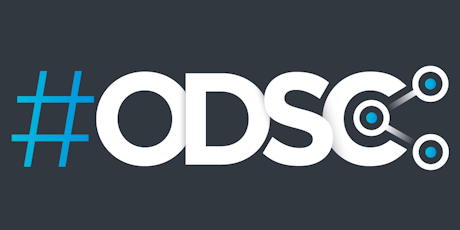 Last week our coordinator, Allison K Herrera, attended the Open Data Science Conference 2017 (ODSC East) in Boston, MA.
This conference offers amazing, accelerated data science training in general and technical capacities.
2 resources that we'd like to highlight from this conference:
1. Measurement Lab Visualizations (M-Lab Viz)
M-Lab is a consortium dedicated to providing an open measurement platform for global network performance and hosts the largest open Internet performance data-set on the planet.
The visualizations are particularly interesting if you enjoy exploring data sets with interactive maps and location features.
2. Emoji Data Science! (PRISMOJI)
PRISMOJI is a data journalism lab that is dedicated to tell data-driven stories about politics, culture, and technology.
These articles highlight how Emoji data science has something for everyone, from Taylor Swift to Brexit!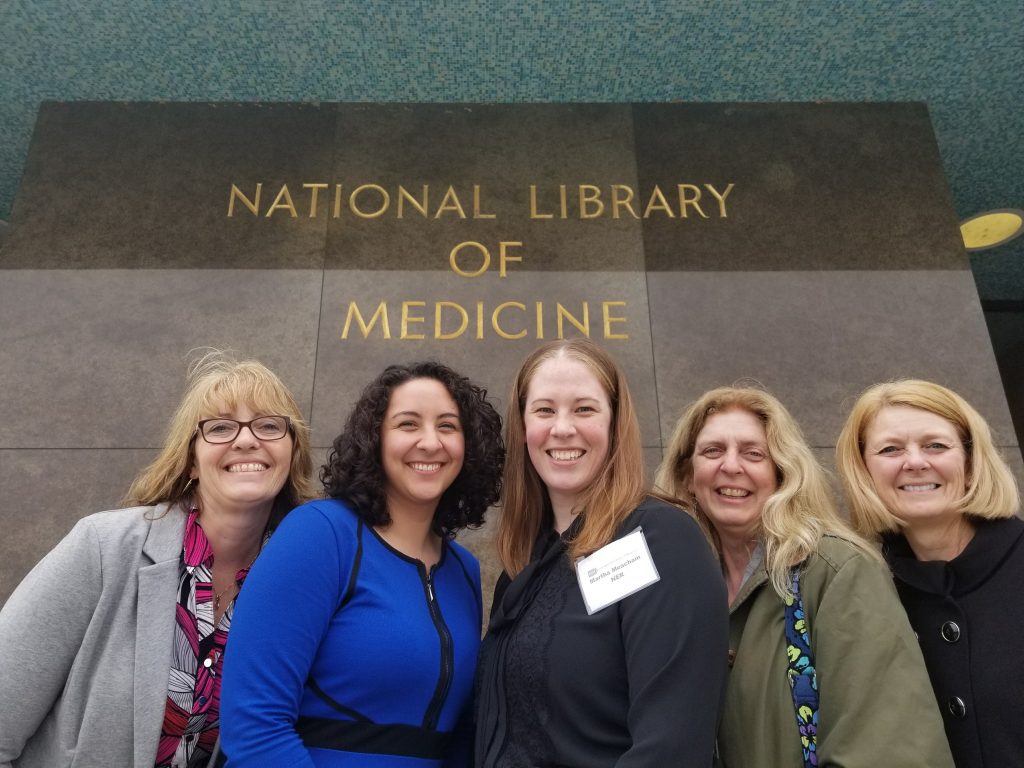 The National Network of Libraries of Medicine, New England Region (NNLM NER) has just entered its second year of this five year (2016-2021) grant award. The NER's fiscal year runs May 1st – April 30th. This is officially the first week of our new year, 2017-2018, and we have hit the ground running!
The entire NER office just returned from a new employee orientation at the National Library of Medicine (NLM) in Bethesda, MD. As many are aware, the staff of NER is almost entirely new faces. In 2016-2017 Allison Herrera, Susan Halpin, Margot Malachowski, Cheryl Lavallee, and Martha Meacham all joined the NNLM NER. Mary Piorun has moved in the Principal Investigator (Director) role. Our office is not unique. Across all regions there has been a large number of new faces. The orientation at the NLM was an opportunity for everyone new to meet and learn the history and context that surround our work. We also got to hear directly from Dr. Patti Brennan, the new director of the NLM about the vision and direction of that organization. Hint – it is data and precision medicine. We hope to share this new invigorative energy and information throughout our region in the upcoming year.
There were many challenges that faced NNLM NER in the first year of this new five year grant cycle. Not only were most of the staff new, but funding, reporting, administration, and work flows at national level and an office level were all changing as well. We are so appreciative of everyone who helped and was patient during this past year. Our office is committed to continuing to learn and adapt during year two, with a goal of returning to a normal, predictable schedule and routine. So far, we are off to a good start. The NER was able to put out a call for applications for projects to receive funding during 2017-2018, and then complete the review and award process for a project start date of May 1st, 2017. This allows our funded projects a full year to complete their valuable work. We had an amazingly large and diverse number of applications. It was a very difficult and competitive processes. We, unfortunately, were not able to fund every application, but we are so proud of the work that is going on throughout New England. Regardless of whether NER could award financial support, there are some truly inspirational and much needed projects going on. Hopefully, we can continue to work with and support all interested organizations and individuals in the future. We are pleased with the number and scope of awards we are able to fund. We look forward to updating the region on their progress and successes throughout the year.
Funding is just one example of how NER is striving to remain a solid, reliable source for the region. We hope to work during year two (2017-2018) to provide services, trainings, classes, resources, and support in the best way possible for everyone in New England, while also remaining a leader across the country. We are always looking for feedback, ideas, or leaders to help maintain and grow our strong network. We hope you will stay in touch by contacting anyone in the office personally or by following our newsletter, Twitter (@nnlmner), Instagram (@nnlmner), or on Facebook. NNLM NER is excited about the opportunities and possibilities coming up in year two. We hope you are as well, so stay tuned!
Thank you,
Martha Meacham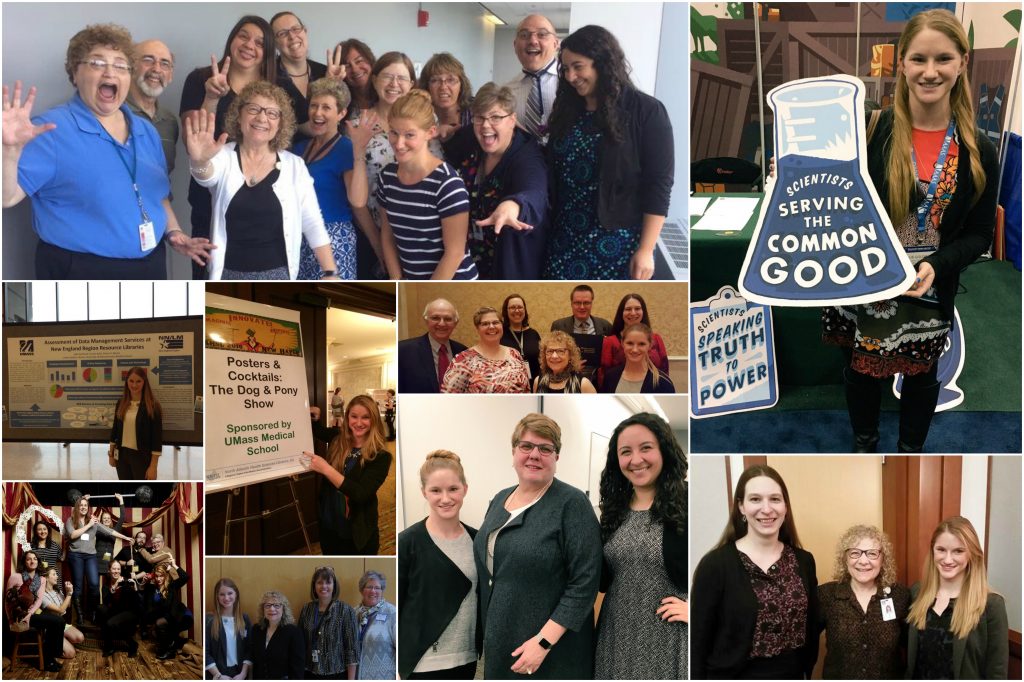 NNLM New England Region Network Members,
Thank you all for the notes of congratulations! I've greatly enjoyed working with the NNLM NER for the past two years. I feel very lucky to have made so many wonderful connections in our region and nationally. My final day at UMass Medical School is Friday May 5th.
My work with NER has focused on building research data education and resources for librarians in New England and for the NNLM. It is gratifying to see the successful programming grow each year, and I am encouraged the NNLM and NLM will continue to support data education.
Working for the NNLM has been an honor and it has been very rewarding to support research data management education in the New England Region. It's been a pleasure to work with such passionate library and data management advocates. So to all the "datalibs" I have had the pleasure of working with, I look forward to our continued partnerships!
I will be joining the Harvard Library as the Countway Research Data Services Librarian. My new position is a dual role involving program development activities and providing data-related services directly to researchers. I am excited to collaborate with members of the Harvard Library community on the Cambridge campus to help build a new data services program. At Countway Library, I am looking forward to working with Director Elaine Martin again to develop and deliver services for researchers at the Harvard Medical School.
Since I will not be moving far, our paths will surely continue to cross. If you would like to get in touch with me in the future, you can find my new contact information on the Countway Library website soon. You can also connect with me on LinkedIn and Twitter (@jgolds2).
It has been an honor to serve a network of librarians who make a difference every day, and I hope I have had a positive impact on your work. I wish you all the best and hope you will stay in touch!
Best,
Julie Goldman
Would you like to learn about an innovative project that has the potential to improve the healthy newborn outcomes  through healthier and prolonged pregnancies?
 Join us for a presentation of the Perinatal Photosynthesis Module Project developed by the Pettaway Pursuit Foundation and funded by the New England Region of the National Network of Libraries of Medicine. The Pettaway Pursuit Foundation is a maternal health and family organization aiming to empower expecting, at-risk mothers and new mothers with education and support.
The Pettaway doulas, (doulas are also known as women caregivers) will be demonstrating how mobile technology, through the use of tablets, enables the doulas to provide health education using the online resources of the National Library of Medicine to the expectant mothers and their families during home visits.  The tablets also enable the mothers to receive additional support and online engagement through video and group chats in the time between home visits.
This is a FREE community event.  All are welcome. 
The presentation will be at the University of Mass Medical School on
ThursdayApril 20th at 11AM in Amphitheatre II S4-102.
Please RSVP to Carmina Taylor (215) 284-5680,  or carmina.a.taylor@gmail.com if you plan to attend.
Save the date!  Our Hospital Libraries Advisory Group (HLAG) will hold a virtual meeting on Monday, May 8, 2017 at 10:00am.
NNLM-NER will convene this meeting to select topics for future webinars and in-person meetings.
Sample topics of interest to hospital librarians include: solo librarians, library closures, hospital mergers, virtual libraries, and decision-making with regards to services/collections.
This meeting will be recorded for those who are unable to attend at that day/time.
NNLM-NER seeks to serve hospital librarians in New England by fostering communication, facilitating partnerships, providing educational opportunities, and identifying emerging roles for health information professionals.
Questions? Please contact Margot Malachowski at margot.malachowski@umassmed.edu
Margot Malachowski, Education and Outreach Coordinator, visited St. Joseph's School on a snowy first-day-of-spring.
NNLM provides technology funding in "under-connected" communities to enhance access to and use of quality health information.
Principal Michael Hackenson applied for a technology grant to purchase Chromebooks for his students.
Applicants for NNLM technology grants must provide demographic information and relevant statistics that supports the need for funding.
After the purchase of technology, our role is to train the faculty in accessing health information and lesson plans available through the National Library of Medicine.
Margot demonstrated using MedlinePlus for finding health information, including information on bullying.
She showed how to use the  Children's Page to access lesson plans and games from Nemours Foundation, CDC, FDA and USDA.
NLM provides links to additional K-12 lesson plans on this Outreach Activities and Resources page.
NNLM NER is looking for local health science information professionals to help review applications for the 2017-2018 NNLM NER funding cycle.
Reviewers will be asked to read 2-5 award applications and score them using predetermined criteria. Information about how to score and what is needed will be provided to all reviewers.
This is a wonderful opportunity to learn about projects going on throughout New England and providing a service to fellow organizations.
Please note, there is a shorter turn around need this year. Reviewers will get the applications to review around April 10th. Reviews will need to be completed by April 19th.
If you are interested in participating or have any questions, please contact Martha Meacham
Martha.meacham2@umassmed.edu – 508-856-1267
Your support of the award process, New England organizations, and NNLM NER is very appreciated.
This week our new Education and Outreach Coordinator Margot Malachowski visited 15-40 Connection, a Massachusetts-based organization striving to improve conversations around cancer detection. Our role is to train the staff at 15-40 Connection in best methods of using MedlinePlus and PubMed for looking up cancer information. Margot demonstrated the differences in searching MedlinePlus through Health Topics and through the search box. For those who are interested in researching more deeply, she demonstrated how to use Health Topics pages as an entry point to a PubMed search.  Margot gave a brief explanation of MeSH.
Several staff at 15-40 Connection were curious about symptom checkers.  Did you know that Symptoms is its own Health Topic in MedlinePlus?  For a triage tool, look for linked resources from the American Academy of Family Physicians or go directly to the FamilyDoctor.org symptom checker.
e-Science Symposium Registration is Open!
9th Annual University of Massachusetts and New England Area Librarian e-Science Symposium
"Libraries in Data Science: Addressing Gaps and Bridges"
Thursday, April 6, 2017 9:00am – 4:00pm
University of Massachusetts Medical School, Faculty Conference Room
Worcester, MA
http://escholarship.umassmed.edu/escience_symposium/2017
Save the Date for Upcoming Event:
Research Data Management Roundtable
"Breaking Down RDM Instruction"
Thursday, March 2, 2017 10:00am – 4:00pm
University of Massachusetts Amherst
W.E.B Du Bois Library, Room 2601
Amherst, MA
http://guides.library.umass.edu/RDMR