PNR Data Science
News from the Northwest and Beyond
Updated: 38 min 50 sec ago
Happy New Year from your data gurus, Annie and Ann!   And welcome to the first post in our new blog series, DataFlash!   We both monitor a wide range of listservs, social media accounts, news sites and other troves of data information, and we'll be sharing what we come across, biweekly.
As a starting place, remember that survey we did last year, asking for your ideas about what the NNLM-PNR should be doing to help with your data needs? (The one with the fabulous NLM tape measure prizes?)  We completed the analysis and presented the findings to our Executive Committee last November (as well as sending out the tape measures), and now we're ready to release it to you!   Here it is!
Briefly, here's what you told us:
–You want training in data literacy and how to help patrons/users with data
–You want us to help with developing and sustaining collaborations
–You want us to provide specific assistance with things like how to help researchers with workflow, and by creating templates to help with assessing and managing data
–You'd also like training opportunities around informatics
We're planning several trainings already around research data management, and will be working towards offering more on the other topics you're interested in.  And we'll be contacting the folks who generously gave us their email addresses and said they'd be happy to chat further.    Watch this space for further developments, and please feel free to reach out if there are any ways we can help, if you need a consultation, have an idea for a training, or whatever!  And deepest thanks to everyone who participated in the survey—it's great for us to have this information!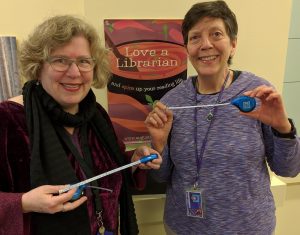 Today's Dragonfly post comes to us from Nicole Vasilevsky, Letisha Wyatt, Robin Champieux, Laura Zeigen and Jackie Wirz
The Oregon Health & Science University Library in Portland, Oregon hosted the "OHSU Library Data Science Institute" (ODSI) from November 6-8, 2017 in downtown, Portland. The event was targeted towards researchers, librarians and information specialists with an interest in gaining beginner level skills in data science. The goal was to provide face-to-face, interactive instruction over a three-day workshop. The learning objectives for the training were:
Increase awareness of key skills in data science and how these can be applied to the participants own daily practices, such as research or serving patrons
Increase confidence with using data science techniques
Increase the ability of participants to use or apply data science techniques in problems outlined in the course
Over 75 participants attended this event, which was held over the 3 days. Participants came from within and outside Portland, Washington, Idaho, California, British Columbia and Kansas. The topics for the workshop included topics such as an introduction to version control and GitHub, exploratory data analysis and statistics, biomedical data standards; data description, sharing and reuse; quantitative and qualitative analysis, analyzing textual data, web scraping, data visualization and mapping and geospatial visualization. All of the materials are shared and openly available via our website.
The goals of the ODSI were to:
1) to increase skills of students and information professionals (e.g., librarians and research staff) so that they may be better equipped to work with data or meet the needs of the research communities that they work with
2) provide a venue for networking and relationship-building between local research community, libraries, and active information professionals.
As an outcome of this course, the majority of our participants that identified as librarians or information professionals reported they are more aware of, can actively teach or use key skills in data science and are more aware of how these can be applied to researchers. In addition, the respondents that identified as researchers reported that they have increased awareness of and confidence using data science knowledge; that they anticipate integrating skills derived from the Institute into their workflow (experimental design, data cleaning, analysis) and that they bring this information back to their laboratory, department, and peers.
Our full webpage, which includes links to session syllabi and instructional materials.
Some lessons learned include:
Development of curricula for a diverse audience is a daunting challenge! To address this in the future we would consider tracks or ensuring that the content is focused and targeted to a specific career field/discipline.
A Train-the-Trainer event would help present a uniform approach towards pedagogy, hands-on-learning, and delivery. In addition, it might be helpful to host a demo day where instructors can test their content with either other instructors or a test audience.
More coffee and tea! Data Science is fueled by warm beverages, so we need to add more.
You may remember the email and picture below, which was sent out to various groups and promoted in various ways this past spring.  In it, we were asking you all to participate in the NNLM-PNR data needs assessment survey.  By doing the survey, Annie Madhavan and I (Ann Glusker) were hoping to get feedback on the directions you want us to go with teaching about and providing resources related to data.
Well, we had 60 people respond, which we are thrilled about, and we ended up sending out 14 fabulous prizes (the NLM tape measures shown in the photo–woo hoo!).  More importantly, we've completed the data analysis, got some VERY helpful information, and are putting the final touches on the report we promised! (a little later than we'd hoped, but better late than never?)
So, we just wanted to let you know that the report will be sent out to the HLIB-NW list in early January, as well as to all the people whose emails we have and/or who ask for a copy, with our best wishes for a very happy New Year.  See you online again soon!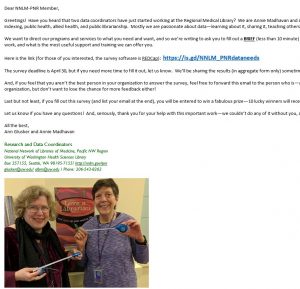 It's been almost 6 months since the launch of the National Network of Libraries of Medicine's new data website, NNLM RD3: Resources for Data-Driven Discovery, and since May, several new features have been added. When the site first launched at MLA 2017, it had only recently transitioned from the New England Region's eScience Portal for Librarians. Since then, with the very generous assistance of both old and new volunteer content editors, we have updated many of the original physical science and engineering subject primers, and have also added a number of health sciences topics. The subject primers now provide a brief overview of each field followed by data related information, including pertinent articles on big data and data management, metadata, data repositories, and data standards and policies specific to each field.
We have also added a Twitter feed on the NNLM RD3 homepage that links to @NNLM_RD3's Twitter page and highlights a wide range of data science and data management retweets. Also on the homepage, is a Data Science around the Regions blog feed that links to data related articles from across the NNLM's eight regions.
In the coming months we are planning to feature information on innovative data librarians and data management initiatives across the country, update and add additional subject guides, reveal the Data Thesaurus, and report on the first cohort of NNLM Training Office's Biomedical & Health RDM Training for Librarians course. We invite you to continue to explore NNLM RD3 and post your comments and suggests below or on website. RD3 continues to be a work in progress and one that could not exist without the support and expertise of many of our members. We are always on the lookout for content editors, so if you would like to contribute to a new or existing subject primer, or simply suggest a new feature or update, we would love to hear from you.