PNR Data Science
News from the Northwest and Beyond
Updated: 5 hours 51 min ago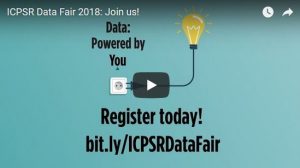 In this case, a free, online DATA FAIR!  Next week, October 1 through 5, ICPSR (the international data consortium/data archive/data education and research organization) will be holding the 2018 ICPSR Data Fair .  The number of offerings is impressive, and there's enough variety that there's something for everyone—diversity and inclusion, training, sharing, tools, and more.  You register for each session individually (but don't forget the Tweetchats!).   Best of all, no costs for registration or travel!
And, if online learning and participation is appealing, you might also consider involving your library or organization in International Open Access Week, October 22-28.  You can share a blog post about your open access "successes, challenges and ideas", and see what others are doing around the world.
Last but not least, let us know if you come across other opportunities like this that our Pacific Northwest colleagues might be interested in–we're always happy to spread the word!
One of the more popular courses we at the NNLM offer is called "Big Data in Healthcare: Exploring Emerging Roles".  This nation-wide course "explains the role big data plays in clinical patient outcomes, explains current/potential roles in which librarians are supporting big data initiatives, and illustrates the fundamentals of big data from a systems perspective".  The assignments in the course build over the nine weeks until the participants can use them as the basis for a final essay.  The essays are really wonderful thought-pieces both about how librarians can enter the big data world, and about how the participants themselves see that world differently after having taken the course.
And then we in the NNLM regions post the essays from those in our regions who wrote them!  In our most recent offering there were no participants from the Pacific Northwest Region, but Luz Crespo from the Southeastern Atlantic region has graciously allowed us to post her final essay here.   Enjoy!
"Big Data and the Role for Health Science Librarians" by Luz Crespo

As health science librarians get involved with big data, they develop the skills that can assist end-users. Librarians who learn about the processes of big data can evaluate how data originate, how the amount of data is constantly being produced for larger capacities, and generally how it works. It is interesting to learn that data can be accessed from various resources. Librarians learning about big data can comprehend how the information is accessed, obtained, accumulated and the formats that initiate this process. For example, clinicians may insert a wide variety of data that may include patient demographics, which then can be accessed in the patient's electronic health record (the digital format versus paper documentation). Health professionals are able to access the patient information quickly and find health diagnoses and health documentation; such as the patient's medical history, current conditions, and lab results to determine the patient's quality of care.
Where I work, the Electronic Health Record (EHR) is the system that is used within the facility. Though I do not have access to this software, I am confident that as technology continues to improve,  medical librarians who are knowledgeable with these types of software can achieve the skills to communicate, connect and educate healthcare professionals that need assistance within the healthcare system. The EHR is used strictly for healthcare professionals.. Earlier in this course, it was interesting to learn that the Metro Health System was one of the first to utilize the EHR. I'm not sure how medical librarians would have access to the EHR since the HIPAA policy is established to protect the patient information.
Dr. Brennan's presentation on the BD2K engages individuals to comprehend that data sciences, providing the tools and training, can allow individuals the awareness to communicate and learn the techniques that permits them to better serve others in locating information, which can make a difference, for example, for, researchers who are needing assistance in this area. I agree with Tara Douglas-Williams on the importance of nurses actively contributing in big data initiatives across various health care systems. She expressed how Dr. Brennan is an advocate in assisting librarians in building data science relationships. There is an old saying, "For the things we have to learn before we can do them, we learn by doing them." (Aristotle, from The Nicomachean Ethics). This illustrates that as information professionals or librarians it is important to adapt and learn the skills that provide the tools that can assist others with their life-long learning.
In my opinion, health sciences librarians that fulfill the goal to gain knowledge and gather the information that is needed to support researchers and healthcare professionals can succeed in meeting the needs of the end-users and surrounding community. Overall, learning about big data  allowed me to see the big picture and how it can benefit me as a new librarian, and how I can share what I have learned with others.
Whether you're in a hospital or academic or research center or other data-related setting, take a look at these two amazing training opportunities—there's something for everyone!  And they're free!
1) "Clinical Information, Librarians and the NLM: From Health Data Standards to Better Health"
When we did our regional data needs assessment last year, many of you who are hospital librarians said that you wanted to be able to "speak IT"; in other words, to know more about data standards such as UMLS, SNOMED CT, and more.
Well, here's your chance!  This interactive webinar series consists of five 30-minute Thursday sessions (each at 9 AM Pacific Time).   It "focuses on the roles and products of the National Library of Medicine related to applied medical informatics, particularly as applied to electronic health records systems and clinical research. The series is specially designed for health sciences librarians and other health information specialists seeking to serve more active roles in their health IT team and better support researchers".  You'll learn about not only UMLS and SNOMED CT, but also RxNorm, LOINC, Common Data Elements and the Value Set Authority Center.
Want to dazzle your IT team?  Take this class!
2) Biomedical and Health Research Data Management Training for Librarians
If research data management is more your focus, perhaps for those of you in academic or research center settings, this training could be for you.   It can be tough to "pick up" the skills needed to be a support for researchers, and so an intensive guided course with amazing teachers and assigned mentors is a wonderful chance to immerse yourself and kick start your involvement.
"Health sciences librarians are invited to apply for the online course, "Biomedical and Health Research Data Management Training for Librarians", offered by the NNLM Training Office (NTO). The course is a free, 7-week online class with engaging lessons,  practical activities and a final project. The course runs October 15 – December 14, 2018.  The goal of this course is to provide an introduction to data issues and policies in support of developing and implementing or enhancing research data management training and services at your institution. This material is essential for decision-making and implementation of these programs, particularly instructional and reference services. Course topics include an overview of data management, choosing appropriate metadata descriptors or taxonomies for a dataset, addressing privacy and security issues with data, and creating data management plans."
Applications are due September 20, 2018.  Note that a letter of commitment from your library is part of the application!
Additional details and the online application are available here, and for questions, please contact the NNLM's National Teaching Office at  nto@utah.edu .
Of course, we here in the Regional Medical Library are also standing by and always happy to help!
You may have seen the feature on the front page of our website, "Where in the World are the PNR Coordinators?" But, we don't always report back on our travels!  So, here is a quick view of a conference I attended on behalf of the NNLM-PNR, that took place in Bozeman, MT last month, called "Open Repositories 2018".  What is an open repository?  I like this definition from the "Repositories Support Project":
"A digital repository is a mechanism for managing and storing digital content. Repositories can be subject or institutional in their focus. Putting content into an institutional repository enables staff and institutions to manage and preserve it, and therefore derive maximum value from it… Repositories use open standards to ensure that the content they contain is accessible in that it can be searched and retrieved for later use."
I don't work with repositories directly, so this conference was basically like drinking water from a fire hose.  The attendees were a mix of librarians/library staff and people from the IT side of running repositories, meaning that my comprehension of a given session could range from about 5% (for the very techie ones) to 100%.  And that was fine—I got a great introduction to the issues involved in starting and running repositories, and learned about some new trends, some areas of conflict and some growing pains (hence the title of this post).  For example, take a look at this presentation by Peter Sefton.  I pretty much understand the whole section above the picture of the boat, and then an average of about 65% of what's below it; that feels worth it to me!   It was an international conference, so the perspective on how repositories are handled was global.   I would never otherwise have heard of Australian Sefton's work, or been able to attend a session on the Digital Repository of Ireland.   I even got to spend a full day attending two workshops on Wikidata and Wikipedia editing (did I mention that the NNLM's next Online Wikipedia Edit-a-Thon is November 7 this year?).
And, one great thing about open conferences and all things open is that you can often gather the content for yourself after the conference even if you didn't attend it.  Here are some options if you want more information about what happened at this conference:
— YouTube stream of everything held in the main session space (including the Digital Repository of Ireland presentation)
— Social media: Twitter= @OR2018MT, Instagram= @openrepositories18
I leave you with three photos from the experience.  One is of me with my poster highlighting three of the National Library of Medicine's eight data sharing repositories: ClinicalTrials.gov, PubChem and GenBank.  And the other two are from my visit to the Museum of the Rockies, which features the most amazing dinosaur exhibit I've ever seen, and a thing I love—a historic house which was moved to the museum site, furnished appropriately to the period in which it was built, and staffed by costumed and knowledgeable living history interpreters.