Regional Interest
Happy Holidays from the NDCO!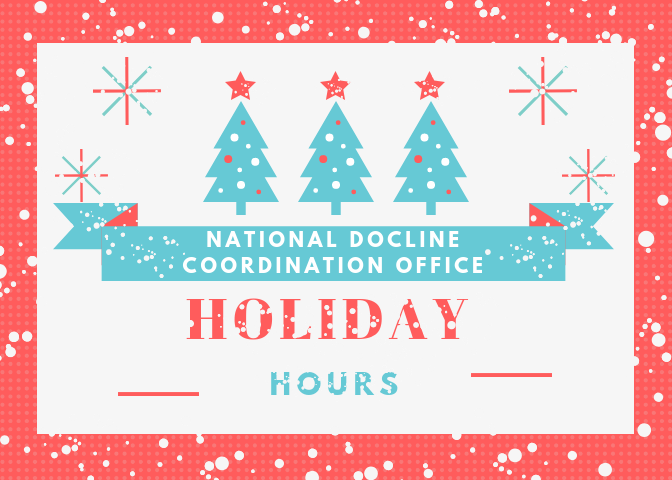 The National DOCLINE Coordination Office will be closed from Monday (12/24/18) through Tuesday (1/1/19).
If you have immediate DOCLINE needs during this time please contact NLM with the form found here: Write to the Help Desk.
The NDCO will return to normal office hours on Wednesday (1/2/19):
NDCO Office Hours:
Monday through Friday
8:00 am- 4:30 pm Eastern Time
Please contact the NDCO for any DOCLINE questions or concerns:
(410) 706-4173 or via email at DOCLINE@hshsl.umaryland.edu
DOCLINE Update | DOCLINE 6.0 Preview Schedule
U.S. National Library of Medicine sent this bulletin at 10/23/2018 07:36 AM EDT
The all-new DOCLINE 6.0 is loaded with your Library Profiles, Journal Holdings, and User Accounts and we're excited to share it with the DOCLINE community.
DOCLINE's customer support resources are limited, so we ask that libraries test new logins only during their assigned preview period so that we are able to help each user who needs log in assistance.
Once successful login is confirmed, users may continue using DOCLINE 6.0 to review and edit Library Profiles and Journal Holdings records.  
You will receive an email invitation including login instructions, when your individual preview period begins.  Please make sure you can successfully login to your Google account* before previewing DOCLINE 6.0.
Do not share or forward your preview invitation beyond your own library.
 If your LIBID

¤

 starts with:
your preview begins:
 Group 1
AB through CA
 Monday, November 5
 Group 2
CO through MB
 Wednesday, November 7
 Group 3
MD through NY
 Tuesday, November 13
 Group 4
OH through WY
 Thursday, November 15
*

Federal libraries and libraries for whom Google is prohibited will be contacted separately.
¤

LIBIDs (Library Identifiers) start with library's State/Province two-letter code (e.g. The National Library of Medicine is MDUNLM).
The existing system will be available until DOCLINE 6.0 is ready for borrowing and lending.
If you have any questions, please send them to NLM or refer to the documentation.
– The DOCLINE Team