RML Blogs
The July 2018 issue of NIH News in Health is now available. In this issue, information about preparing for menopause and acne are highlighted.
In addition, readers will learn about:
the new National Center for Complementary and Integrative Health app, HerbList
diet and hearing loss
a program for those 60 and older to quit smoking
Anyone can subscribe and access NIH News in Health. The information contained in this monthly publication is for anyone but especially the public with practical news and tips that are based on NIH (National Institutes of Health) research. Individuals can subscribe to receive this monthly newsletter in email and offices, clinics, community centers and libraries in the U.S. may receive print copies for their patients, clients, and patrons for free.
It's a great way to provide health information for your community from an authoritative source.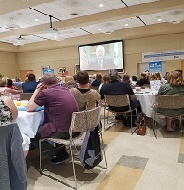 Massachusetts Governor Charile Baker provides a video welcome to those at the First Annual Learn to Cope Conference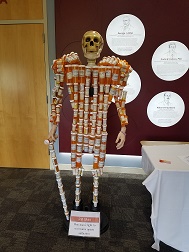 Pillman: Exhibit built with all of the prescription medication bottles formerly used by a man now in recovery
They say knowledge is power. From what I saw and heard at the first annual Learn to Cope (https://www.learn2cope.org/) Conference for families struggling with addiction on June 16th, I certainly came away from the conference empowered with a clearer understanding of addiction as a brain disease that is complex to prevent, as well as treat.
Saturday, June 16th was a picture perfect, summer Saturday on the campus of Worcester Polytechnic Institute in Worcester, MA. Although substance use disorder has touched my personal and professional life in a couple of pretty big ways, I really wished that I was spending my Saturday in my garden, instead of cooped up indoors hearing about the sadness and pain caused by substance use disorder.
Joanne Person is the Founder and Executive Director of Learn to Cope (LTC), a non-profit peer-led support network that she founded in 2004. LTC was designed by Joanne to bring messages of prevention, education, awareness and advocacy to members (of which LTC has over 10,000 involved in 25 chapters throughout Massachusetts). LTC is funded by the Massachusetts Department of Public Health and has grown to have a full staff who collaborate with communities across the state to assist with efforts to combat the opioid epidemic.
The conference was structured with alternating keynote speakers, several of whom were nationally known – for example Matt Murphy and Joe Rannazzisi, the former DEA Agents recently featured on the television news program 60 Minutes (https://www.cbsnews.com/news/ex-dea-agent-opioid-crisis-fueled-by-drug-industry-and-congress/.) and breakout sessions with topics that were very relevant such as:
Understanding the Physiology of Substance Use
Navigating Insurance, Legal Implications, and Protecting Assets
Understanding the Laws and Navigating the Criminal Justice System (Drug Courts)
Family Changes and Dynamics
Treatment and Continuum of Care
Dr. Andrew Kolodny, the Co-Director of Opioid Policy Research at the Heller School for Social Policy and Management and Executive Director of Physicians for Responsible Opioid Prescribing was also a Keynote Speaker. I have left out the mention of several other powerful speakers in order to keep this post brief. If you are interested in seeing everyone all who participated, take a look at the conference link (https://www.learn2cope.org/knowledge-is-power-conference/.)
Before I knew it, it was time for lunch and I was less focused on what I was missing by not being outside;  instead I felt grateful that I was able to attend such a valuable conference with expert speakers and session leaders. Kindness, compassion and empathy by all who were part of this conference was almost tangible. There was a definite sense that we are "all in this together" and we will solve this health crisis by sharing our knowledge,  thereby gaining strength and power over this disease of addiction.
Did you know that the National Library of Medicine has many helpful Substance Use Disorder online resources? You can access them at this link (http://bit.ly/2JCEs8k.)
Pages